A Chorus Line next for Miranda (NSW)
A Chorus Line - the much loved musical based on the unheralded men and women who make up the chorus line – will be presented by Miranda Musical Society at the Sutherland Entertainment Centre (NSW) from September 21 to 25, 2011.
In an empty theatre, on a bare stage, casting for a new Broadway musical is almost complete. For the dancers, this audition is the chance of a lifetime.
It's what they've worked for with every drop of sweat, every hour of training and every day of their lives. It's the opportunity to do what they've always dreamed - to have the chance to dance in the chorus of a Broadway musical.
The original production of A Chorus Line opened on Broadway on July 25, 1975, after an initial sell-out season at The Public Theatre. It was nominated for 12 Tony Awards, winning 9 of them, plus the 1976 Pulitzer Prize for Drama. The production ran for 6,137 performances at the Shubert Theatre until April 28, 1990, after becoming the longest running Broadway Musical at that time on September 29, 1983, a record it held until overtaken by Cats.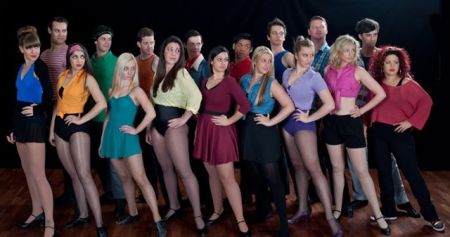 The musical was based on taped workshop discussions, where Broadway dancers discussed their lives and experiences.
Director Gavin Leahy, Musical Director Greg Jones and Choreographer Simone Salle helm a talented cast that features Roslyn Howell, Erin Bruce, Cassanne Ayre, Nicole Butler, Kira Nelson, Sarah Furnari, Emma Paull, Ellen Bryant, Jessica Rooney, Michael Astill, Richard Adams, Nicholas Robson, Jonathan Walsh, Tim Wotherspoon, Tim Watson, Temujin Tera, Sean Perez and Gavin Leahy, as well as Ashleigh Colella, Helena Kyriacou, Tyler Hoggard and Sam Larielle.
The score features great songs including 'Nothing', 'What I Did For Love' and 'One.'
Photographs by Andre Moonen Creative Photography.
Sutherland Entertainment Centre - Wednesday 21st to Sunday 25th September 8pm, plus Sunday 25th September 1pm matinee. Bookings: (02) 8814 5827.
To keep up with the latest news and reviews at Stage Whispers, click here to like us on Facebook, or follow us on Twitter.