Classic Christie Mystery For Devonport
The Devonport Repertory Theatre Society (Tas) will present the classic Agatha Christie mystery And Then There Were None from October 28, 2011.
Adapted for the stage in 1943 by Christie herself, eight guests, each from different social backgrounds, who have been invited to an island off the coast of Devon, UK for a weekend away in early August 1943. Once all the guests have arrived and settled in it is discovered that they have all been lured to the island and one by one start to pass away under mysterious circumstances. Working together the remaining guests must try to figure out how to stop themselves from becoming the next victim.
The show has attracted a strong cast and has offered some coastal veteran actors including Angela Flemming a chance to return to the stage after more than a 20 year break. Other cast include Camilla Best, Tasmanian winner of Storm the Stage, who will now go on and represent the state in the national finals in Brisbane at the end of November. The production will also see Michael Foote and Bruce Tivendale back together on stage after playing Kings in the Choral Society's production of Camelot in 2010.
The cast of 11 have been rehearsing since the first week of August and have been working hard on accents and character development.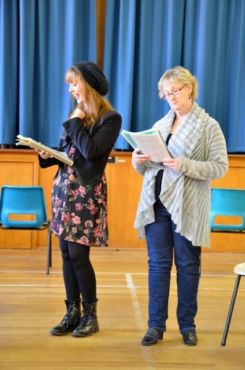 "It is important to have strong characters in a play that are believable so that the audience stays alert", Director Timothy Cooper said, "If the audience wish to play detective they need to keep an eye out for all the clues".
"Every show needs to have a 'take-away' moment, something that audiences will talk about with friends and family", "because we don't want people talking about the ending, the cast and crew have been working hard to make sure there are plenty of other things to talk about".
The show will run at the Devonport Entertainment & Convention Centre with six shows from October 28 – November 5. Bookings can be made at the venue, by calling 03 6420 2900 or online at www.decc.net.au
Rehearsal images: Geoff Dobson, Bruce Tivendale, Michael Foote and David Saner & Camilla Best and Sue Cochrane.
To keep up with the latest news and reviews at Stage Whispers, click here to like us on Facebook, or follow us on Twitter.