Contemporary Merchant for Genesian Theatre Sydney
Venice is sinking.
In this imagined Venice, wild carnivals are held, money is thrown around, lovers quarrel and disguise themselves.
Genesian Theatre in Sydney's Kent Street will present Shakespeare's The Merchant of Venice from February 18.
This Venice is glamorous and life is like a Broadway musical without singing. The young dandies of the town are carefree, charming and rich. But this wealth and decadence start to weigh down on the eroded foundations of the town: vile racism, judicial corruption and economic greed begin to bubble and seep through to the surface.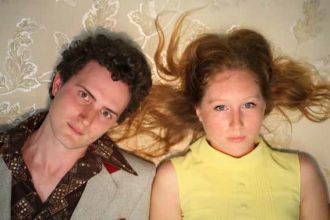 In the eye of this technicolour storm are Antonio and Shylock. They are floating through surreal circumstances, displaced, angry and downtrodden. Shylock is subjected to brutal discrimination and made evil. He is a victim pushed to wickedness. Antonio is disenchanted with his wealth and recklessly assists Bassanio's quest to find both love and a place in the new world.
Director Constantine Costi has set up The Merchant and the Money Lender as eternal enemies, somehow linked by their dislocation.
"They transcend the material world," says Costi, "and their bargain of flesh is a bizarre pact between the two – a redrawing of values. They are trading in blood and both lost in a world that is alien and unjust."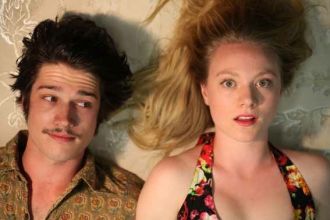 In The Merchant of Venice, Shakespeare has penned a brassy comedy with a dark centre of racial in justice that transcends both its own time and all time.
This production seeks to embrace both aspects of the play and produce a show loaded with surprises and unexpected twists. It is a fun, exciting, colourful and ultimately haunting take on this extra ordinary play.
Directed by Constantine Costi, assisted by Michael Costi, The Merchant of Venice features Andrew Fraser as Antonio, Geoff Sirmai as Shylock, Tiffany Stoecker as Portia, Emily Sheehan as Nerissa, Harriet Gordon Anderson as Jessica, Stephen Lloyd-Coombs as Bassanio, Ray Mainsbridge as Gratiano, Brendan Cain as Lorenzo, Jasper Garner Gore as Solanio and Launcelot Gobbo, Serena Weatherall as Salerio and Dimitri Armatas as the Duke.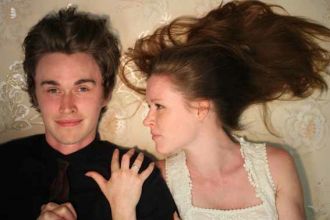 Genesian Theatre, 420 Kent Street Sydney
18 Feb to 31 March. Friday and Saturday nights 8pm, Sundays 4.30pm.
Bookings: www.genesiantheatre.com.au / (02) 8019 0276
Images: From top - Andrew Fraser and Geoff Sirmai; Harriet Gordon Anderson and Brendan Cain; Ray Mainsbridge & Emily Sheehan and Stephen Lloyd-Coombs & Tiffany Stoecker.
More reading - Community Theatre Seasons 2012.
Other Community Theatre Shows.
To keep up with the latest news and reviews at Stage Whispers, click here to like us on Facebook, or follow us on Twitter.
Win Tix
Win a pair of tickets to the preview of The Merchant of Venice on February 17, 2012 (2 pairs available).
We have our winners - Congratulations to Mark and Olivia.
The Challenge
Sum up or tell the plot of any Shakespearean play in 10 words or less.
Our favourite answers win.
To Enter
Competition closed at 6pm, Friday February 3, 2012.