Covid-19 v Mamma Mia!
Diary of Frazzled Producer.
Peter Novakovich describes the nightmare of attempting to produce a community theatre musical in January 2022. His company, WOFTAM Productions in Campbelltown - south-west of Sydney - is due to open a season of Mamma Mia! on Friday the 14th.
The Background: Our production of Mamma Mia! was to open last year, four weeks after the Delta lockdown was imposed. Because of the work that had already been put into the show the cast and crew wanted to finish what we began. If lockdown hit during auditions or early stages of rehearsal we would have cancelled.
New dates were set for January and the admin and paperwork done. Once lockdown ended we came back and rehearsed til Christmas Eve. However, we had to find new personnel: not all of the cast and crew could make the new dates. Some had to pull out because they were immuno-compromised. Despite them and the rest of us being all fully vaxxed the risk to the immuno-compromised or immuno-suppressed of being in a closed space was too great.
There were safety conditions we imposed on the rehearsals:
1. Everyone had to be fully vaccinated or hold a valid exemption
2. Masks had to be worn - even when singing (this was eventually relaxed in line with government recommendations)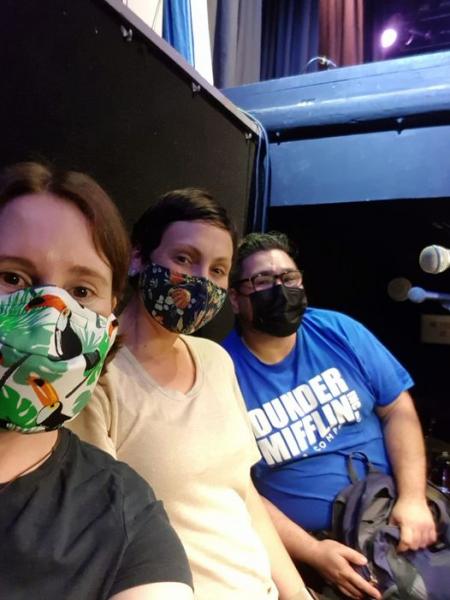 Image: Pit singers rehearse with their masks on.
3. We had to keep our venue well ventilated: doors and windows and all access ways were kept open to allow for flow of air
4. When cast were not needed for their scene, they had to wait outside in a courtyard area. We let them in if it rained.
The cast eventually became used to singing with the mask on, instead of straining their throats and voices by trying to sing through the mask.
The problem here: Of those who pulled out not everyone pulled out at the same time. Literally every second day I was receiving a text or call to say someone had to pull out and much time was wasted trying to get replacements: just as one leak was plugged up another sprang open. The phone calls and emails it took to negotiate replacements would make for an interesting story, You'd think once the new dates were announced that people would tell you asap of their unavailability but I digress.
Finally we found our replacements and we seemed to be on course. Rehearsals finished two nights before Christmas on a high. We'd have two weeks off then be back on the 8th of Jan: six days before opening.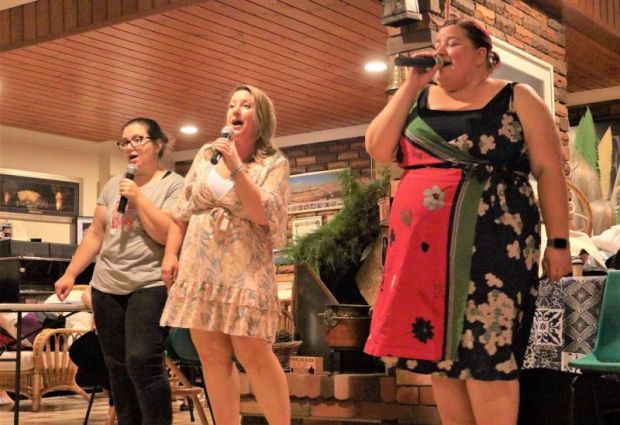 Images above and below: cast in rehearsal just before Christmas after mask restrictions were relaxed.
Some theatre companies with January shows prefer to rehearse all through the Christmas break; others prefer to "over"-rehearse the cast up to Christmas and then break. We chose the latter approach as I felt that's what worked best for us. Lucky for us that we took this approach, given what was going to happen...
Wed 05 Jan (9 days before opening): Our Sophie tells me she's caught Covid and has to isolate. She won't be here for tech week. I said the cast needed to work with someone in her role during tech, so she and I sorted out replacements for tech week. In fairness to the replacements I wanted them to at least do the opening weekend of shows, to give them a chance to show off their hard work. The issue of who will fit into Sophie's costumes (especially the wedding dress) came into play. We had our Ali now play Sophie and had one of the girls from the chorus to now play Ali.
It wasn't just a logistical thing: artistic considerations fell into play too. We had to "re-think" the characters; the new girls couldn't be carbon copies of the ones they were replacing, so time had to be found to do a bit of dramaturgy and character re-development.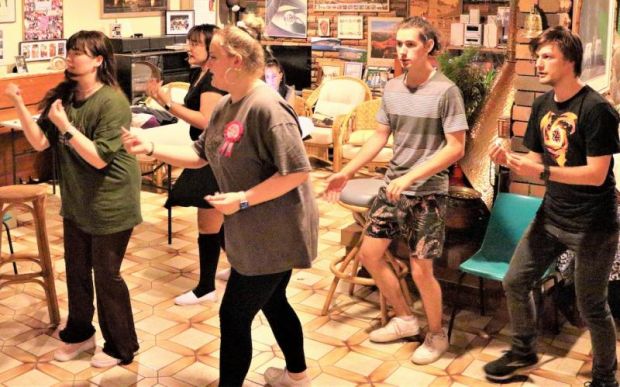 That night I get a call from our replacement Bill: He just heard about our isolating Sophie and he has to pull out entirely. Turns out he's immuno-suppressed and also a first time dad. His wife is a professor of haemotology. If anyone knows about how risky Covid is to the mmuno-suppressed it's this family. Bye Bye Bill #2.
My phone almost melted that night trying to find replacements. I asked one of our pit singers (who himself replaced someone who pulled out) to be Bill. He needed to think about it (fair enough). Meanwhile my paranoid "what if he says no?" side kept calling potential replacements. Luckily my first option said yes and we have a new Bill, with only two days to learn his stuff.
In the two days before our bump in the cast came together on their own time and place to go over stuff with the newbies. Hopefully we'll be right for the 8th Jan - the day before bump in.
But was Covid done with us yet?
PART TWO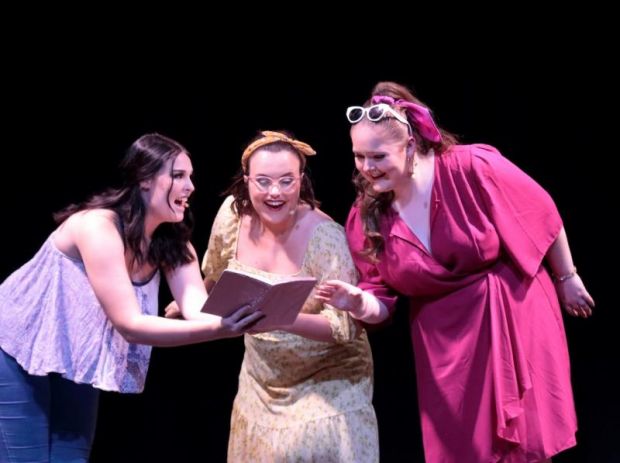 This image and those below are from a Dress Rehearsal.
Thur 06 Jan (8 days before opening):
Our Rosie messages today to say she, too, has been infected and must isolate at least until Wednesday, meaning that her first rehearsal in the theatre will be Friday of opening night. There is no one I can think of that can replace her. Her son lives with her and is also part of the stage crew. He also has to isolate. I consider the idea of cancelling opening night and using that as a rehearsal with band and tech.
That night our Front of House manager texts me. He does NOT have Covid. But... he has to have major surgery on the day before opening night. He can't manage FoH (something he's done for us for a bit over 20 years). Two of our regular FoH staff have also moved to England. Basically, apart from the Box Office Manager and a Kiosk Mum, we have no FoH. Again, texts get sent.
This is not a Covid issue, but having it happen does add some spice to the clusterfritz that Covid is turning our show into.
Later that night, a call from Donna, our leading lady. She works in a pathology department. A staff member has tested positive and has been sent home. Our Donna may have it but can't get her hands on a RAT or PCR test to find out. What type of health system do we have in place when front line health workers can't even get their hands on RATs and PCRs?
I now consider cancelling opening weekend. I tell her to stay away until she can get a negative test result. I will decide what to do about the weekend shows once I know when we can see our Donna again. I consider contacting other actresses I've known who played the part.
I launch into "Karen" mode and send a sternly worded missive to the cast and crew: from Saturday 08th we'll all be together: if any one of us tests positive after that time, then I MUST cancel the shows for that week, as we've all been close contacts. I harangue the cast and crew about being sensible, taking responsibility, and now is the time to think about what's good for the show. I tell them we all have to live as though we're back in lockdown and minimise the risk of testing positive.
I add that if anyone has the symptoms or needs to test, etc., etc., before we all get together then they are to stay away until clear. I'd rather bump in and do tech week with missing personnel than have to cancel a show.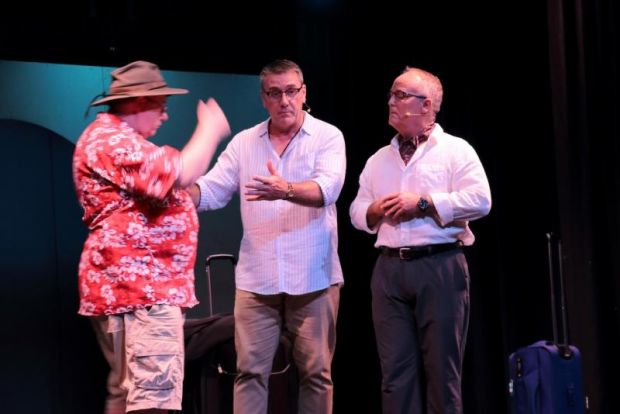 Friday 07 Jan (7 days before opening): one of our pit singers tests positive and must isolate until opening night. Opening night will be her first rehearsal with us - ever. She couldn't make any previous rehearsals due to her gig work. Fortunately she's a professional musician and has been practising her stuff. We've all worked with her before and we're confident she'll be right on the night.
I hear back from our Donna: she managed to get a PCR test and is waiting on the result. Some of the musicians start messaging me: they have safety concerns and are considering pulling out for the sake of their families. I message them back to let them know about our safety precautions in the pit and their fears are allayed.
A safety precaution imposed on the pit that is extra to that of the rest of the theatre: the venue owner (our local Council) has imposed a limit on how many people are allowed in the pit, given the space and ventilation. Counting the band and pit singers, I'm two people over. I have to get rid of two, so I drop the percussion chart and Keyboard 4. This means I have to farm out any Keyboard 4 solos to the other three keyboards. Music software programs are wonderful things. We don't miss the percussion.
Sat 08 Jan (6 days before opening) Donna gets her PCR test back and it's negative. Welcome back Donna.
But...we lose another three cast: a family of three young siblings have been in close contact with another family member who tested positive. They will not only miss tech week but also the opening weekend. The mega-frustrating thing about this case is that the family have been doing everything right in terms of isolation, vaccination, mask wearing, distancing, and all other rules, and yet one of them still managed to get it.
Our cast of 22 has gone down to 17 for tech week. I re-set the bows to cover for the absences on opening weekend. In most scenes the cast quickly adapted to cover for absences.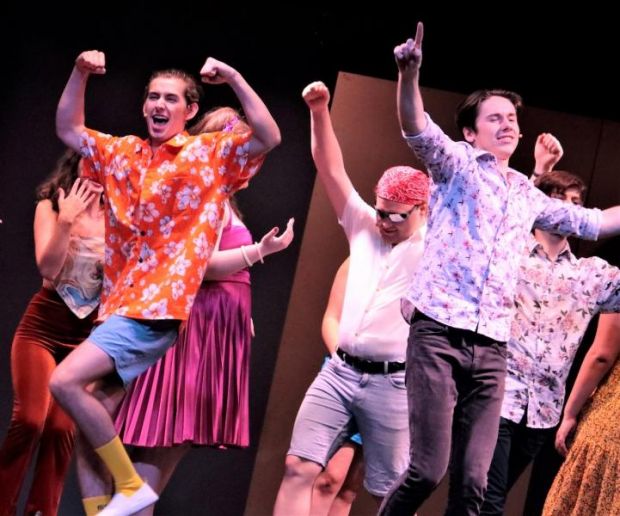 I should be cancelling opening weekend and scheduling bump in from that weekend - but there's no telling when or if another cast member will get infected the following week, causing further cancellations. I decide to push on, for the sake that the newbies need to rehearse.
I speak with Donna, Tanya, and Bill - the three characters who interact the most with our missing Rosie: do I cancel opening night to let them rehearse together; or do we take the risk and have Rosie go on? They've all worked with Rosie before, and she's a well-experienced and disciplined actress who knows the venue. They decide to take a chance (pun intended) and go on with Rosie on opening night - but check to see how Rosie feels about this. Rosie is willing to take the risk. Given that I've worked with these people for years and know how disciplined they are, I trust their opinion.
I see on the news an epidemiologist saying that the next two weeks will be the crest of the wave of Omicron infections. We are sailing into tech week and opening weekend at the height of the current pandemic, How Lovely.
At end of rehearsal that day I prep the cast to tell them we have to work towards putting on the show but to understand we have to walk away at any minute. They are on board. Most of them were in our previous show which was shut down at the first lockdown three hours before opening.
I stress to them that my aim is to work towards making the show happen. My mind set is not to consider closing it, but I may have to cancel some of our shows in order for the rest of the season to go ahead. It all depends on our health and if any lockdowns are imposed. They seem appreciative of this approach. They are tired but determined.
The rehearsals - despite the absences and health concerns - actually go really well.
At all times I keep stressing the importance of putting our health and the health of each other first. I sound like a "Karen", a nagging grandpa, and a hackneyed government health-warning ad all at once.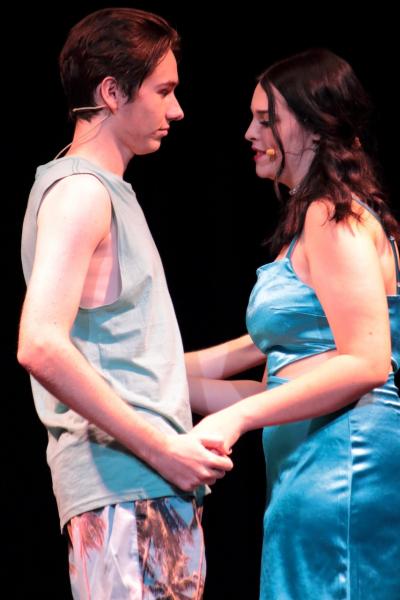 Sunday 09 Jan (5 days before opening). Another pit singer tests positive and must miss opening weekend. Our pit singers have gone from 6 to 5 (we lost one singer to go play Bill#3) to now 3.
Our stage manager can't be here - she is a close work contact of a Covid case. She must stay away until she can get a negative test result. I must give praise to Ruth Read, who is playing our Tanya. She spent the day and the tech run that night corralling the stage crew into their scene changes while playing Tanya AT THE SAME TIME. She also found time to locate props. Ruth and I decide that if our SM can't be here by the last rehearsal (to have at least one run at calling the show) then Ruth and the Props Mistress will coordinate the whole season. Thankfully the stage crew are good - really good: a well -oiled machine.
Later that night I get a message from our choreographer: her entire family have tested positive and they all must isolate.
It's not all bad: the sitzprobe is awesome! The band's playing raises the spirit of the cast. Seeing all the band wear masks makes us look like some pub band with a ninja gimmick. The sound guys do a great job and our lighting designer manages a few minor miracles with the visuals.
We are all grateful that we made it this far.
So ... we go into tech week with no choreographer, no stage manager, no leading lady, two understudies, a replacement Bill who won't get to rehearse with the leading lady until opening night, missing pit singers and nearly a quarter of our cast missing... all thanks to Covid.
But the cast and crew want to go ahead. As producer I should be cancelling either opening weekend or the whole season, but I do the stupid thing and go ahead on the energy and determination of the cast and crew. Sigh.. it's only money, right?
Surely Covid's done with us now.
PART THREE
Monday 10 Jan (4 days before opening) - Tech run goes well, despite no stage manager. Our Tanya keeps on doubling as SM and Tanya. No one texts me to say they've tested positive or has to isolate due to being a close contact.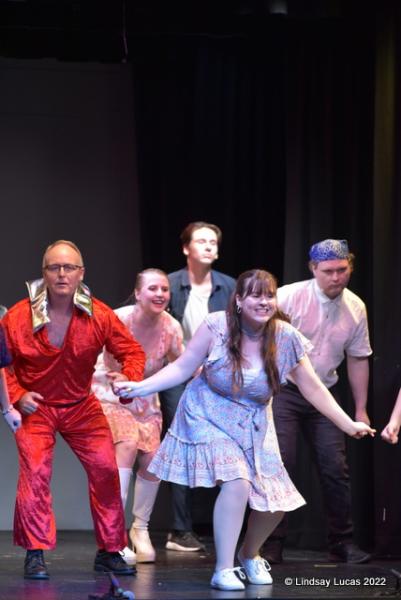 Tue 11 Jan (3 days before opening) - our stage manager Jess texts to say she finally received her PCR test result and it's negative! Jess turns up to our run that night and she does an amazing job catching up in getting the show running.
The cast whose isolation ends tomorrow afternoon want to come to the theatre tomorrow night and do the run. My paranoia for the show kicks in and I tell them to stay away until opening night. The government may give them the all-clear but I'm sure Covid doesn't look at its watch and say "time to leave this human and go infect someone new."
Wed 12 Jan (2 days before opening) - our last rehearsal (we traditionally never rehearse up to the night before opening. We prefer to stop two nights before and let the cast rest up the night before).
The dress rehearsal goes well. Really well. We even managed to find volunteers for front of house. For the first time in forever we all feel hopeful that we'll make it to opening with no more problems. As they say in vaudeville, "what could possibly go wrong now?"
Thursday 13 Jan (night before opening) - Approx. 9.30pm I get a call from our Tanya/de-facto Stage Manager. She has to isolate and won't be here for at least the opening weekend.
After leaving our last rehearsal she had come into close contact with someone supposedly negative, but who since tested positive on a subsequent PCR test. I swear at the lack of efficacy of these tests.
Our cast and crew are safe because Tanya's contact happened AFTER she left rehearsal and she had not seen anyone from the show since. But who will play her part?
You have no idea just how broken our Tanya sounded when she made the call. She fought for this role (so many "well meaning friends" were saying she wouldn't be right for the part), and when it came to practising Covid safety she was one of our most militant. She hadn't seen her husband since he was sent away on Christmas Day for work. On his return a few days ago he had been deemed a close work contact, so to avoid risking infection she moved out of the marital home just before he returned.
I again face the spectre of cancelling opening weekend. A name of someone who recently played the role popped up. Even if she could do it she was a militant anti-vaxer and therefore unvaxed and saw mask wearing as a form government control. So no go.
Our Tanya then suggested getting someone to do the role script-in-hand. I agreed: it was either that or we cancel the show.
At about 10pm I call Jill Larsen, who was one of our pit singers. She'd been to all the tech rehearsals and had plenty of stage experience. After some thinking it over she said yes.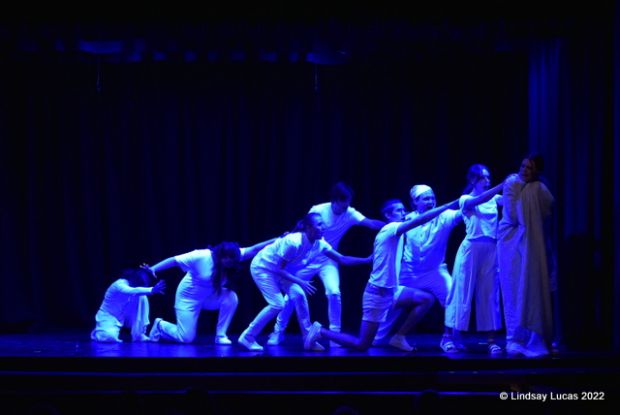 We briefly talk characterisation - don't play Tanya the way Ruth plays her: think somewhere between Dynasty-Era Joan Collins (but with more facelifts) and Patsy from Ab Fab.
Friday 14 Jan (opening night) - the cast who interact with Tanya meet with Jill at the theatre about 4 hours before opening. This is the same time that our now Covid-free Rosie turns up for the first time at the theatre.
By this stage my Catholic Guy instincts rip into overdrive and I am praying feverishly and fervently that nothing more happens to stop us from going ahead.
Covid still makes a stealth appearance: our Sound desk operator has been called away by his boss to run another gig because the sound op from that other gig caught Covid. His apprentice will sail our sound desk. Although the apprentice hasn't operated the desk prior to tonight, he has been to all the rehearsals and knows the sound cues. Our Props Mistress does double duty handling mic changes.
Our now Covid-free Rosie still plays it safe and keeps herself well apart from the rest of us (even doing vocal warm ups in a separate room). She only comes close and unmasked when on stage.
I announce to the audience that although the understudies are noted in the programme, we also have a last minute script-in-hander.
Is this actually happening?
We are actually performing the show! At interval we all check for messages from the government Covid robot: no notices for any of us of close contacts. We don't have to cancel Act 2.
Act 2 goes ahead and we finish. It was not perfect: our poor sound apprentice ran the sound perfectly in every way, except he had our pit singers overpower the on stage performers.
Our script-in-hand Tanya is a miracle! The audience are sympathetic and loving what she's doing. The rest of the cast work brilliantly around her and quickly adapt to anything she does that our other Tanya doesn't do. The whole thing looks like her character is MEANT to be reading a script. And it worked!
The cast get a standing ovation. I wouldn't be surprised if part of it is because the audience wanted to salute the cast just for making it to opening night and performing.
The energy and enthusiasm radiating off the cast was nothing I'd experienced in my 50-odd years in theatre. It was like unleashing some positive emotional force that had been caged up and beaten down for far too long. Further, if ever there was a performing experience that defined "make love to your audience", then this was it.
Afterwards I keep reminding the cast not to assume anything: every show from here on in could be our last.
The second performance goes even better, but Covid claims one of our stage crew (no positive tests, just a stay-at-home to be safe and sure). Stage Crew have to reorganize themselves to cover the loss.
Mamma Mia!: 2; Covid: 0. So far.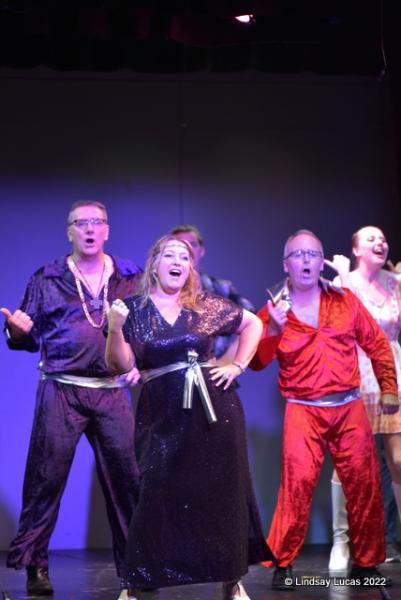 We prepare for the rest of the season: our original Sophie now comes back to complete the planned run; the other chorus who had to miss opening will be back. We arrange to meet early on the day of the next show to re-arrange bows. Our Tanya still needs to stay away till Saturday week, so Jill will go on script-in-hand till then.
Something else that was affected by Covid: ticket sales. This show would have had to have been the slowest, smallest selling show I ever put on - and it was normally a guaranteed best seller. Was it just us? I checked around: a production of Annie was on at the same time and it had difficulty selling shows, even with half-price tickets. How hard must the times be when even Annie can't sell at discount tickets?
Looking at our pre-sales alone a sensible producer would have cancelled long ago. Further, so many of my usual elderly patrons told me they didn't want to take the risk this time - which was totally understandable. However, the cast told me most of their friends and family were not booking: they were waiting on the day to see if the show would be cancelled and then turn up at the box office if it wasn't. And so it was. We're one of the few societies that actually has a good walk-up rate. For opening and following night our houses more than doubled on what was shown on the booking site. Despite this, we still won't know how the show will sell for the rest of the season.
We do not know whether or not we'll get to finish the run. We are prepared for this and will just have to wait and see.
TO BE CONTINUED...
Buy tickets here.