Creative Team Debuts with Mulan
With a production team all debuting in their roles as director, musical director and choreographer The Regals Musical Society (NSW) presents the stage adaptation of Disney's Mulan with their production of Mulan Jnr during February 2014.
Travel back to the legendary, story-telling days of ancient China where the Huns have invaded, and it is up to the misfit Mulan and her mischievous sidekick Mushu to save the Emperor. The score includes Reflection, Honor to Us All and I'll Make a Man Out of You.
Stage Whispers chatted with the fresh, young production team to hear their experiences of their collaboration, and how they have brought the production together in just eight weeks.
As 'newbies' to your current roles, how did you manage any challenges you encountered during the rehearsal period?
Belinda Robinson (MD): The rehearsals have been productive, most of the time. With such a huge cast it is sometimes very hard to reign in the excitement into controlled energy for the show. I have never been in a show with the backing material instead of a live band before either so that actually makes learning the cues and the music especially crucial for the cast. Backing tracks, unlike live musicians, are not very forgiving.
Tracy Reid (Choreographer): The whole show has been a challenge as it's the first show I've ever choreographed. Our stage at Bexley is an interesting space to fit a large cast onto, so I really had to draw on creating a vision that was meeting Heather's outlook, but that would also work in the space while keeping in mind what our audiences would expect. I didn't think I would actually be able to pull something together especially with the short time frame, but I'm very happy and proud of how it has all come together.
Heather Riley (Director): It was nerve-wracking when I first thought about it. I am just a year or two older than some of them and I had worked with a lot of them before as a friend, so it would be hard to be strict with them. They love to be loud and they love to talk, which made me panic at first. As Belinda mentioned, we eventually came to realise that all of this energy comes from their love of performing, and the excitement they get from performing with their close friends. Instead of stifling it, we now try our best to filter all of that energy back into the show. They are absolutely amazing at what they do, and aren't afraid to make suggestions that often add that missing flair to a scene. They really have been a special part of building the show as well as performing it.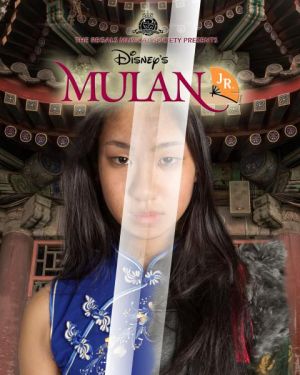 How has it been working together?
Belinda (MD): Even at our first meeting we realized that we were on the same page with this show. We had the same visions, aspirations and dreams of how we wanted the show to present. I knew from the beginning that I was working with two people who were going to give it everything they had and would motivate me to keep doing the same. Our rehearsals run smoothly, we all get our work done but both girls are awesome help when I am struggling and are also open to suggestions, which made it really easy to want to work with them.
Tracy (Choreographer): I've loved working with Heather and Belinda especially because we all seem to have the same visions of how we want the show to look. We're even saying the same things now. They are two lovely ladies to work with, and they have allowed me to push my creativity to a great level for what this show demands.
Heather (Director): At rehearsals, I always had Belinda or Tracy there to calm my nerves. Ever since our first production meeting, Tracy has consistently been able to somehow read my mind, and can turn every vague hand gesture or "vision" into a reality that ends up being twice as good as what I imagined. Belinda has some sort of magic and can get the cast, even on their noisiest day, to instantly pay attention and always brings the best out of every voice.
You didn't have much time to prepare for this show. Approximately eight weeks, is that correct?
Heather (Director): That's right! Auditions were held early in December, and we started about three days later. We had a break for the holidays and came back in January, giving us just over a month to get this show together. The rehearsal schedule is jam-packed and the days are long, but the cast have risen beyond my expectations.
Tracy (Choreographer): The cast have been absolutely amazing. They are super talented and have picked everything up so quickly. With the short amount of time we've had, it's been essential to have a switched on cast and they have definitely stepped up to the challenge.
Belinda (MD): We didn't have much time no, but it is a testament to the three of us. The behind the scenes organisers have been fantastic with ensuring everything runs as smoothly as possible by setting up publicity days, maintaining set painting days, rehearsal schedules, and sourcing musical equipment. These are just a handful of examples and I always feel I have an unlimited supply of help.

For those considering stepping into a production capacity, what are your thoughts on the overall experience of this production?
Heather (Director): The first thing I felt after I was asked to direct was pure excitement. It seemed so perfect that I could make my directorial debut with the society that I did my first ever show with back in 2006 (Peter Pan), and Mulan is my absolute favourite Disney movie. I then immediately felt overwhelmed. It seemed like I had a mountain of work to get over before we had even finished the orientation. I was definitely scared, and at times it was stressful, but no matter how frazzled I got, there was always someone there to help me out or just to sit me down and tell me I was doing just fine. The Regals committee were such a huge help in easing my nerves, and often took time out of their own busy lives to sit down with me until late at night and sort everything out.
Tracy (Choreographer): Honestly, It's been a little stressful at times knowing we don't have much time to get everything together but watching the show come together, the cast build on their talents and the hard work everyone involved is putting into bringing this to the stage, it far outweighs the tricky moments.
Belinda (MD): Simply. I just can't wait to show everyone what this cast and crew can put together in 2 months. It's hard work – but the end result is why we're all in love with this thing called "musical theatre"
Finally, what should audiences expect from this show, Heather?
Heather (Director): From the first production meeting to right now, the one thing that Tracy, Belinda and I have aimed for is for this show to be more than "just a kids show". And it truly is much more! With the pure talent in the cast matched with the hard work of everyone involved, we are so excited for people to see Mulan Jr, and I am counting down the days until opening night.
Disney's Mulan Jnr.
Feb 14 – 22, 2014
Bexley RSL Club
Bookings: Phone 0449 REGALS or http://www.theregals.com.au/bookings
Andrew Croucher Photography.
More Community Theatre Reading
Community Theatre Seasons 2014