Cuckoo's Nest For Chatswood
One flew East and one flew West and one flew over the Cuckoo's nest…
One Flew Over the Cuckoo's Nest plays at the Zenith Theatre Chatswood (NSW) from November 4 – 12, when epicentre theatre company presents the stage adaptation of the Oscar winning movie and Ken Kesey novel.
Upon arrival at a mental institution, a brash rebel McMurphy rallies the patients together to take on the oppressive Nurse Ratched, a woman more a dictator than a nurse.
Inspired by his experiences as an orderly in a mental institution, Ken Kesey's powerful 1962 novel challenged authority, derided conformity and explored themes of entrapment versus freedom. The iconic 1975 film version directed by Milos Forman and starring Jack Nicholson won all five major Oscars (Best Picture, Best Actor, Best Actress, Best Director, and Best Screenplay).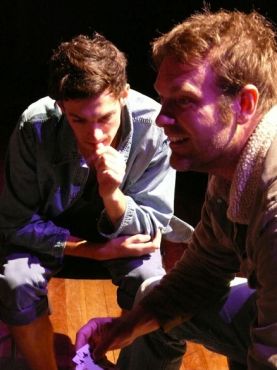 Dale Wesserman's stage adaptation brings this thought-provoking text to life, providing an insight into the treatment of mental illness in the 60′s. We are left asking – has anything changed?
Directed by Ben Lenzo with Judith Bedard, the cast features Cheyne Fynn as Chief Bromden, David Owens as Dale Harding, Sam Boneham as Billy Bibbit, Felix Carlyle as Scanlon, Robert Sharpe as Cheswick, David Vilanti as Martini, David Woodland as Randle P. McMurphy, Dave Kirkham as Dr Spivey, Suzy Wilds as Nurse Ratched, Heather Campbell as Nurse Flynn, Dave Kirkham as Turkle, Gretchen Mach as Candy Starr and Iseult Champion as Sandra.
One Flew Over the Cuckoo's Nest
Zenith Theatre Chatswood - November 4-12
Wed-Sat 8pm plus Sat 2pm and Sun 5pm matinees
Zenith Theatre Corner McIntosh and Railway Streets, Chatswood
Bookings 9777 7547or secure on-line bookings at www.epicentheatre.org.au
To keep up with the latest news and reviews at Stage Whispers, click here to like us on Facebook, or follow us on Twitter.