Dirty Rotten Scoundrels at Hornsby
Hornsby Musical Society (NSW) presents Dirty Rotten Scoundrels from August 26 to September 3, 2011. The all-singing and dancing musical comedy based on the popular 1988 movie starring Michael Caine and Steve Martin (and written by Dale Launer, Stanley Shapiro and Paul Henning) recreates the film's entertaining mix of romance and rip-off!
Dirty Rotten Scoundrels centres on two con men living on the French Riviera. The first - suave, sophisticated Lawrence Jameson, who makes his lavish living by talking rich ladies out of their money. The other-a small-time crook named Freddy Benson, more humbly swindles women by waking their compassion with fabricated stories about his grandmother's failing health.
After meeting on a train, they unsuccessfully attempt to work together only to find that this small French town isn't big enough for the two of them. They agree on a settlement: the first one to extract $50,000 from a young female target, heiress Christine Colgate, wins and the other must leave town.
A hilarious battle of cons then ensues.
Director: David Russell. Musical Director: Andrew Bartle. Choreographer: Lisa Russell. Cast: James Ford, Jeff Fisher, Kris Fennessy, Cara Suleiman, Liz Hogan and Jane Mullen Ford plus an ensemble of partying, sophisticated French locals and naïve tourists!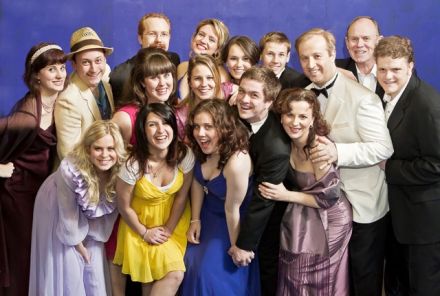 Friday 26 August to Saturday 3 September, 2011.
Hornsby RSL, 4 High Street Hornsby

Friday 26 August at 8pm, Saturday 27 at 2pm and 8pm, Sunday 28, 3pm, Friday 2 September 8pm & Saturday 3 September 2pm and 8pm.
Tickets $35 adult, $25 concession including booking fee.
Bookings: 9477 7777 or www.iwannaticket.com.au
Visit http://www.hornsbyms.org
Production Gallery. Photographer: Grant Leslie (Perfect Images).