Dry Rot at The Henry Lawson Theatre
The Henry Lawson Theatre, at Werrington County (NSW) begins its 2012 season in February with the comedy Dry Rot by John Roy Chapman, directed by Peter Williams.
Secret passageways and hidden doors are just part of this high-energy comedy set in a country house in rural England during the 1940's.
Mr and Mrs Wagstaff (Steve Treloar and Colleen Soper) have retired to rural England and have bought a small bed and breakfast. Their first guests are about to arrive and chaos abounds.
Mr Alfred Tubbe (Daniel Elvidge) and two associates are the first to arrive at the guesthouse. But they are there for more than just a relaxing weekend away.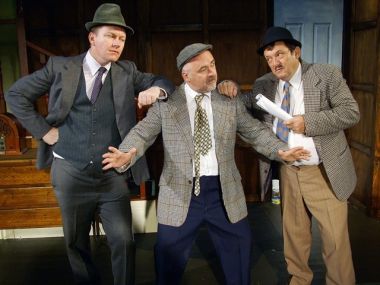 Alfred Tubbe plans to fix a horse race at a near by racetrack. The plan? To switch the race favorite with a dud nag. But things do not go as planned.
A strange French man arrives throwing a spanner in the works of Alfred's well laid out plans. Oblivious to what is happening around them, Wagstaff''s are left wondering just what on earth is going on in their quite little country retreat.
Dry Rot by John Roy Chapman.
The Henry Lawson Theatre, Werrington County - February 10 – March 2, 2012.
Bookins: (02) 47291555 (BH)
Ticket prices: $21 Adults and $15 Concession.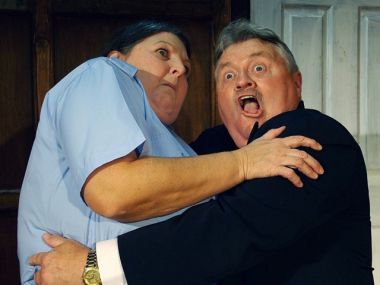 The Henry Lawson Theatre is located inside the Henry Lawson Club (which offers a meal deal for all theatre patrons) and is on Henry Lawson Drive, Werrington County.
Photographer: Ray Watts.
More reading - Community Theatre Seasons 2012.
Other Community Theatre Shows.
To keep up with the latest news and reviews at Stage Whispers, click here to like us on Facebook, or follow us on Twitter.