Farcical Robin Hood Romp at Roleystone
A FOOLISHLY funny twist on the classic tale of Robin Hood, presented by Roleystone Theatre, comes alive at Cecil Andrews College Theatre during March 2018.
Written by David Neilson and directed by Brogan Smirke and Euan MacMillan, Robin Hood: The Truth Behind the Green Tights is the story of cowardly Albert, trying to get by as best he can.
He transfers his allegiance from the Merry Men to the Sheriff of Nottingham and back again at the drop of a hat – or, more accurately, the point of a sword.
As a result, Albert, his wife, Robin Hood and Maid Marian end up in some very awkward situations.
"I've always loved the tale of Robin Hood and when I read the script for this one, it had me laughing out loud so I couldn't pass up the opportunity to direct it," Smirke said.
MacMillan had previously worked as assistant director on his school's Year 11 production of the show.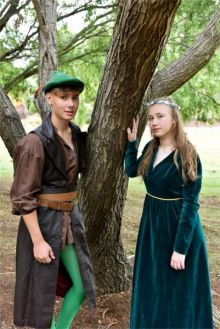 "I was keen to direct it in a more professional environment and work with a new group of people," he said.
First involved in theatre as an actor, MacMillan appeared in Oliver! at the Regal Theatre in 2011, followed by Les Misérables in 2012 and has also taken to the stage in Beauty and The Beast, Hairspray and Lord of the Flies.
Smirke has been involved in theatre from age three, most recently working on Roleystone Theatre's productions of Little Shop of Horrors and High School Musical as assistant director.
"The main challenge with Robin Hood: The Truth Behind the Green Tights is trying to produce everything that's written in the script," she said.
"There's everything from flying arrows and a tree that comes to life through to cracking eggs and water being thrown on everyone.
"I can't wait to see how we interpret it all in the end."
MacMillan agrees: "Perhaps the most difficult thing will be learning to coordinate all the separate aspects of the production, such as set and costume."
Robin Hood: The Truth Behind the Green Tights plays at 8pm March 9 and 16 and 2pm March 10 and 17. Tickets are $20, $15 concession – book on 6396 1557 or at www.trybooking.com/347474.
Cecil Andrews College Theatre is 39 Seville Drive, Seville Grove
Photographer: Zyg Woltersdorf=