A Funny Thing is Happening at Sunnybank
A Funny Thing Happened on the Way to the Forum, the Stephen Sondheim Musical Comedy, set in Ancient Rome, promises to have Sunnybank (Queensland) audiences rolling in the aisles from November 11 to 26, 2011.
The first Broadway musical to feature both music and lyrics by Stephen Sondheim, Forum has a book by Burt Shevelove and Larry Gelbart, based on the classic Ancient Roman farces of Plautus, with a good serve of classic vaudeville on the side.
Sunnybank Theatre Group's production will be directed by Ashley Worsman, with musical direction by Carleen Steele.
Set in Ancient Rome where no home was complete without slaves, virgins were regarded as objects to be conquered, and Eunuchs were in abundance, A Funny Thing Happened on the Way to the Forum is a lively musical vaudeville farce.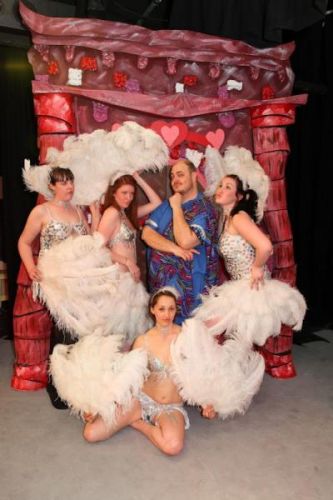 The plot hinges on the main character, a slave named Pseudolus who'll stop at nothing to buy his freedom from his owner, Hero, who is the son of Senex and Domina. Luckily for Pseudolus, Hero has fallen in love with Philia, a virgin who is waiting for Captain Miles Gloriosus to come and claim her, for she has been sold to him by the proprietor of the House of Pleasure, Marcus Lycus. Hero would give anything for Philia -anything including Pseudolus' freedom. The fun revolves around Pseudolus trying to arrange for Hero and Philia to be united. He runs into numerous obstacles, including a hysterical Hysterium, the slave-in-chief, and a bumbling old man, Erronius, who arrives home after being abroad for 20 years searching for his children who were stolen in infancy by pirates. The ending is not entirely predictable, and it would be a shame to give it away.
A Funny Thing Happened on the Way to the Forumopened on Broadway in 1962, and played for 964 performances, winning five Tony Awards including Best Musical and Best Book. It was made into a movie in 1966 with stars including Zero Mostel as Pseudolus, Phil Silvers as Marcus Lycus and a young Michael Crawford as Hero.
Sunnybank Theatre Group, Cnr Mains and Beenleigh Roads, Sunnybank, Brisbane, November 11 – 26, 2011. Bookings: www.stg.org.au or (07) 3345 3964, Option 1.
Sunnybank Theatre Group is a not-for-profit, volunteer-run organisation that has been presenting a variety of dramas, thrillers, comedies, pantomimes and musicals to the local community since 1965.
Images: From Top (all from left to right) - Chris O'Leary and Deon Spann; – Annice Orwin, Abbey Burkitt, Deon Spann, Genevieve Suthers, Front – Anzjuli Venter; Deon Spann and Chris O'Leary; Abbey Burkitt, Deon Spann and Anzjuli Venter; Deon Spann, Chris O'Leary, Greg Johnson and Gary Kliger; Abbey Burkitt, Deon Spann and Genevieve Suthers.
To keep up with the latest news and reviews at Stage Whispers, click here to like us on Facebook, or follow us on Twitter.