From Gaston to Beast for Scott at Packemin
When Packemin Productions bring Disney's Beauty and the Beast to the stage at Riverside Theatres Parramatta in July, another of the large scale pro-am musical productions for which they have built such a name, Scott Irwin makes the rather unusual transformation from Gaston, the role which he played in the professional production here in Sydney, to the Beast.
Beauty and the Beast is a show that holds very dear memories for Scott.
"It was my first lead role in a professional show and the one where I met my wife, Danielle Barnes. We were both in the ensemble, and 17 years later, we're still together and both still in the industry. An industry I didn't really plan to be in, actually! I auditioned for the Australian production of Beauty and the Beast as a dare and ended up doing almost 1000 shows, eventually taking over from Hugh Jackman in the role of Gaston. It's still the most magical experience in theatre I've had.
"It's great to be doing the show again."
Producer/director Neil Gooding initially asked Scott if he would like to do the show in the role of Gaston, or as the Beast.
"Gaston is one of those parts that was written to be a scene stealer. It is such a fun role and I loved playing it, but Danny Folpp who is Gaston in this show, was just born to do it. To me, the Beast will always be Michael Cormick, but I really wanted a shot at it. Roles like the Beast may be more thankless than your Gastons or Lumieres, but that's part of the challenge. Belle and the Beast are the heart and soul of the story, and to get that across to the audience takes a lot of work. The Beast is introduced as this terrifying, belligerent creature that has to transition believably from being a spoilt, tantrum-throwing prince, into something warmer and more human. Michael (Cormick) has a natural masculinity that was perfect for the role and that's something I think it needs – a guttural intensity. I've got to somehow get all of that across while wearing the make-up and fur of the Beast costume, which I'm nervous about."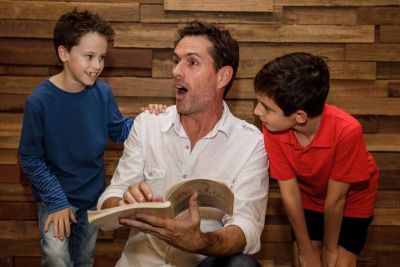 What are the differences between working in a professional show and a pro-am one?
"There are a few differences between a full professional show and one like Packemin's pro-am model. The first thing I noticed was the size of the cast. To turn up to rehearsals with a cast of 80-90 people, is mind blowing, whereas a commercial production couldn't do that because it's just not viable. The largest professional cast I've been in was for Hairspray and that was around 35 people. Having the larger cast means we don't have people running on and off stage playing lots of different characters and in Beauty and the Beast, the crowd scene really is a crowd and the village is full of people.
"As 'the seasoned pro' in the lead role, I feel a real responsibility to the production; to lead the company well. A lot of people give up their time and energy to make sure experiences like this exist for the up-and-coming talents and I feel proud to be a contributing member.
There are a good number of people in this cast who will find their way into the professional world. Kelsi, who plays Belle, is still in high school but she has really impressed me with her attitude to the show. She is up for the challenge and hasn't let the process intimidate her for one second. I'm sure we'll be seeing more of her in the future.
"A lot of the cast are graduates from performing arts courses or are currently studying, so there's a lot of talent in the ensemble. The pro-am model provides an environment for young performers hoping to transition to the professional world. They're working with a professional creative and production team that run a tight ship. The Packemin rehearsals are run like professional ones which can be a shock to the system for those who have only done community theatre. It's very exacting and you have to be switched on the whole time. Even though we start months in advance, we only rehearse for 2 nights a week so it probably only works out to be 3 weeks full time, which is about the same as a professional show. It's challenging retaining information from rehearsal to rehearsal with the long breaks in between.
"It didn't take long to feel comfortable with Packemin as I've worked with some of the cast and production team before. I've known Neil for about 10 years and worked with him briefly when I workshopped The Hatpin, which he also produced and directed. However, it wasn't until this year that we finally got to work together properly and BAM!, we're now doing two shows simultaneously! Neil has been directing me in Truth, Beauty and a Picture of You, which has been running alongside the rehearsals for Beauty and the Beast. Donna (Lee, Mrs Potts) and I have been in a few shows together too.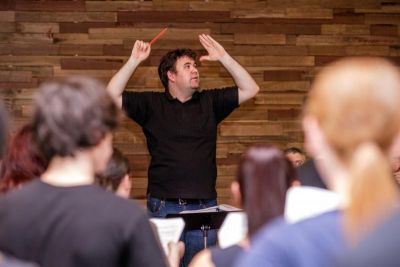 "I'm not great with crowds, so walking into that first rehearsal with almost 100 people, made me very nervous. However, the cast are so warm that within a few weeks, it was like having a new family. We're a great gang!"
Playing opposite Scott, Talent Development Project graduate Kelsi Boyden is set to charm the Beast.
Kelsi has appeared in Packemin shows over the past two years.
"I understudied the role of Dorothy for The Wizard of Oz in 2013 and I learned a lot from that experience. I love the company, so when I heard they were doing Beauty and the Beast, I automatically wanted to be involved. It is an absolute dream to be cast in a role I've always wanted to play. I enjoyed every day of the audition process and when I finally got the call to say I had the role, I was with my mum and we were both screaming – it was very exciting.
"It has been such an honour being in the Packemin shows and working alongside such big names in theatre like Jon English and Wayne Scott Kermond in Hairspray (2013). And now, working with Scott (Irwin, The Beast) and Donna (Lee, Mrs Potts) I'm learning so much. Their advice and wisdom is amazing, but most of all, it's just wonderful to work with people who are as passionate about what they do as I am.
"Doing the show and year 12 at the same time has worked surprisingly well. It's forced me to put my head down and study and to organise a proper schedule. It does take a toll on my social life, but I'm not complaining. I would never have turned down the opportunity to play Belle, so I was always going to make it work. I have my priorities in check.
"It's a big year for me. I've been part of the Talent Development Project for the past six years, which has involved going to the Entertainment Centre two days a month and workshopping songs and getting feedback from mentors. This will be my last year in TDP and it will be hard to say goodbye - it will be like leaving a family.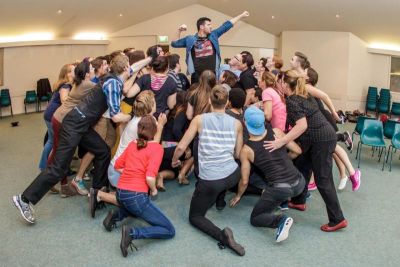 "I want to enrol in a BA of Performing Arts course next year, so I'll be auditioning for universities soon. My ultimate goal is to have a career in theatre and get paid to do what I love! So I have a lot of work ahead of me to make sure I achieve that.
"As we get closer to the show, I'm finding out more and more about my character, Belle. She's one of the few Disney females who really stands up to the men. She is the definition of a heroine – strong and forthright, yet very gentle and kind at the same time. She has a lot of layers that I'm trying to touch on to make sure the audience really understands her. There's more to this princess than just a beautiful face."
Produced by Packemin Productions with Direction by Neil Gooding, Musical Direction by Peter Hayward, and Choreography by Camilla Jakimowicz, Beauty and the Beast plays at Riverside Theatres Parramatta from July 18 to August 2, 2014.
Bookings: http://www.riversideparramatta.com.au/show/beauty-and-the-beast/
Rehearsal images: Scott Irwin and Kelsi Boyden; Scott with the two Chips; Musical Director Peter Hayward and Danny Folpp and ensemble. Photographer: Grant Leslie.
Cast
| | |
| --- | --- |
| Belle | Kelsi Boyden |
| | |
| The Beast | Scott Irwin |
| | |
| Mrs Potts | Donna Lee |
| | |
| Gaston | Danny Folpp |
| | |
| Lumiere | David Tucker |
| | |
| Cogsworth | Adam Scicluna |
| | |
| Lefou | David Collins |
| | |
| Maurice | Mark Power |
| | |
| Babette | Rebecca Matheson |
| | |
| Chip | Jacob Licastro / Sam Wood |
| | |
| Monsieur D'Arque | Michael Johnson |
| | |
| Silly Girls | Imogen Howe, Nicole Music, Ashleigh O'Brien, Emma Paton, Jessica Rookeward |
| | |
| Madame De La Grand Bouche | Inara Molinari |
| | |
| Belle (Understudy) | Ashleigh O'Brien |
| | |
| The Beast (Understudy) | Michael Johnson |
| | |
| Mrs Potts (Understudy) | Natalie Davis-Pratt |
| | |
| Monsieur D'Arque (Understudy) | Levi Gardner |
| | |
Adult Ensemble
Karen Astill, Cameron Boxall, Kelsi Boyden, Steven Brown, Maddison Burton, Maree Calabria, Phoebe Cameron–Lee, Loredana Cross, Jesse Curnow, Sarah Cutler, Natalie Davis–Pratt, Corey Dohmen, Lana Domeney, Paul Duncan, Bayley Edmends, Stephanie Edmonds, Melissa Faehrmann, Laura Farran, Lucy Fisher, Branden Gallagher, Jarrad Gallagher, Levi Gardner, Bradley Gavin, Kara Green, Barret Griffin, Tom Gustard, Karen Hooker, Tamasin Howard, Imogen Howe, Jacky James, Belinda Johnston, Luke Lamond, Patrick Lee, Kira Leiva, Jessica Lingotti, Boshko Maksimovic, Rebecca Mann, JaymeJo Massoud, Chidi Mbakwe, Katie Michaelis, Jim Mitchell, Eamon Moses, Nikole Music, Amy Neville, Ashleigh O'Brien, Stephen Ollis, Chris Pappas, Jason Parker, Emma Paton, Lauren Paul, Liam Peel, Taylah Piercy, Jim Pini, Tayla Reynolds, Brad Roe, Jessica Rookeward, Benjamin Roorda, Chloe Rosenberg, Danielle Rowe, Ebony Rowell, Emma Scarlis, Jessica Sheather, Charlotte Snedden, Megan Walshe, Alyssa Wilkins, Mirrae Youssef, Elanna Zapirain
Children's Ensemble
Sophie Andrews, Jasmine Argyropoulos, Kristian Babian, Stella Barahona, Aisha Barr, Sienna Bingham, Laura Bunting, Giulia Campos, Amelia Caruana, Isabella Colusso, Analiese Cosentino, Liam Costello, Julien Crevaro, Elisa Dagosto, Ashleigh Englemann, Renee Hampson, Heath Jelovic, Jacob Licastro, Jessie Massoud, Caitlin Roach, Alessia Spano, Leah Taggart, Isabella Taylor, Ava Toms, Gabrielle Vaggis, Kayla Wong, Sam Wood.
More Community Theatre Reading