Gold Coast Return Season for Doubt
When Director Michael Lill first read Doubt by John Patrick Shanley he knew instantly that he had to direct a production of it.
So he's naturally thrilled to be given the opportunity to reprise Doubt as a co-production with the Javeenbah Theatre Company in January.
Doubt explores moral uncertainty. Set in a Bronx Catholic school in 1964, a strong-minded nun wrestles with conscience and indecision as she is faced with concerns about one of her male colleagues.
Michael first staged the show in Murwillumbah in May 2011 but, due to popular demand, chose to reprise it.
"I was blessed with a wonderful cast and crew when I first staged the production and I'm thrilled to be bringing the show to Javeenbah Theatre," Mr Lill said.
"It is a play that will certainly have an impact on the audience because of its mixture of potent drama combined with rich humour."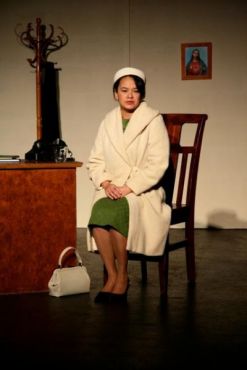 "The playwright said that the final act of the play is the dialogue that takes place between audience members as they drive home after the show because it's a play that raises many questions and the pursuit of answers is an exciting aspect of the play," he said.
Doubt won the 2005 Pulitzer Prize for Drama and the Drama Desk Award for Best New Play. In that same year it received the Lucille Lortel Award for Outstanding Play, the Tony Award for Best Play and the New York Drama Critics' Circle Award for Best Play.
"Everyone knows the film adaption of Doubt starring Meryl Streep and Phillip Seymour Hoffman," he said. "So we know this production will be very popular."
"It's been the most rewarding production I've ever worked on," Mr Lill said. "I am honoured to be directing it again and I can't wait to share the show with an audience at the wonderful Javeenbah Theatre," he said.
Doubt features Catherine Brooks (Sister James), Marie Dickson (Sister Aloysius), Maureen Lill (Mrs Miller) and Michael Lill (Father Flynn).
Doubt plays from January 20 to February 4, 2012. Bookings 5596 0300.
Images: Catherine Brooks, Marie Dickson and Michael Lill & Maureen Lill as Mrs Miller.
More reading - Community Theatre Seasons 2012.
Other Community Theatre Shows.
To keep up with the latest news and reviews at Stage Whispers, click here to like us on Facebook, or follow us on Twitter.