Good Grief at Therry
Therry Theatre's final production of 2023 at The Arts Theatre, Adelaide, is Good Grief, a "comedy with an emotional heart".
We meet June Pepper when she returns home from the memorial service of her late husband, Sam.
Moving on with her life is slow, but it's done with wit, comic resourcefulness, and a touch of poignancy. Having donated Sam's clothes to the local op-shop brings closure of sorts but when she sees one of his favourite suits worn by a stranger, she is drawn to him. Their meeting at the local pub forms the basis of a friendship. We learn of her anguish, her ups and downs in life as she chats, amiably for most of the time, bitterly sometimes, sadly at others, to the invisible Sam, using the audience as a conduit.
The plot involves June's battle to adjust and picking up the pieces of Sams life. Collecting Sam's huge collection of books – as well as dealing with her step-daughter Pauline. Eric, a seemingly nasty piece of work who was her husband's colleague and Duggie or The Suit, as June calls him - a man who bought Sam's favourite suit from the Oxfam shop.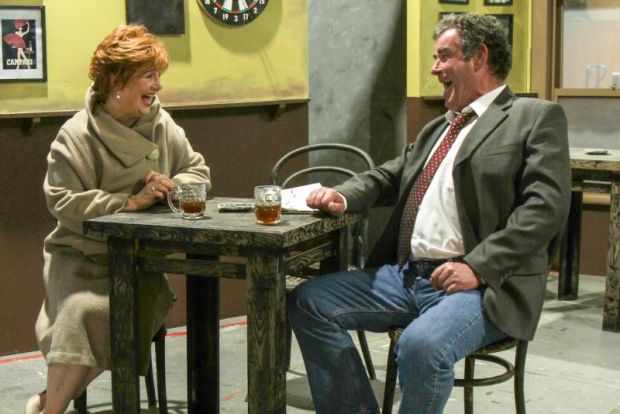 These characters pop in and out of June's life as do the numerous bottles of vodka she drinks to numb the pain.
June's step-daughter Pauline was cool to her step mother, but tried to look after her in a strangely protective way, like hiding the vodka bottle, making her tea and meals. It is obvious there is some bad feeling and resentment boiling underneath, but sympathy too.
For anyone who has grieved the loss of a loved one, it is hard. Noone does it the same, no one does it wrong.
Photographer: Don Oswald
Good Grief
Playwright: Keith Waterhouse
Director: Angela Short
Stage Manager: Heather Jones
Set Designer: Don Oswald
Cast:
Sue Wylie as June Pepper
Peter Davies as The Suit
Monika Lipka as Pauline
Tom Tassone as Eric
The Arts Theatre, 53 Angus Street Adelaide
Preview ($10) Wednesday 1st November at 7.30pm
Thursday 2nd November and Friday 3rd November at 7.30pm
Matinees: Saturday 4th November and Sunday 5th November at 3 pm
Wednesday 8th November to Saturday 11th November at 7.30pm
Matinee: Saturday 11th November at 2pm
Bookings at www.//trybooking.com/CLLLC OR phone 0411924566 and speak with Lorraine.