The Harp in the South for Henry Lawson Theatre
The Henry Lawson Theatre (Werrington, NSW) presents Ruth Park's The Harp in the South, adapted for stage by Ruth Park and Leslie Rees, from November 11 – 27, 2011.
The Harp in the South follows the story of the Darcy family in post World War II Sydney. The Darcys, descendants of Irish immigrants, like so many settled in the poverty-ridden slums of Sydney's Surry Hills, which provides the backdrop to this sometimes funny but always poignant story. The play will take the audience back to a time long forgotten, where providing a daily meal was always a struggle and everyday life a challenge for survival. Like so many during this time, they were cash poor, but they had a richness money could not buy, the bond of family and friends.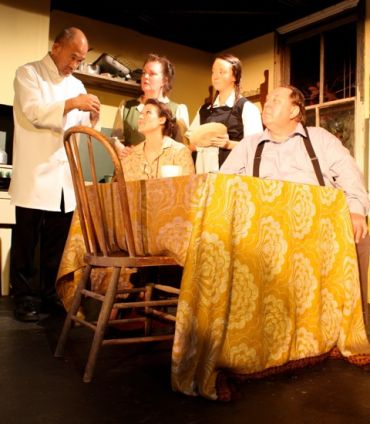 Joshua Crew directs a cast including Elizabeth Stramandinoli in the role of Mumma, Mike Rochfort as Hugh Darcy and Janet Boreham as Grandma, with set design by Peter Traish and costuming by Ann Traish.
Performance Dates:11th, 12th, 18th, 19th, 25th, 26th November and 2nd December @ 8pm. 20th & 27th November @ 2pm.
Bookings: (02) 47291555 (bh) or (02) 96736666 (ah) or www.hltheatre.com.au
Ticket prices are $21 Adults and $15 Concession.
The Henry Lawson Theatre is located inside the Henry Lawson Club (which offers a meal deal for all theatre patrons) and is on Henry Lawson Drive, Werrington County.
Photographer: Lorraine Traish.
To keep up with the latest news and reviews at Stage Whispers, click here to like us on Facebook, or follow us on Twitter.