Lend Me A Tenor at Limelight (Perth)
Double entendres, impossible innuendoes and a scheming soprano are just some of the ingredients being served up at Wanneroo's Limelight Theatre (WA) this August.
It's all part of the farcical comedy Lend Me A Tenor, written by Ken Ludwig and directed by Karen Tropiano, where the world's greatest singer tries to save the Grand Opera Company.
Set in 1930s Cleveland, things go a-wry when he becomes incapacitated – and the meek Max, who fancies himself as a tenor, attempts to take his place.
When the true tenor recovers, there are suddenly two identical singers leading to mixed-up mirth, merriment and mayhem over a case of mistaken identity.
Originally produced on Broadway and London's West End in the 1980s, it was revived for Broadway last year with Australian actor Anthony LaPaglia.
Tropiano came to direct Lend Me A Tenor almost by accident, after the original director wasn't able to do the season.
"Comedy is my forte and the Limelight Theatre committee felt it was my sort of thing," she said.
"Even though I took the play on board at short notice, it's a happy accident.
"Lend Me A Tenor is a very slick, fast-moving comedy and needs excellent comic timing.
"It's a huge challenge, especially given it's a play I didn't know from the outset.
"The tenors need to sing excerpts of opera in Italian and, despite my surname, I don't have that background!"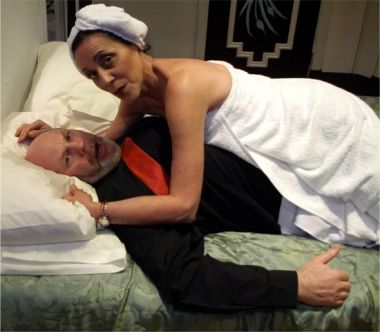 Lend Me A Tenor is the fifth directorial outing for Tropiano, after scoring second place at the annual Finley Awards for her musical direction of Nunsense in 2009.
Performing with Limelight Theatre for more than 20 years, she has previously directed Secret Bridesmaid's Business and Play On.
With her latest venture, Tropiano is learning the truth in the old adage "never work with children or animals" – but she also adds doors to that list.
"In Lend Me A Tenor, six doors are involved with people hiding in closets and bathrooms, coming and going without being seen," she said.
"It's a clever and very funny play – it's no wonder it's been translated into 16 languages and produced in 25 countries. "
Lend Me A Tenor plays at 8pm, August 5, 6, 11, 12, 13, 18, 19 and 20, 2011. Tickets are $19, $16 concession and $10 children.
Book on 9571 8591 between 9am and midday, Monday to Friday, or online at www.limelighttheatre.com.
Limelight Theatre is located on Civic Drive, Wanneroo (WA).
To keep up with the latest news and reviews at Stage Whispers, click here to like us on Facebook, or follow us on Twitter