Little Shop Casting Cancellations
Two community theatres have cancelled their seasons to the musical Little Shop of Horrors after a backlash against their casting choices.
The Beaumaris Theatre Company in Victoria and the Launceston Musical Society in Tasmania both called off their seasons for similar reasons.
Both companies came under fire on social media for their decision not to cast people of colour in the roles of Ronnette, Crystal and Chiffon - the trio of 60's female singers in the musical.
Both companies issued apologies and cancelled their seasons.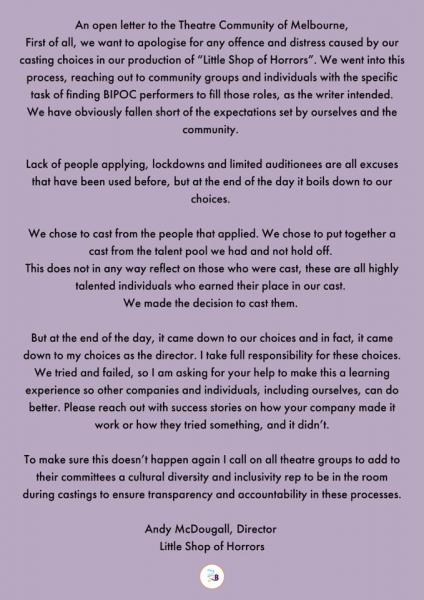 There are some musicals which cannot be staged anymore, unless racially appropriate casting is employed. In the past this included classics such as Porgy and Bess and Showboat.
In the wake of the black lives matter movement this has been extended to musicals such as Hairspray and In the Heights.
I understand that there are no similar rules in place for Little Shop of Horrors because racial politics is not central to the story.
However both companies decided to apologise and cancel their productions due to concerns of what was seen as insensitive casting.
Written by David Spicer
Some of the reaction on the Stage Whispers Facebook Page.
"This cancel culture is getting out of control. I feel sorry for the companies who have been impacted and the poor people who we're cast. Absolutely ridiculous." Rod Herbert.
"You're all a bit tone deaf, it is simply not that hard to find BIPOC actors and if you can't cast appropriately don't pick the show." Samira Reason.
"So My Fair Lady should only have English people in it
And Italian opera only Italians
. Really." Kevin Yates.
"
This is ridiculous. There were plenty of great girls groups in the '60s which were made up of young white women." Rowena Greaves.
"Seems to be an awful lot of caucasian people sounding off in the comments about what is and isn't racist." Blake Erickson