Little Women Sing at Bankstown
Diane Wilson, the Director of Little Women, is passionate about Bankstown Theatre Company's upcoming production of Little Women – The Musical.
"In her 1868 novel, Little Women, Louisa May Alcott told the story of the March family. It became a classic and has remained a favourite for generations," she said.
"Little Women is a warm hearted story about family, growing up and love. Set in a small town in Massachusetts during the American civil war, it tells of Mrs March and her four daughters. There is the strong willed tomboy Jo, the romantic and beautiful Meg, the delicate and kind hearted Beth and the naive and loveable Amy.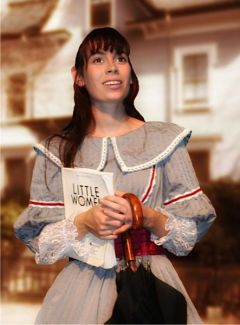 "Over the years Hollywood has produced three film versions with amazing women in the lead role of Jo. In 1933 it was Katherine Hepburn followed by June Allyson in 1949 and with Winona Ryder in the 1994 version directed by Australia's Gillian Armstrong. It's hardly surprising," she added," that Little Women the musical surfaced on Broadway. I was swept away when I first heard the music and I have wanted to direct the show ever since."
"I am so happy to have such four wonderful performers as the March sisters. – Rebecca Matheson (Jo), Amy Toledano (Beth), Kate Selsby (Amy) and Hannah Farrant-Jayet (Meg). As well as I have Dale Selsby as Marmee, Gaving Leahy as Professor Bhaer, Christopher Griffith as Mr Laurence, Greg Thornton as Mr Brooke and Patrick Diggins as Laurie."
Little Women t]he musical will be performed at the Bankstown Arts Centre, Olympic Parade, Bankstown for two weeks.
Performance dates are 21, 22, 23, 28, 29 & 30 March, 2014. For further information or to book, visit www.bankstowntheatrecompany.com or phone 9676 1191.
Images: Marmee surrounded by the March sisters and Rebecca Matheson as Jo.
More Reading
More Community Theatre Reading