MEET SWEET CHARITY!
The Regals Musical Society (Sydney, NSW) will present Sweet Charity for one week only from May 15th – 19th at St George Auditorium, Kogarah.
Since the unplanned closure of the Rockdale Town Hall, the Regals Musical Society has found a new home in the St George Bank Auditorium, on Montgomery Street Kogarah and this May they will be performing the Broadway classic Sweet Charity.
Sweet Charity is well remembered thanks to the1966 film adaptation starring Shirley Maclaine, but also for the fabulous and exciting dance numbers. In this production The Regals plan to celebrate the choreography of Bob Fosse while highlighting the 1968 way of life in New York City; an era of flares, tall hairdos, miniskirts and rebellion against establishment.
Ste Casimiro heads up the production team as Director/Choreographer, with Jessica Shanks bringing the eternally optimistic role of Charity Hope Valentine to life. Stage Whispers recently spoke with them both…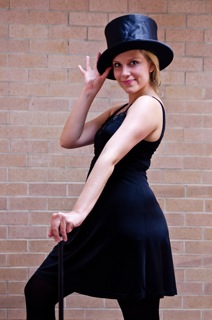 Stage Whispers: Jessica, you're currently completing a Bachelor of Arts/Bachelor of Education (Secondary) at the University of New South Wales. How are you juggling the demands of this while bringing such an iconic role to life?
Jessica Shanks: It has indeed been a juggling act completing my last semester of University, working part-time and constantly running off to rehearsals. I often recite my lines and practice my songs as I drive to Uni, attracting strange looks from passers-by. This past six months has been a whirlwind but I have enjoyed every second of the rehearsal process and cannot wait to bring the character of Charity to life on stage.
SW: Is this a role that has always been on your 'to-do' list?
JS: I first saw 'Sweet Charity' performed by NIDA students when I was in year eleven and fell in love with the musical. Ever since then I have been waiting to audition for the role of Charity. It is such a comedic role combined with big singing and dancing demands. I love Charity's humility and optimism and I hope audiences fall in love with the character much as I have.
SW: What has been your favorite moment to date with this Production?
JS: Learning the choreography for If My Friends Could See Me Now, as I get to use a popping top hat!
SW: Ste, Bob Fosse is one of the dancing greats. How are you paying tribute to such a legend?
Ste Casimiro: Sweet Charity was originally conceived by Bob Fosse when he saw the film version of Nights of Cabiria. He believed the humorous plot would be equally entertaining set to music. This show is a tribute to Fosse by staying true to his honest direction of 'quirky girl meets normal boy' in a mixed eyed wonderful world. Each dance number in this production has a strong interpretation of traditional Fosse poses and dance combinations. Due to Fosse's pigeon toe and slouched posture he created a unique style, which can be difficult to mimic, however our cast (with the majority consisting of non-trained dancers) hit the mark that Fosse's style demands. The show is fast, slick and sexy... everything that Bob Fosse was.
SW: Rockdale Town Hall have extended their renovation period – how has this affected the spirits of the cast, particularly those that have been in The Regals family for many years?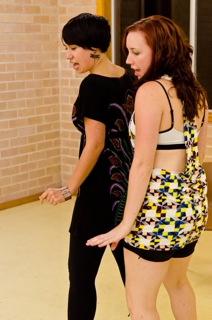 SC: Initial planning, staging and directions for Sweet Charity were created to perform on a large scale stage and when we received the news, we had cast the show, and were well into rehearsing. We tried to source a stage similar to the Town Hall to no avail. So we were incredibly thankful to the St George Bank Auditorium for allowing us to perform such a large production in their venue, which The Regals have used for previous productions. The Auditorium stage is smaller than the Town Hall, and in order for the show to be successful in this space we have had to be highly creative to utilise the stage effectively, while keeping our original vision intact. Informing the cast of all details throughout the rehearsal period has allowed them to adapt quickly, and all have been supportive and remained excited to be bringing this production to audiences. Some may even say that they are having "fun, laughs, good times".
SW: What can audiences expect from this production?
SC: The show contains many great musical numbers such as 'Big Spender' and 'Rhythm of Life'. The audience will be toe tapping during the upbeat numbers and can expect to see some great dance routines. No doubt they will be amazed to see everyday people performing the difficult and complex Fosse combos. They can expect to see a small part of themselves in Charity; someone who wants to be loved. It's a fun show with some great humour, energetic and vibrant dance routines, beautiful voices, and a lot of heart.
Sweet Charity plays at St George Bank Auditorium, Montgomery Street, Kogarah from 15th May – 19th May.
Bookings: 0449 REGALS
Rehearsal images: Cast of Sweet Charity in rehearsal (top & third images); Jessica Shanks as Charity Hope Valentine, and Lauren Nalty as Nickie and Charise Graber as Helene.