Memories of Margaret Thomson
Arthur Pickering remembers a beloved stalwart of Sydney community musical theatre.
The last show at the old Capitol Theatre, and the first Bankstown Theatrical Society show I saw, was Brigadoon in 1969. This was also the first time I saw a performance by the unforgettable Margaret Thomson. Little did I realize that over the next fifty years Margaret would often reappear in my life, both as a performer and as a dear friend.
Margaret was a strong clear soprano with fantastic diction. She could hit the high notes and belt with the best of them. Without the assistance of microphones you could hear her at the back of the theatre, but wherever you sat you could hear her in your heart. She had something special that could thrill you and she loved to sing more than any other performer I have ever met. Not just a singer, she could act and had a wonderful way of pulling at your heartstrings. As the mist enveloped Brigadoon and she sobbed, "Oh Tommy, 'tis the end of our day," it literally took my breath away. To this day when I play the old LP recording which was made of the performance I experience the same reaction.
The Merry Widow held a special place for Margaret and her first role with the society was as the second lead, Valencienne. She went on to play the Widow in subsequent productions with great success. June Bronhill once told Margaret that her version of 'Vilia' was better than her own. I had to hear this from a family member as Margaret was not one to brag.
Offers to become professional were rejected by Margaret, who remained content with her senior position for a most unexpected employer, a motorbike retailer - a position she enjoyed until her retirement.
For thirty three shows from Oklahoma! in 1959 through to the mid seventies Margaret held the title of 'Bankstown's Leading Lady'. Seizing the title from this tall poppy became difficult for aspiring up and comers. They could not deny her talent and dedication and always credited the quality of her performance, the following she had in the community, and the respect she showed to every member of the company. Margaret may have had competitors for roles but she did not have enemies. This is simply because she was ethical and nice. I never heard Margaret utter a nasty word about anyone.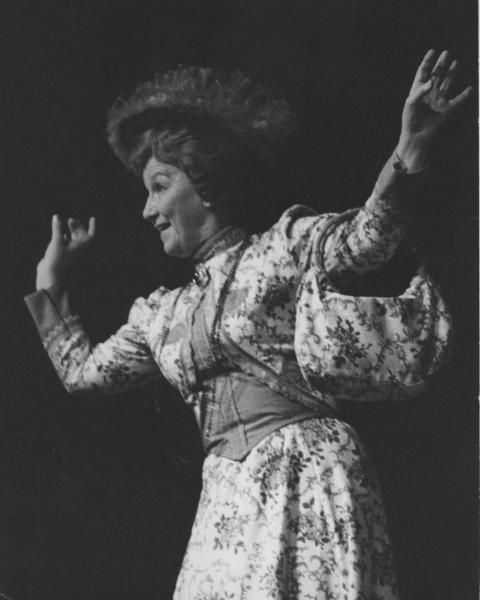 In 1973 it was my great honour to work closely with Margaret in Camelot, the show that opened the Bankstown Town Hall. I was young and inexperienced but did my best to be a worthy King opposite her. We shared a duet, 'What do the Simple Folk Do'. In it we had to whistle. Wouldn't you know it, she could whistle, I could not.
Bankstown Theatrical Society (now Bankstown Theatre Company) was Margaret's home but over the years she also performed for Rockdale Musical Society, Hurstville Musical Society and Strathfield Light Opera Company.
In 2006 it struck me that there were few as important in the history of Bankstown as Margaret Thomson. Something, I thought, had to be organized to display her talent, celebrate her history and hopefully show the younger generation how it's done. Margaret had not appeared in a show for the company for many years and was considered to be 'getting on' but still she performed as principal artist with several different groups entertaining at nursing homes, and the like. Margaret had never stopped taking regular singing lessons and was as strong as ever.
I spoke to Bankstown and asked if I wrote a musical revue for Margaret about her time with the company would they produce it. They agreed and Love Notes was performed to two packed houses at the Olympic Parade Theatre in April 2007. I chose the title from Rose Marie's 'Indian Love Call'. 'So echoes of sweet Love Notes gently fall....' Margaret was on top of her game and her performance was everything you would expect. At the finale the audience stood and cheered, they reached out, literally grabbed hold and wouldn't let her go. Eventually they brought up the house lights. The crowd, still milling around her, treated her like a rock star. This sounds like hyperbole but it isn't, I have it on video. I now know that at the time this powerhouse was in her mid seventies.
After Love Notes Margaret appeared in a play, Eyes Down (2008) at the Olympic Parade Theatre and again at the Town Hall in our 2009 musical revue, The Best of Times, which celebrated 70 years of Bankstown Theatrical Society shows.
Sadly Margaret was ill for her last few years and passed away in July 2020. She went peacefully and will be missed by everyone who really knew her. She will always hold a special place in my memory and in the hearts of all of my family.
Pandemic regulations kept the crowds from her funeral, but we few who were able to attend stood and applauded as the strains of her beloved 'Vilia' echoed her sweet love notes.
Vale Margaret.
Images: Margaret in the title role of Mame (with Rickard Roach) in 1975, in the title role in Hello, Dolly! in 1974 and in Eyes Down in 2008.