More Neil Simon Comedy for Galleon Audiences
Adelaide's Galleon Theatre Group focuses on comedy with a touch of darkness and has presented Neil Simon's plays many times in the past, including Rumours, a production that achieved the Adelaide Theatre Guide 2015/16 Best Comedy award.
Galleon's audiences love Simon's plays and this October and November the multi-award-winning company is embracing his work again by producing The Prisoner of Second Avenue. Galleon brings to life this classic comedy at the company's regular venue, Domain Theatre, at the Marion Cultural Centre.
The play premiered in 1971, starring Peter Falk and Lee Grant. It received Tony Award nominations the following year. Described at the time by a New York Times critic as "the most honestly amusing comedy that Mr. Simon has so far given us", the play was also very successful later, in London's West End.
The original film version starred Jack Lemmon and Anne Bancroft.
Mel is a well-paid executive of a high-end Manhattan firm that has suddenly hit the skids. He gets the axe. His wife Edna takes a job to tide them over, then she too is sacked.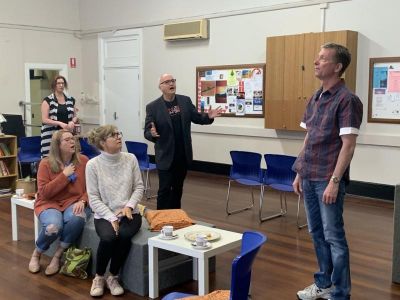 Compounded by the air pollution killing Mel's plants and with the walls of their apartment being paper-thin (allowing him a constant earful of his neighbours' private lives) it seems things can't seem to get any worse!
Then he is robbed and his psychiatrist dies with lots of his money.
Cue the breakdown. And you think you have problems!
Galleon Director, Kym Clayton said, "Even though this play was written around 50 years ago, it's uncanny how relevant to today Prisoner really is. The humour often comes out of pain, but aside from this there's a lot of laughs. Funny? It's hilarious!"
The Prisoner of Second Avenue stars Andrew Clark, Sharon Malujlo, Harry Dewar, Ashleigh Merriel, Anita Canala and Leanne Robinson.
Don't be a prisoner at home on the couch. Free your mind and escape to the Domain Theatre to take in the talent and comedy on show with Galleon Theatre Group's production of The Prisoner of Second Avenue.
When: Preview October 23 at 8pm (limited seating); October 24 - 26 & October 31 - November 2 at 8pm; Matinee November 2 at 2pm.
Where: Domain Theatre, Marion Cultural Centre.
Telephone Bookings 8375 6855 (box office)
Online bookings www.galleon.org.au
Prices Adult $27, concession $23, preview $15 (transaction fee applies)