Mrs Potts, Two Chips and a Passion for Disney Magic
By the time Disney's Beauty and the Beast, Packemin Productions' latestl arge scale pro-am musical production, takes the stage at Riverside Theatres Parramatta in July, Donna Lee (pictured left) will have made some pretty substantial adjustments to her usual acting style.
"Mrs Potts is the role character actresses like me want to add to their list, so I'm very excited it has come about. She's so gorgeous and loveable, which is how I want to make her in this show, but it is made a bit difficult by the fact she has no hands or legs to speak of – she's a teapot. Expressing yourself within the confines of a teapot costume is certainly a challenge. In rehearsals we'll often be doing a scene and be feeling very pleased with ourselves that we've blocked it up and then someone will remember that I'll have a teapot costume on and we'll have to change it all.
"It will be great to be back at the Riverside Theatres again, too. I was in an Australia play there called Biddies, and I just loved the venue. It truly is one of the most underrated theatres in Sydney. We're so lucky to get the productions there we do, because it means every part of Sydney has access to great theatre. You don't have to go into the city to see great things. I hope audiences continue to support Riverside, because they really deserve it."
Donna Lee has worked in every facet of the entertainment industry in a career which started as a child performer working with her show business parents. Her father Frank Cleary was a juggler and her mother was great musical theatre performer Gloria Dawn.
Beginning at the age of nine, Donna appeared in Sail Away by Noël Coward and the revival of Annie Get Your Gun at Her Majesty's Theatre in Sydney. Donna went on to perform in musicals including Fiddler on the Roof, Gypsy, Jesus Christ Superstar, They're Playing Our Song, Showboat, Snoopy the Musical, Nunsense 2, Forbidden Broadway, Anything Goes, Dames at Sea and High School Musical.
For Oklahoma! she won a Greenroom Award for her portrayal of Ado Annie. She has also received Greenroom Award nominations for her roles as Madame Thenardier in Les Misérables and the Dubbo Housewife in Menopause the Musical.
"What I love most about doing a pro-am show, is that it reminds me that all the work I've done in my lifetime hasn't been for nothing. I get to pass on what I've learned. The cast have a lot of ambition, hopes and designs, so they're in the right mind-space to watch and learn which is wonderful to see. Packemin is providing a tremendous entry into the theatre world, and with the way Neil (Gooding) produces the shows, it's closer to professional theatre than community theatre.
"The joy in the cast is passed around and across from person to person, so it becomes infectious. It is a genuine pleasure to be involved in this show."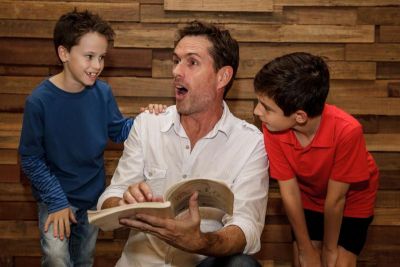 Sam Wood and Jacob Licastro (pictured right with Scott Irwin - The Beast) will alternate in the role of Mrs Potts' son Chip.
For Sam, getting the role of Chip came as a very special gift.
"I was so excited whenthe producers rang me on my 9th birthday to offer me the role of Chip. It was certainly an extra special birthday present!
"I was very excited by the audition process and my very first audition. When I was asked to stay on stage by the producers and sing again as well as read the script, I wasn't nervous at all. I was having too much fun.
"The cast is very friendly, supportive and helpful. It really is a big family.
"I hope that Beauty and the Beast will be the first of many future many productions for me. I am surrounded by really talented actors.
"I will continue to study all dancing and singing styles I do now and I will try and do as many productions as possible.
"Trying to fit in Beauty and the Beast rehearsals, school work and my other performance rehearsals is lots of work, but it's also fun."
For Jacob Licastro, the role of Chip marks a brand new adventure.
"I was extremely excited and scared at the audition as I've never been in a musical before. I wanted to be in the show so much that I tried really hard to do my best. It makes me feel more confident in myself and I really want to learn all I can about being in musical theatre. It is so interesting to see how the show is put together. I can't wait for the show to start and to perform on stage."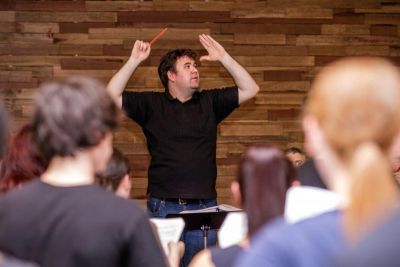 Musical Director Peter Hayward (pictured left) admits a life-long love for Disney magic.
"Ever since I was a kid, Disney has been a big part of my life. I grew up in the renaissance of the Disney musical when movies like The Little Mermaid, The Lion King and Aladdin came out, so it is awesome to work on, and create a bit of my own Disney magic.
"Alan Menken (score composer) is a genius. He has written some of the most famous songs in history for both Disney and non-Disney musicals. Beauty and the Beast is no exception. The underscore and orchestral score for the production is such fantastic music, so this show is a great opportunity for me to perform and be involved with that level of gorgeous writing.
"It is certainly a challenging score for the singers and the orchestra, in particular the underscore and dance music, but that's what makes it great.
"I've been Musical Director for six Packemin shows and I have to say that, across the board, this is one of the most passionate and talented casts we're had. In their specific areas for the show, there are no weak links in the production. Every year the calibre of auditionees goes up with each show Packemin does because more and more people are aware of the great experience that being in one of their shows is. Seriously talented amateurs are joined with some of the best Australian theatre talent which is the strength of the company. There's great leadership and everyone pulls their weight, so the cast feel a responsibility to do their best work too. Plus, they're all just really nice people!"
Produced by Packemin Productions with Direction by Neil Gooding, Musical Direction by Peter Hayward, and Choreography by Camilla Jakimowicz, Beauty and the Beast plays at Riverside Theatres Parramatta from July 18 to August 2, 2014.
Bookings: http://www.riversideparramatta.com.au/show/beauty-and-the-beast/
Read more about Packemin's Beauty and the Beast