My-oh me-oh! The Boy From Oz for Perth
THE first Australian musical to ever reach Broadway plays in Floreat, Perth (WA), from November 4 to 26, 2011, with Playlovers' production of The Boy From Oz.
Written by Nick Enright and directed by Ryan Taaffe and Daniel Burton, it's a colourful tribute to the life and times of Australian singer-songwriter Peter Allen.
Using Allen's often autobiographical songs, such as I'd Rather Leave While I'm In Love, I Go To Rio and I Still Call Australia Home, the musical is a journey through his extensive career and turbulent life.
At 18, he was signed by Johnny O'Keefe and then discovered by Judy Garland in Hong Kong – and then went on to marry her daughter, Liza Minnelli.
Taaffe, who also plays the title role, describes Peter Allen as one of Australia's most enduring performers and says The Boy From Oz has a wealth of wonderful songs that celebrate his life.
"The musical tells a fantastic story about always chasing your dreams and never letting anything get in the way – even death," he said.
"Peter Allen is an Australian icon and the story tells us that, even from humble beginnings, we can succeed if we are willing to work, no matter the obstacle."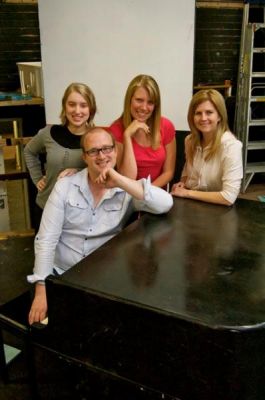 While many may associate the lead role with Hugh Jackman or Todd McKenney, Taaffe is a firm believer the music and story of Peter Allen will always be accessible, no matter who plays the role.
"Each of us brings something new to the story," he said. "It's one of those stories that bends itself to what the performers bring – not the other way round."
Involved in theatre since age 13, Taaffe trained at the WA Academy of Performing Arts and Curtin University and has played the lead role in numerous plays and musicals over the years and is manager of Kwinana's Koorliny Arts Centre.
Most recently, he won a Finley Award for best musical after directing Cabaret, also scoring second place with Fame.
"The main challenge with The Boy From Oz is the fact the characters are people everyone knows and they will expect to see those people," Taaffe said
"They expect Peter, Liza and Judy and that's a hell of a challenge to live up to."
The Boy From Oz plays at 8pm, November 4, 5, 10, 11, 12, 17, 18, 19, 24, 25 and 26 and 7pm, November 13 and 20.
Tickets are $25, $20 concession – book on 0415 777 173 or bookings@playlovers.org.au.
Playlovers is located at Hackett Hall, Draper Street (off Underwood Avenue), Floreat.
Images:
Jack Dunne, left, plays the young Peter Allen in The Boy From Oz with Ryan Taaffe as the adult Peter.
The cast of The Boy From Oz… Rachel Leonhardt, Nicole Meyer, Kate Thomas, Skyler Ellis, Rebecca Burke, Madeline Hangan and Daniel Burton with Jack Dunne (young Peter) and Ryan Taaffe (Peter Allen).
Emma Shaw, Jessica Taylor and Sasha Hilton are Peter Allen's all-singing, dancing backup trio in The Boy From Oz with Ryan Taaffe.
To keep up with the latest news and reviews at Stage Whispers, click here to like us on Facebook, or follow us on Twitter.