New Zealand Musical Theatre Boom
Musical Theatre in New Zealand is experiencing a 'golden era', with record attendances, profile and audition interest. The growth is not in professional theatre, but community theatres which ship professionally built sets and costumes around the country.
The musical theatre scene in New Zealand is a unique one, with the combined factors of a strong economy and some beautiful regional theatres, but a relatively small and geographically spread population.
Of the big touring Australian mega musical productions, only a small number make the trip across the Tasman, and when they do, usually only stop in Auckland at the Civic Theatre, bringing with them their Australian based cast and crew.
New Zealand professional theatre companies - including Auckland Theatre Company, Circa in Wellington and the Court Theatre in Christchurch - rarely stage more than one musical per season. This leaves a major gap in the New Zealand market.
Enter the community theatre scene and the NZ Musical Theatre Consortium. The consortium is a group of volunteer driven community theatre groups from various cities around New Zealand, working together to secure the performing rights to major musicals and pool their resources to build the set, props and costumes.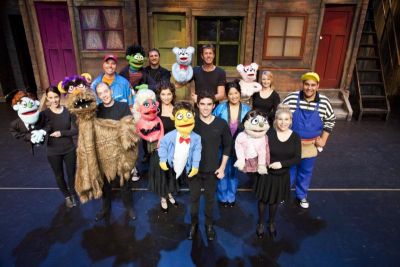 Each society then uses the production resources in their own city with a local cast, orchestra and production team.
"The consortium concept has enabled all of us to operate at a much higher level of production quality than we would be able to do when producing shows on our own," says New Plymouth Operatic's Patrick Landrigan, who manages a number of the tours.
While the consortium concept is now 25 years old, it's been since 2012 that the combined group has really grown. Initially only one consortium production operated at a time. Now there are multiple shows on the go, with 17 different productions having been built over 25 years.
This group approach has seen the New Zealand theatre companies granted rights to new musicals well in advance of their Australian cousins – with a five-year tour of Mamma Mia! just concluding, and tours of Priscilla, Queen of the Desert and Sister Act still 'on the road'. Currently there are 10 musicals traversing New Zealand under the Consortium banner (The Phantom of the Opera, Wicked, Les Misérables, Mamma Mia!, Miss Saigon, Wicked, Priscilla, Queen of the Desert, Sister Act, Mary Poppins and Avenue Q).
The consortium production of We Will Rock You opens in Christchurch, March 2019, while five other musicals are currently 'in development' to open between 2020 and 2023.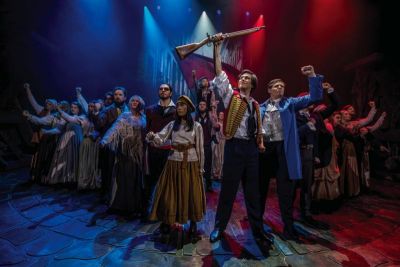 The set, props and costume designs for the New Zealand premiere production of Kinky Boots have been completed, with construction soon to start ahead of the premiere season in early 2020. Full sets, props and costumes for Cats, Evita and Hairspray are now sitting in storage, waiting to be revived in the future.
"The bigger tours can run for five years and can have up to 200,000 patrons attend the show," says Mr Landrigan.
To build a set, props and costumes for any Consortium show, the design and build costs can range from $300,000-$500,000. As they are built to fit in multiple major theatres, travel in containers for several years, and have hundreds of performance nights, they must be built to last.
The consortium has also purchased professional sets, securing those for We Will Rock You direct from Queen in London. Three shipping containers arrived in New Zealand in 2018. The consortium also purchased a professional set for Priscilla Queen of the Desert.
"The most important part of our success is show selection," says Mr Landrigan. "The biggest thing is to understand your audience, and what they are wanting to come and see.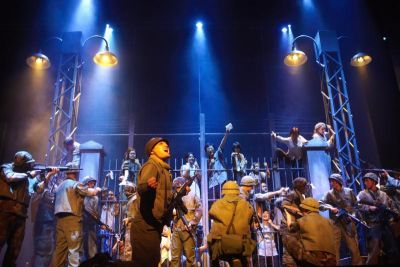 "Community theatre groups are each run by their own hard-working committees, and those committees may sometimes choose to stage a production because someone 'loves' a particular show, or has a personal desire to perform, direct or be involved in it. This can be a reason why some community theatre groups struggle.
"Take Mary Poppins for example," says Mr Landrigan. "Personally, I am not a big fan of the show, but that doesn't mean we didn't stage it. For my local society in New Plymouth it was a huge success, one of the best attended shows our society has ever done. I accept that my tastes may diverge from that of the general theatre going public.
"The second most important thing is quality," says Mr Landrigan. "The audience love being able to say their local theatre company production was as good as any others around the world, and a top-quality set, props and costumes are a very important part of that total theatre experience.
"Here in New Plymouth we get around 10,000-12,000 attendees to our local show season each year, and our total city population is only 70,000. That's a huge portion of the population who turns out to see a community society's annual musical."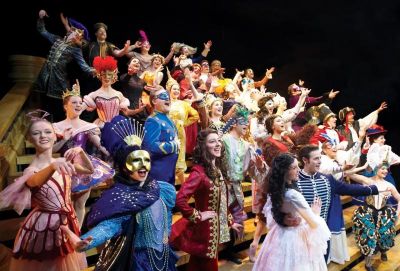 The mega musical consortium productions are not, however, for everyone. "We operate on an 'out of the box solution' model; everything that you need for a show arrives for the local society," says Mr Landrigan.
"A few people struggle to embrace this, particularly some directors who want to create 'their own show'. This consortium model brings its small compromises but creates the opportunity for a successful and sustainable future for the whole musical theatre community.
"Even though we have been going for 25 years, every production we learn, improve and get better," says Mr Landrigan. "We've built the same Les Misérables set three times now!" he jokes. "It's fair to say there won't be a fourth rebuild, as this current version will be kept, maintained and treasured."
The consortium tour of We Will Rock You opened in Christchurch at the Isaac Theatre Royal in late March 2019, heading to Auckland in August 2019 – the first 2 stops of an extensive 4 year tour of New Zealand for the show - with many more stops confirmed and due to be announced soon.
Check out a behind the scenes video from Christchurch.
And some highlights from the Musical Theatre New Zealand conference in Auckland.
Images: We Will Rock You, Avenue Q, Les Misérables, Miss Saigon and The Phantom of the Opera.