North Shore Calendar Girls Grin and Bare It All
Epicentre Theatre Company presents Calendar Girls, the funny and uplifting story about the power of friendship, from 11 to 19 October 2013 at the Zenith Theatre in Chatswood.
In the midst of the frailty of human life, the power of friendship and community triumphs!
Friends from the West Yorkshire Women's Institute (The British equivalent of the CWA) pose for a charity calendar with a difference… The goal is to raise enough money to buy a settee for the Leukaemia ward of the local hospital in memory of one of the members' late husband. In order to beat the modest eighty pounds raised from the previous year's unimaginative calendar ("Bridges of the County"), the women decide to bare all!The response is more than they bargained for …
Based on the award-winning 2003 movie starring Helen Mirren and Julie Walters, the play (like the movie) has been an international hit, including sell-out seasons in London's West End.
"Through the frailty of life the power of friendship triumphs," says Director Belinda Clark."This group of women from Northern England has inspired people all around the world and in doing so have created awareness of the disease leukaemia.
"Much like the original women, our cast has come together with great community spirit and has brought to life the original story, truly showing that one person can make a difference in the world.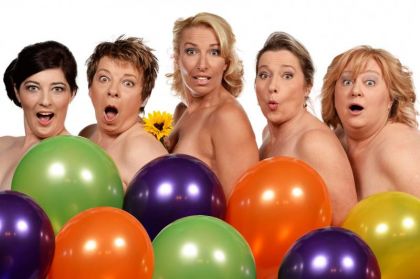 "A group of women in Northern England vs a group of women from Sydney. What do they have in common? Stripping off their clothes to raise money for leukaemia research, human spirit and great laughter and frivolity. This production highlights to power of community and the difference that one person can make.
"This heart warming, powerful play will please all audiences."
ETC's production of Calendar Girls stars Annabel Cotton, Prudence Robinson, Christine Firkin, Carol Keeble, Wendy Morton, Melanie Robinson, Donna Sizer, Sandy Velini, Linda Young, Tim Bate, Nick Bolton and Mark O'Connor. Sound design by George Cartledge.
Special note: In the spirit of the play, Epicentre Theatre Company will be producing a 2014 calendar, featuring the cast and products from select businesses. Each business will be acknowledged in a month of the year. All money raised from the calendar and $2 from every ticket sale will be donated to the Arrow Bone Marrow Transplant Foundation, Sydney to foster research into a cure for leukaemia and support and assist patients and their families.
Epicentre Theatre Company presents
Calendar Girls by Tim Firth
Directed by Belinda Clark
11 to 19 October, 2013
Zenith Theatre, Railway and McIntosh Streets, Chatswood
Bookings www.epicentretheatre.org.au or call 9777 7555
More Reading
Community Theatre Seasons 2013