Perth Production for The Goat, or Who Is Sylvia?
THEATRE with an edge comes to Melville in March 2012 with a play exploring social taboos and what types of behaviour are acceptable.
Written by Who's Afraid of Virginia Woolf? author Edward Albee and directed by Jeff Hansen at Melville Theatre, The Goat, or Who Is Sylvia? is a mix of the funny, shocking, absurd, tragic and confronting.
The story follows a leading 50-year-old New York architect who suddenly and inexplicably falls in love with a goat, whom he calls Sylvia.
His life starts to crumble and, by showing a family in crisis, the play challenges audience members to question their own morality.
It won the Tony Award for best play and Drama Desk Award for best new play in 2002.
Hansen admits The Goat, or Who Is Sylvia? is not for the faint-hearted.
"It will be a challenging night at the theatre," he said. "On the surface, it's a play about a man who falls in love with a goat – but it's not really about that at all.

"The story is about the irrational nature of love and the arbitrary boundaries society sets.
"The script was sitting around at home and I thought I'd pick it up and have a browse. It sucked me in and took me to places I didn't want to go.
"It was laugh-out-loud funny and, at the same time, deeply disturbing. An hour and a half later, I put it down and thought it might have been the best script I'd ever read."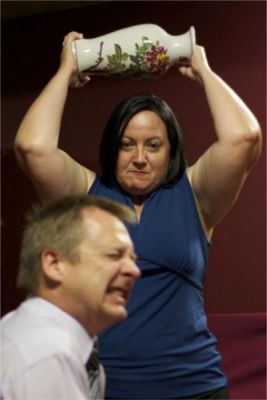 Involved in theatre for the past 32 years, Hansen's first role was in Joseph and His Amazing Technicolour Dreamcoat at high school and he's been involved with Melville Theatre for the past 14 years in various capacities since first performing in Travelling North.
Also working with Stirling, Limelight and Old Mill Theatres, Hansen is Melville Theatre's president and scored the Finley Award for best play in 2010 after directing The Return, following it up with a highly successful season of the Australian classic Don's Party.
But he believes The Goat, or Who Is Sylvia? will be his biggest challenge yet.
"The best way to approach a play that explores social taboos is to present the script as honestly as possible," Hansen said.
"The truth is that love can make logic take a back seat – Martin the architect knows his actions are not acceptable to society but he can't understand why this is. If he's happy, how can it be wrong?
"Some of my peers have told me I'm crazy to be directing The Goat, or Who Is Sylvia? but it's the sort of play that challenges actors, directors and audience members."
The Goat, or Who Is Sylvia? plays from March 8 - 18, 2012. Bookings: 9330 4565
Contains frequent strong language, adult themes and is not suitable for children.
Melville Theatre is on the corner of Stock Road and Canning Highway, Palmyra.
Images: Martin (Murray Jackson) consoles his gay son Billy (Scott Corbett) in The Goat, or Who Is Sylvia? & Stevie (Jodie Hansen) reacts to news that her husband Martin (Murray Jackson) is having an affair... with a goat. Photographer: Kirilee Lennerts
More reading - Community Theatre Seasons 2012.
Other Community Theatre Shows.
To keep up with the latest news and reviews at Stage Whispers, click here to like us on Facebook, or follow us on Twitter.