Phantom in Brisbane
When Savoyards opens their production of Phantom of the Opera on 25 May 2013, it will not only be the Queensland premiere of Andrew Lloyd Webber's most popular work, but also the second amateur production of the musical in the world.
With a cast of 52 and a 27 piece orchestra it'll be one of the largest productions Savoyards have ever mounted in their 52 year history and will play for 14 performances at the Iona Performing Arts Centre, Wynnum.
Steering Savoyards production is director Jason Ward Kennedy who knows his way around the work having performed it professionally in German for one year in Hamburg. This will be the first time he has done the show in English. An ex-Kiwi, Kennedy has performed in Australia and Europe professionally for over 20 years appearing as Old Deuteronomy in Cats, Tanz Der Vampire (Dance of the Vampires), Luther Billis in South Pacific, and Judas in Jesus Christ Superstar, amongst others.
Playing two of the most coveted roles in musical theatre history, the Phantom and Christine Daae, are Lionel Theunissen and Monique Latemore. Both have a wealth of experience. Theunissen has previously appeared for Savoyards as the Engineer in Miss Saigon, and as Pilate in Harvest Rain's Jesus Christ Superstar, and at the Gold Coast Arts Centre in Sweeney Todd.
Monique has worked as a soloist with the Queensland Symphony Orchestra, sung with Pacific Opera, Sydney, and played Lauretta in Puccini's Gianni Schicchi for the International Lyric Academy in Italy.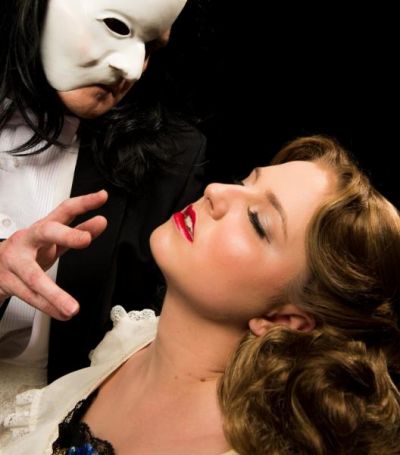 For the first time in an amateur production, alternates have been cast in these pivotal roles; Patrick Oxley as the Phantom and Jo Willans as Christine.
Musical Director is Mathew Nutley, a stalwart at Savoyards having conducted The Boy from Oz, The Sound of Music, Cabaret, Singin' in the Rain, and various concerts. His most recent work was for the world premiere of Pyjamas in Paradise at the Gold Coast Arts Centre and Ignations production of Rent.
Choreographer Natalie Lennox also has a host of credits which include The Boy from Oz, West Side Story and Hello Dolly. She also performed in the world premiere of Pyjamas in Paradise working alongside director/choreographer Tony Bartuccio at the Arts Centre Gold Coast.
Work on the production building the sets and making the costumes started last November, with cast rehearsal commencing in the New Year.
A Media Launch on April 4th proved how far they've come. With solos from the two leads; "Wishing You Were Somehow Here Again," and "The Music of the Night," and the alternates singing the title song with the chorus as back-up, it was an exciting taste of what will obviously be one of Brisbane's major community theatre productions this year.
Peter Pinne
More Community Theatre Reading
Community Theatre Seasons 2013