Phoenix Production Relives Music of the 90s
What do Nirvana, Alanis Morissette, Coolio and John Farnham have in common?
They were all superstars of the 90s, the decade that gave us grunge and a slew of groundbreaking new bands. It also gave us Britney Spears…
Music lovers can now re-live the highlights when Phoenix Ensemble, at Beenleigh in South East Queensland, presents I'm too sexy for the 90s, an original show of 90s music, over five weekends in March.
Director Joel Mikkelsen says the biggest challenge with the show was choosing the final song list. The search started with 1,000 songs, which were whittled down to 200. Five meetings later – and much discussion to ensure as many genres as possible were covered – and the list was finalised…at least until rehearsals.
"Some people blew us away with the songs they auditioned with. In many cases those songs were on our shortlist but had been bumped in favour of something else. They're now back in.
"We've worked tirelessly to create the best representation of each of the songs, trying to capture all the fun and zaniness of this unique period. We know we're going to get people coming up to us and saying 'I can't believe you didn't put "X" in a 90s show!' But we couldn't put them all in or the show would've gone for a week!"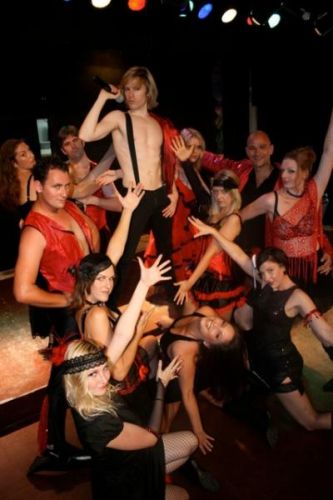 The music and mood of the 90s was eclectic, and audiences can expect the same sort of mix with the 90s show. "Some songs are blatant self parody, but others are sombre and serious…and we've spent hours on scoring on harmonies."
Joel said that aside from the live band and strong vocal cast, the show also featured "some of the most intense choreography seen in any Phoenix show".
"Our cast has been simply amazing in its dedication and hard work. Braving 35 degree plus heat in our shed for full-day choreo rehearsals … this will be the fittest cast in the country by the time we open!"
Unlike past original revues produced by Phoenix, I'm too sexy for the 90s doesn't have a dramatic/comedic context or MC narration. It's all about the music – and the stage production.
Joel is full of praise for his musical directors Nick Ng and Casey Chadwick (aka The Chad), and choreographers Alex Burrie and Laura Baker. "Nick is simply a musical genius, and The Chad is just all over the material like she's been studying it her whole life. Alex and Laura are just my rocks. They are just amazing with work with."
The director can't wait to see how audiences respond to the show.
"I'm extremely excited to see the reaction we get from the audience to the hours and hours of polishing we've been putting into our numbers. Expect awesomeness."
I'm to sexy for the 90s features a six-piece band and a 15-strong cast of singers and dancers including Adam Bartlett, Alex Burrie, Alicia Caruana, Darcy Morris, Erin Hutley, Jason Lawson, Joanna Mikkelsen, Julia Lefik, Laura Baker, Lisa Killeen, Matthew Angelino, Michell Phair, Natasha Prasek, Scott Johnson and Taylor Williams
Images: Top - Tash Prasek, Alex Burrie and Taylor Williams. Lower - The cast ham it up for one of the big numbers in I'm to sexy for the 90s.
I'M TOO SEXY FOR THE 90S
Venue:Pavilion Theatre, Beenleigh Showgrounds, James Street, Beenleigh
Times: 7.30pm: 2, 3, 9, 10, 15, 16, 23, 24, 30, 31 March 2012
Tickets:$18 - $26
Bookings:3103 1546 or online: www.phoenixensemble.com.au
More reading - Community Theatre Seasons 2012.
Other Community Theatre Shows.
To keep up with the latest news and reviews at Stage Whispers, click here to like us on Facebook, or follow us on Twitter.