Playing Together, Staying Together
How the Grey family and Brisbane Arts Theatre stayed creative in quarantine. Beth Keehn reports.
Many Stage Whispers readers would agree that theatre IS family. So what happens under lockdown restrictions when your stage family also happens to be your immediate family? The Grey family are a talented troupe of close-knit creatives who are often seen on stage and behind the scenes together at Brisbane Arts Theatre. Thankfully with restrictions lifting in Queensland, the theatre was back in action from 17 July, premiering two one-act plays: The Last Tango in Little Grimley + The Last Panto in Little Grimley. Stage Whispers wanted to know how they managed to stay connected, creative and productive during the lockdown period.
Brisbane Arts Theatre family
John and Aileen Grey are both trained performers, having studied at the University of Southern Queensland. John is a public servant and part-time performer and acting coach for Brisbane Arts Theatre, which has become an important training ground for new professionals. While everyone is extremely glad to be back in face-to-face meetings, John says he is thankful he was able to continue to deliver his acting coaching remotely during the lockdown:
"My acting classes focus mainly on group activity, and so were not all suitable for virtual presentation. But I was able to conduct monologue workshops remotely. My students recorded their pieces and sent them to me. I used Zoom to relay my notes and discuss the performance with them, which worked well. But I'm more than pleased to be able to see my students again!"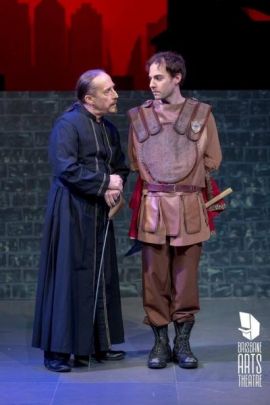 Brisbane Arts Theatre has been a beacon of local community theatre scene since 1936, and, in the last 21 years, has developed its own expert 'Pratchett team', with popular annual sold-out shows based on stage adaptations by Stephen Briggs of Sir Terry Pratchett's Discworld stories, including: Maskerade; Men at Arms; Feet of Clay; Guards! Guards!; Wyrd Sisters; Lords and Ladies; and Mort.
John and Aileen's daughter, Tallulah, is on the board at the theatre, where she also writes, directs and performs. The family are often seen collaborating on stage: John has appeared in lead roles in all the Discworld series, and Daniel joined sister Tallulah in the cast of Men at Arms. Other siblings, Samuel and Jim also perform and write (Jim's band Caligula's Horse just launched a new album and were planning a tour of Canada and the USA when the lockdown landed).
A creative and productive lockdown
Tallulah told us that she used the time in quarantine to hone plabs for upcoming productions, including an outline for a new version of Charles Dickens' A Christmas Carol, focusing on Scrooge's social anxiety and tendency to depression – something we can all relate to this year! She was also amending plans for a production of Pratchett's Dodger, which she will direct later this year:
"I worked on the Dodger production to cutting back on the number of people who need to be involved, so that future rehearsals and the eventual production can follow social distancing requirements as easily as possible. I held three virtual table readings with different groups of people. It was a great opportunity for many of us to stay in contact with each other in the safest way possible and still do a little bit of what we love! Dodger is now auditioning in just a couple of weeks – with strict protocols."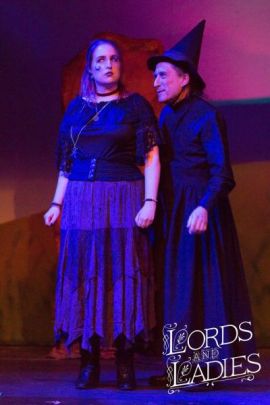 The show will go on – with protocols
"We are very excited that the theatre has just reopened. We have opted in to the Stage Queensland COVID Safe Industry Plan, so some of the measures we are taking include selling only a limited number of tickets for each performance, planning the seating arrangement for each performance, and taking attendees' temperatures.
"I'd call our first two productions the perfect 'social distancing' plays. Both the two Little Grimley one-act plays and our next production, You've Got Hate Mail, only involve four performers per show. You've Got Hate Mail involves no physical interaction whatsoever: each of the four performers appear at separate desks for the entire show without moving closer than 1.5 metres to each other!
"We were also able to get back into rehearsals for the first Terry Pratchett play for the year: Feet of Clay, directed by Shaun King, with myself as assistant director. Due to the large number of ensemble roles needed, the Pratchett plays usually feature rather large casts. We've worked to keep the cast and crew to a total of 20.
"During the lockdown, Kirstin McLean, director of our children's theatre production of Sleeping Beauty, was able to hold rehearsals every week or two via Zoom. This kept everyone focused on the songs and lines, and absolutely saved our sanity by keeping everyone in contact with each other. This production has now transitioned from Zoom to in-person rehearsals now, following strict guidelines.
"One really important thing I found during the lockdown was that the theatre is such a community and a lot of us were missing that personal contact."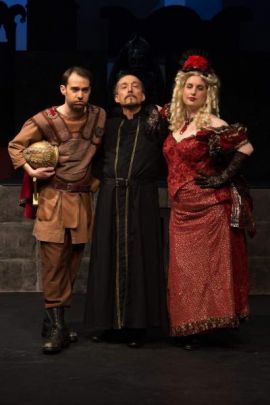 Family matters under quarantine
And what about the immediate family? When your family life is very much connected to a thriving local arts scene, it must have been a challenge. As we found in the wider theatre community, mobile technology was vital for the Grey family.
"Under normal circumstances, the whole family would usually get together quite often, at least once a month. When we're working together on a production, we usually spend three or four nights a week together. The technology certainly saved us, helping us stay in touch with our children and grandchildren."
With Samuel's help, the family were able to make it through the lockdown by using mobile technology to continue their family games of Trivial Pursuit and Yahtzee. Daniel ran online Dungeons & Dragons campaigns, and Jim put social media to good use, keeping his band's followers engaged and enthusiastic, including an online launch of their new album (https://caligulashorse.com).
It's been a tough time for all families who are used to spending creative time together. But hopefully we can feel buoyed and excited by the fact that some theatres are now able to creak open the doors. As Tallulah says: "I'm so very happy to be getting back to performing and directing in my real home – the theatre!"
Find out more about Brisbane Arts Theatre's upcoming shows: https://www.artstheatre.com.au
Photos from Brisbane Arts Theatre productions of Maskerade (2019); Guards! Guards! (2016); Lords and Ladies (2017); Men at Arms (2018); Images by Anderson