Present Laughter at Castle Hill
Present Laughter, first play of the Pavilion Theatre's 2012 season, was written by Nöel Coward - king of the witty light comedy. Set in London in the late 1940's, it's the story of Garry Essendine, famous actor, who is preparing for a gruelling theatre trip to Africa while trying to untangle his best friends' complicated love lives, deal with eager would-be actresses, fob off desperate would-be playwrights … and survive a mid-life crisis.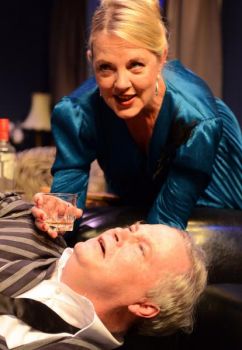 'Coward wrote Present Laughter as a tour de force show for himself,' says the director, Karen Miller. 'And that means the actor playing Garry Essendine is on stage almost the entire time. It's a huge acting challenge, one that Chris Clark has risen to with gusto. In fact, at the risk of sounding biased, the entire cast is doing a fabulous job. Comedy is hard work, in some ways much harder than a straight drama. But we've been enjoying ourselves immensely and are so looking forward to entertaining audiences come February.'
Present Laughter opens at the Pavilion, Castle Hill, NSW, on Friday, February 3rd, and runs until Saturday, February 25th. Performances are Wednesday, Friday and Saturday nights at 8.15 pm, and Sunday matinees at 4.30 pm.
Bookings: (02) 9634 2929
The Pavilion Theatre is located on Doran Drive, Castle Hill Showground, Castle Hill, NSW.
More reading - Community Theatre Seasons 2012.
Other Community Theatre Shows.
Images (from top): left to right: Ben Freeman, Amber Aspinall and Helen Everingham; left to right: Christopher Clark and Julia Griffith; left to right: Christopher Clark, Julia Griffith, Anna Kouravale, Craig Pinkerton and Christopher Bancroft & left to right: Amber Aspinall and Christopher Clark. .
To keep up with the latest news and reviews at Stage Whispers, click here to like us on Facebook, or follow us on Twitter.