Remembering Paul Holmes
Sydney's Community Theatre family is mourning the loss well-loved stalwart and friend Paul Holmes on September 29. Two of Paul's close friends and colleagues, Wendy Whiteman (de Beyer), then Kerrie Hartin, share some of their many fond memories of Paul.
How difficult to realize that our dear friend is no longer with us and trying to put words together about him, impossible. But I'll try.
Paul was born in 1950 to Phyllis and Ernest Holmes. His great love of music stemmed from his mother who was a fine soprano - a voice type that he would forever favour in both opera and musical theatre.
He started his musical journey while in his teens playing with The St. George Sutherland Band which later became Sutherland Shire Silver Band. While working for the Railways he joined Miranda Musical Society on stage or helping in any way needed
I met Paul in 1979 at Rockdale Musical Society when we were asked to take part in "The Sentimental Bloke", a show that became his very own. Even many years later if asked to perform Bill's poem, he would jump straight in and he owned it.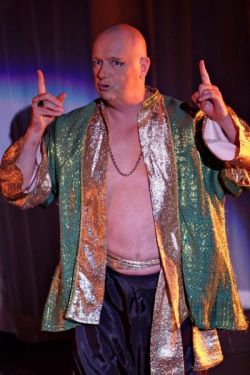 So it's been almost 40 years of loving friendship we have had. Evita CMS, he as conductor, onstage for Side by Side by Sondheim, Follies, again as conductor for MMS, just to name a few, But even more memorable were times we would be singing all around the Shire to dear old ladies and men or at the ANZAC Dawn Services with his old Brass Band.
Paul Holmes was a man of integrity and kindness, a gentleman to his bootstraps. With his wicked witticisms so loved by us all …. remember "The Stupid Prince" etc.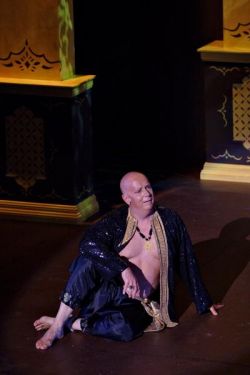 Of course I cannot forget his voice. He just loved the baritone voice and was elated that he had Neil Easton for his teacher, who instilled in him his love for the classics, especially Verdi operas. How many nights did we watch and listen to one of his great recordings of musical theatre accompanied by much joy and laughter.
I know there is much more to say, but just this.
Paul, rest in peace dear friend, you were so loved by so many. I hope that you knew that.
I'll leave his early years onstage to his dear friend and leading lady Kerrie Hartin.
Paul and I met in 1974 at Miranda Musical Society and a lifelong friendship was born from those early days in the chorus. We finally got our chance to play opposite each other in 1979 when we were asked to take the leading roles in The Sentimental Bloke, a show that we always looked back on with the fondest of memories. Other wonderful roles followed - Billy and Julie in Carousel, Tommy and Fiona in Brigadoon, Sid and Babe in The Pajama Game, Arthur and Guinevere in Camelot but he has always been my Bloke and I, his Doreen.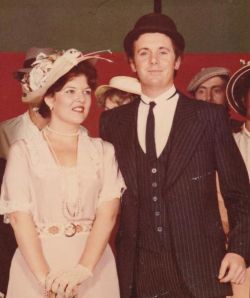 Paul's theatrical career covered many aspects of theatre as a singer, an actor, a musical director, a singing teacher, a front of house manager, a producer, an usher and a tour guide. He graced the stages of many community theatre groups including Miranda, Regals and Rockdale Musical Societies, Waverley Lugar Brae Players, The Guild Theatre, Strathfield Light Opera Company and Woodstock. He was a wonderful dramatic actor but proved he was just as comfortable with comedy when he took on the role of Moonface Martin in Anything Goes. He was a sought-after musical director due not only to his vast musical knowledge and skill as a conductor, but for the empathy he showed to performers on stage. He made countless friends everywhere he went and he was loved by all who knew him. He was just that sort of bloke. He was funny, bitingly witty at times, but always kind and caring.
Paul and I shared a love of operetta, particularly the movies of Jeanette MacDonald and Nelson Eddy, and over the years took great pleasure in singing their songs at so many concerts. We shared a love of our cats who we both named after theatrical characters. Many a phone conversation was had just chatting about the antics of our fur babies. We worked together in the Front of House team at Riverside Theatres, Parramatta where he was liked and respected by all the staff.
It was a great joy for both of us to be part of a production of Carousel again in 2015 with Miranda Musical Society, with Paul in the pit and me on stage. Our last public performance together was at the Regals 70th Anniversary dinner where we sang our party piece "Almost Like Being in Love" from Brigadoon. Both these events brought back so many happy memories.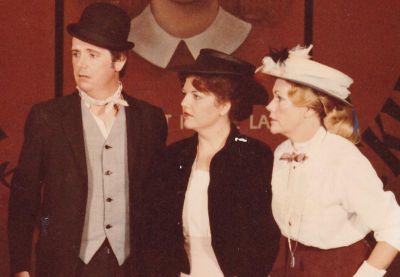 When I look back at Paul's career from the time I met him, there are so many memorable moments but the standouts for me are the Bloke's recitation of the CJ Dennis poem "The Play", about taking Doreen to see Romeo and Juliet, Arthur's speech from the end of Act I of Camelot, his role as Edward, Prince of Wales, in Crown Matrimonial, his charming portrayal of Gaston in Gigi and his King in The King and I, where I was lucky enough to once again play his wife.
But more than all these things, Paul was my friend. For over 40 years we shared the ups and downs of our lives, both theatrical and personal. We loved and supported each other as only best friends can. His passing has left an empty space in my life that can never be filled.
To paraphrase a line Paul used to me so many times over years since Sentimental Bloke … "I dips me lid to YOU, my Sentimental Bloke". The heavens are brighter for your star shining down on us.
Vale Paul Holmes – 1950 to 2017.