RENT for Coffs Harbour
When RENT opened in 1996, AIDS was very much in the public eye. Fifteen years later, RENT's legacy includes 5,124 performances at Broadway's Nederlander Theatre (1996-2008); four Tony awards; a Pulitzer Prize for composer Jonathan Larson; and even a dedicated fan base known as Rent-heads.
But can the phenomenon continue? Can RENT mean something in 2011, when issues like gay marriage have taken over the headlines and AIDS, though still not cured, no longer dominates public conversation?
It's time to find out.
Running from November 4-27, the Coffs Harbour Musical Comedy Company (NSW North Coat) is presenting the exhilarating, confronting and uplifting musical RENT. It's led by one of the Coffs Coast's most successful creative teams in director Maureen Burgess and musical director Peter Kaukiainen, who have put together a talented and youthful cast of local actors and musicians.
Loosely based on Puccini's opera La Boheme, Jonathan Larson's rock opera RENT is set in New York's East Village over a period of one year in the early 90's. RENT follows the lives of a cast of characters including Mark: the struggling, would-be filmmaker, Roger: the former drug addict and musician; Mimi: an exotic dancer, and Angel: the sweet-hearted, transvestite Good Samaritan, alongside their friends and cohorts as they all struggle but support each other through the challenges of poverty, sexuality, drug addiction, HIV AIDS and paying the RENT. Musical numbers include "Seasons of Love", "La Vie Boheme" and "The Tango Maureen".
Director Maureen Burgess is confident that younger audiences seeing RENT for the first time will connect to the show: "I think they'll relate to it the way young people always relate to it. It's about a group of friends who are there for one another and get each other through life and death situations. It's about building a family out of your peer group, and I think that's always been its enormous appeal to young people who are just starting to make their way out into the world and learning that there really is "NO DAY BUT TODAY".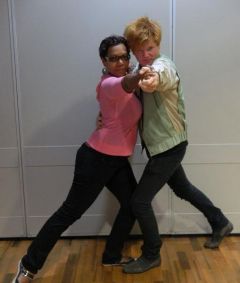 When and where: Running November 4 – 27, Wed, Fri, Sat, Sun at the Jetty Memorial Theatre, Harbour Drive, Coffs Harbour. Ticket prices $25, $22 (conc) and $20 (groups 10+). ALL Wed performances at concession/group rates.
Bookings: (02) 6652 8088 or www.jettytheatre.com.au
Founded in 1978, Coffs Harbour Musical Comedy Company is one of the oldest community theatre groups the Coffs Coast area, producing at least 2 well-received shows a year at the historic Jetty Memorial Theatre.
Images: Joanne & Maureen (Billie-Jean Campbell, Jess Eggeling); Angel (Beattie Smith); Joanne & Mark (Billie-Jean Campbell and Billy White); Ensemble; Roger (P J Smith); Roger and Mimi (P J Smith and Gemila Burgess) and Mark (Billy White).
To keep up with the latest news and reviews at Stage Whispers, click here to like us on Facebook, or follow us on Twitter.