Six Foot Rabbit at Castle Hill Players
Many will fondly recall the classic movie Harvey, starring the legendary James Stewart as Elwood P. Dowd.
Castle Hill Players will present this tale of friendship and acceptance when Elwood introduces his friend, Harvey, to everyone he meets at The Pavilion Theatre, Castle Hill from Friday 6 April to Saturday 28 April 2018
Elwood lives with his sister, Veta Louise, and her daughter, Myrtle Mae, or should I say they live with him. Veta sees herself as holding a rather high position in society and wants her daughter to marry well. The trouble is Elwood introduces Harvey around town and this causes great embarrassment for Veta and Myrtle. Oh, did I mention Harvey is an invisible 6 foot tall white rabbit? Now you can see where the problems start!
Following a disastrous tea party at home, the ladies have had quite enough of Elwood and Harvey and decide to take action. A very unfortunate mix up at the local sanitarium sees Veta mistakenly committed and while Elwood and Harvey continue to meet and greet new friends, doctors must find Elwood quickly to avoid professional disgrace.
Charming and friendly Elwood sees life simply, there is an honesty and innocence about him which will delight audiences. He loves people, values family and friendship, wants everyone to be happy. He certainly knows how to charm the ladies, much to the astonishment of younger men than he.
Veta and Myrtle remain determined to get rid of Harvey, so Elwood agrees to undergo the necessary treatment to put Harvey out of their lives for ever.
A valuable lesson is learned when it is realised those we love are loved for who they are, and it is more important to accept them unconditionally than try to change them to suit our plans. Elwood and Harvey together prove that it isn't always those we can see who have the most influence in our lives.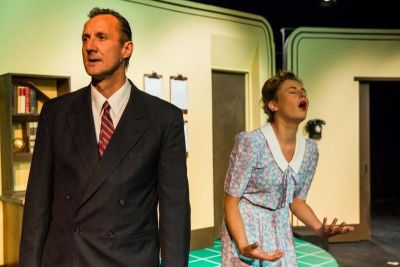 HARVEY by Mary Chase
Directed by Meredith Jacobs
Castle Hill Players at The Pavilion Theatre from Friday 6 April to Saturday 28 April 2018
Show times: Wed, Fri, Sat at 8.15pm, Sun 4.30pm
Full details and bookings are online at www.paviliontheatre.org.au or call 02 9634 2929.
The Pavilion Theatre is located within Castle Hill Showground, entrance is at the lights located between Gilbert and Carrington Roads, Castle Hill.
Ticket prices: $27/$22. Discounts for groups of 10 or more.
Harvey features performances from Chris Lundie, Leigh Scanlon, Kate Gandy, Dave Went, Jeremy Johnson, Annette Snars, Jason Spindlow, Julian Floriano, Jacquie Wilson, Penny Johnson and Sandy Moffatt.
Images (top) L-R: Dave Went, Jason Spindlow, Kate Gandy and Jeremy Johnson, and (lower) L-R: Dave Went and Kate Gandy. Photographer: Bob Seary.