Theatrical Valentine for Sydney
I Love You, You're Perfect, Now Change
They may be a day late, but this year The Regals Musical Society (Sydney NSW) are delivering a theatrical Valentine's Day gift – the musical comedy revue that's all about love … well, kind of...
Described by Star-Ledger as "Seinfield set to music, Director, Lauren Nalty saysI Love You, You're Perfect, Now Change is a show which "cleverly uses satirical humour to make fun at the intrinsic human need for wanting to love and be loved in return" and it's the show's content, relatable characters, and engaging music that has made the show such a success in New York.
The second longest running Off-Broadway musical, it played 5,003 performances between 1996 and 2007.
"The author's notes in the script for the show," Nalty says, "state that I Love You, You're Perfect, Now Change is about people trying to connect.' This hilarious musical revue is about relationships, how they affect the individual for better or worse and how love can make us crazy."
"The Regals' production is as much about the characters connecting with the audience as it is about the love stories. It is about truth, compassion and the emotions that we all experience, simply by being human," Nalty says.
However, The Regals production will be a little different to that of the Off-Broadway production with Nalty choosing to set the play in an Australian context. Nalty says, "What better way to have your actors connect with their audience, than set the stories directly in their world? We want a show where the audience remembers a time when they themselves or someone that they know have been in a similar situation to the one that is being presented to them on stage."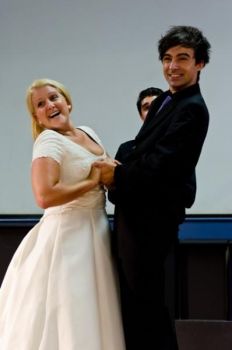 Nalty considers herself lucky to be working with an incredibly talented cast, which she believes to be the cream to crop when it comes to community theatre talent. It's their ability to work with others and their understanding of subtleties that makes this show something truly special and entertaining.
"The audition process was extremely difficult for the panel," she said," as I really felt as though the show attracted the cream of the crop in terms of Sydney's amateur musical theatre circuit. It is a show that was originally performed with only four actors, however the extremely high talent possessed by the auditionees made it clear that we definitely had to involve more people in this production."
The Regals' cast features Tanya Boyle, Meg Day, Brad Facey, Ryan Fisher, Lynley Fuller, Alessandro Gamba, Benjamin Hanly, Kelly Horrigan, Chris Malliate, Ellie McAdams, Paul Morrison, Laura Sheldon, Jessica Shirley, James Swain, Mal Tuck, Tim Watson and Phoebe Wynne.
Nalty says I Love You, You're Perfect, Now Change "is about truth, compassion and the emotions that we all experience simply by being human. There is something in this show for everyone, and the audience will reflect on their own lives, whilst having a belly laugh doing so …
"… what more could you want from a musical comedy?"
I Love You, You're Perfect, Now Change runs from February 15 to 18 at St George Bank Auditorium Kogarah. All tickets are $25. To book call 0449 REGALS or visit www.theregals.com.au.
More reading - Community Theatre Seasons 2012.
Other Community Theatre Shows.
To keep up with the latest news and reviews at Stage Whispers, click here to like us on Facebook, or follow us on Twitter.