Under Milk Wood at Heidelberg
Heidelberg Theatre Company (Victoria) welcomes you to the magical, surreal, hilarious, charming, witty, delightful, moving and altogether brilliant Dylan Thomas' classic radio play, set in the small Welsh fishing village of LLareggub (spell it backwards and you get some idea of Thomas' mind!).
For HTC, presenting Under Milk Wood as the final production for 2011 is a fitting lead in to the company's 60th Anniversary Year in 2012. It was first produced by HTC in 1981 in the Rechabite Hall and directed by the late David Ashton.
Chris Baldock, who directs Under Milk Wood, directed the company's Cloudstreetin 2009 and before that The Grapes of Wrath, The Rise and Fall of Little Voice, Shirley Valentine and has performed in The Judas Kiss, Side Man, The Knacker's ABCand many other HTC productions.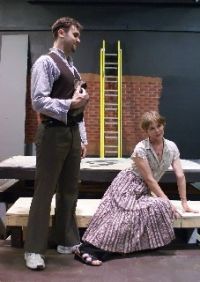 A tight-knit cast has been busily rehearsing under Chris' direction together with Assisant Director Helen Ellis. Cast members who have acted before at HTC are Janine Evans, Venetia Macken, Cate Dowling-Trask, Natasha Boyd, Elise Moorhouse, Barry Lockett, Paul Freeman, Alastair Rice and Tim Constantine, while new to the HTC stage are Kris Weber, Glenda May, Pauline Snell, Stephen Shinkfield, Dan Hagan and James Phillips.
Set Design: George Tranter. Lighting Design: Deryk Hartwick. Original Music: Paul Karafillis.
Audiences will see into the lives and dreams of over 80 characters with Thomas' stunning lyricism being both heartbreaking and heartwarming.
November 17 to December 3, 2011. Evenings at 8.00pm. Matinees: Sundays 20th & 27th Nov at 2pm
Bookings: htc.org.au or (03) 9457 4117.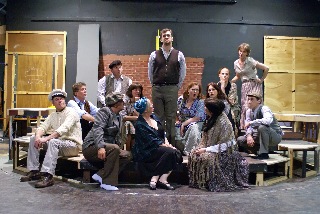 Photos: (Top) Clockwise from left: Paul Freeman, Barry Lockett, Alastair Rice, Stephen Shinkfield, Elise Moorhouse Janine Evans, Cate Dowling-Trask, Kris Weber (in back), James Phillips, Tim Constantine, Venetia Macken, Pauline Snell, Natasha Boyd. (Middle) James Phillips & Venetia Macken. (Lower) Clockwise from left: Stephen Shinkfield, Barry Lockett, Paul Freeman, Natasha Boyd, James Phillips, Elise Moorhouse, Kris Weber, Janine Evans, Venetia Macken, Tim Constantine, Pauline Snell, Cate Dowling-Trask, Alastair Rice.
Photographer: Patricia Tyler
To keep up with the latest news and reviews at Stage Whispers, click here to like us on Facebook, or follow us on Twitter.