WA Premiere of Agatha Christie Classic
AGATHA Christie's longest-running play has its WA premiere at Melville Theatre from November 4 to 26, 2011.
The Mousetrap has been playing in London's West End since 1952 and the rights have only now become available, allowing it to be performed elsewhere.
Five guests are brought together in Monkswell Manor, where someone has a connection to a murder in London – and when someone is subsequently killed after they are snowed in, Sergeant Trotter tries to determine the killer's identity.
Known for its twist ending, The Mousetrap audiences over the past 60 years are asked not to reveal it at the end of every performance.
Director Felicity May describes Agatha Christie as a classic mystery writer, who produced a range of diverse and fun plays.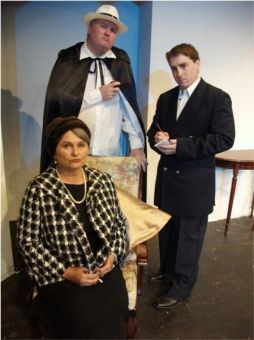 "The Mousetrap is only available for a limited time so it was too good an opportunity to pass up," she said.
"Being the first theatre is WA to produce this show really adds to the thrill of directing it."
Given The Mousetrap is so well-known, May admits it's something of a hurdle to overcome.
"A lot of hype has been created by Wikipedia releasing the plot and secrets of the play," she said.
"It's a challenge to stay true to the show Agatha Christie wrote and people know – yet, at the same time, make it my own, having my own personal vision and artistry come through."
Involved in theatre for the past seven years, May has worked on and off the stage for the Goldfields Repertory Club and Melville, KADS and Old Mill Theatres on productions such as The Sum of Us, The Return, Caught On The Hop and Checkout.
"With The Mousetrap, we have stuck as true to the script as possible," she said.
"Our stage is nowhere near the size of the London one, so things have had to be compressed and staging changed to accommodate this.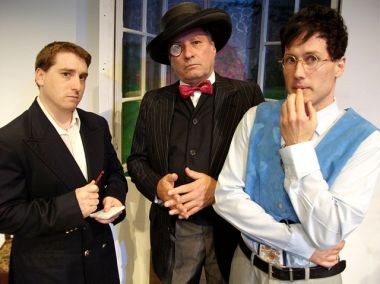 "Characterisation varies with every actor-director combination but I feel we've done justice to Agatha's vision for her characters."
The Mousetrap plays at 8pm, November 4, 5, 11, 12, 17, 18, 19, 24, 25 and 26 with 2pm matinees on November 6 and 13.
Tickets are $17, $13 concession – book on 9330 4565 or email melville.theatre.company@gmail.com.
Melville Theatre is on the corner of Stock Road and Canning Highway, Palmyra. More information is available at www.meltheco.org.au.
Images (From top): Troy Lyon (Giles), Sinead Bevan (Miss Casewell) and Ian Greenwell (Sergeant Trotter); Francesca Meehan (Mrs Boyle), Craig Menner (Major Metcalf) and Ian Greenwell; Ian Greenwell, John Forde (Mr Paravicini) and Zane Alexander (Christopher) & Troy Lyon, Sinead Bevan, Francesca Meehan, Craig Menner, Zane Alexander, John Forde and Ian Greenwell in the WA premiere of Agatha Christie's The Mousetrap.
To keep up with the latest news and reviews at Stage Whispers, click here to like us on Facebook, or follow us on Twitter.