WA Premiere of Psychological Thriller Mindgame
Playlovers presents the WA premiere of Mindgame, a psychological thriller peppered with black comedy, from March 2.
Directed by Jenny Ferguson, Mindgame is set in a hospital for the criminally insane as true-crime writer Mark Styler tries to interview a notorious serial killer.
It was originally a 2001 novel by Anthony Horowitz, who later adapted it into a play
Horowitz's writing credits include television scripts for Midsomer Murders, Poirot, Robin of Sherwood, Crime Traveller and Foyle's War and the Alex Rider series of books featuring a teenage spy.
Last year, he released an official Sherlock Holmes novel – the first time Arthur Conan Doyle's estate has allowed this.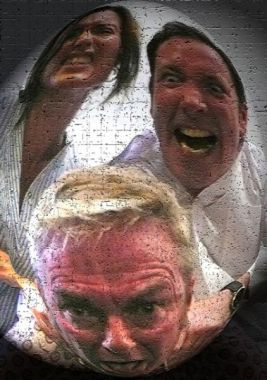 Ferguson said she wanted to direct Mindgame because she loves psychological thrillers that challenge perceptions.
"In line with my past psychology studies, I am continually fascinated and drawn to productions that unearth the unseen realities of the human condition," she said.
"In particular, I am drawn to productions that challenge our personal boundaries.
"Mindgame is dark and intense but there is some funny dialogue that helps to lighten the play, matched with comic relief from props and music.
"Right from the start, you're double-guessing who's who, what will happen and how far will it go?
"Some audience members may be shocked and others will just laugh."
Involved in theatre on and off the stage since 1995, Ferguson studied theatre at Murdoch University and has performed and directed shows with Mandurah Little Theatre, Baggie Daks Productions, Murray Music and Drama Club and the Mandurah Performing Arts Centre.
Her awards over the years at Dramafest and the South West Drama Festival incliude best play, director and production – among others – for her self-penned Frog Soup and directing Zoo Story.
"Mindgame is very much in keeping with the current popular true-crime films and TV shows but has the added bonus of a good splattering of black humour," Ferguson said.
"It's a play of twists and turns – something funny is going on but you're not quite sure what.
"By the time you figure it out, it's too late and you are sucked into the story."
Mindgame playsfrom March 2 to 17 at Hackett Hall, Draper Street, Floreat
Bookings: 0415 777 173 or bookings@playlovers.org.au.
Image: Susan Flood, Andy Markland and Marcus Plato are appearing in the WA premiere of Mindgame this March.
More reading - Community Theatre Seasons 2012.
Other Community Theatre Shows.
To keep up with the latest news and reviews at Stage Whispers, click here to like us on Facebook, or follow us on Twitter.