Into the Woods at Doncaster.
An ambivalent Cinderella? A blood-thirsty Little Red Riding Hood? A Prince Charming with a roving eye? A Witch ... who raps? They're all among the eccentric characters in James Lapine and Stephen Sondheim's fractured fairy tale musical, playing at Doncaster (Vic) in November 2011.
Into the Woods follows the story of the Baker and his wife who learn they've been cursed with childlessness by the Witch next door. They embark on a quest for the special objects (a cow as white as milk, a cape as red as blood, hair as yellow as corn, a slipper as pure as gold) required to break the spell, swindling, lying to and stealing from Cinderella, Little Red Ridinghood, Rapunzel and Jack (of beanstalk fame).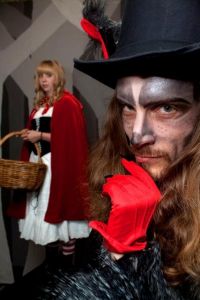 Everyone's wish is granted at the end of Act One but the consequences of their actions return to haunt them later.
What begins a lively irreverent fantasy intertwining favourite Brothers Grimm and other fairytale characters, becomes a moving lesson about community responsibility and the stories we tell our children.
Into The Woods opened on Broadway on November 5, 1987, and closed on September 3, 1989 after 764 performances. It won three Tony Awards including Best Original Score and Best Book of a Musical, and the Drama Desk Award for Outstanding Musical, competing against The Phantom of the Opera.
Phoenix Theatre Company's production opens on the 11th November at the Doncaster Playhouse and runs until the 18th November. For ticket bookings visit www.phoenixtheatrecompany.org or phone (03) 9012 5897.
To keep up with the latest news and reviews at Stage Whispers, click here to like us on Facebook, or follow us on Twitter.