Zanna Don't! – A very different high school musical for Shire
Shire Music Theatre (NSW) presents the quirky Off-Broadway musical Zanna Don't! - A Musical Fairytale at Sutherland Memorial School of Arts from February 8, 2013.
Welcome to Heartsville High, located in a parallel universe where everyone is gay, well, almost everyone! The big-man-on-campus is the chess champion, and the captain of the football team is made cool by being cast as the lead in the school musical. The students write a controversial show called "Don't Ask, Don't Tell" about straight people in the military, which becomes the catalyst for a young man and woman to fall in love.
Enter Zanna, a magical, musical fairy who, with a wave of his wand, brings true love to one and all!
Shire Music Theatre has an established reputation for presenting productions that are out of the box.
We recently sat down with Tanya Boyle who told us that her character Roberta, "is a loud mouth tough girl, who really just wants to be in love and have someone love her back. People will love the music in the show and the fantastic choreography that goes with it. I also think that people will enjoy the serious context that the writer is trying to get across and the fact it is done in such a light hearted way. The show sends such a strong message; love is equal. Anyone should be allowed to be in love with whomever they fall for."
As the show is set in the fictional land of Heartsville, the sets have been covered in glitz and glamour and apparently it was the best part! "I've been finding glitter everywhere! Boyle said in fits of laughter.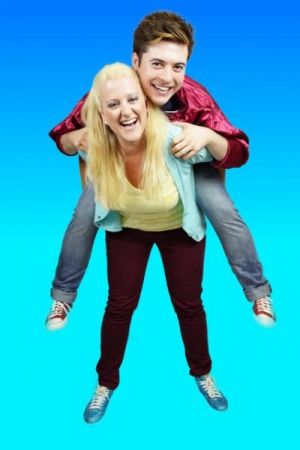 "Tanya is a huge asset," says director Chae Rogan. "She was so emotional when she found out she had the role. Tanya was actually speechless when she received the phone call. And for people who know her – it's very rare that Tanya is lost for words!"
Tanya says, "I think I was crying, laughing and jumping up and down at the same time!"
Tanya is also the costume designer for the show and when we asked, how she fitted everything in her response was, "because I know the show inside and out, it made sense for me to take on the job of costume coordinator. We've had such a short rehearsal run, it was easier to be able to hit the ground running. I enlisted some help from another cast member – Rebecca Gordon. She has taken over a lot and been a sounding board for me – certainly couldn't have done it without her help!"
When asked why should people come to see Zanna Don't!, Boyle simply laughed and said, "I think this show is best described as 'feel good'. Audiences will come out of the show smiling, tapping their feet and hopefully taking in a beautiful heartfelt message.
The cast if Zanna, Don't! includes: Tim Watson, Tanya Boyle, Lauren Leffer, Zach Smith, Tyler Hoggard, Sam Larielle, Bridget Keating, Chris Malliate, Daniel O'Connell, Rebecca Gordon and Phillip McIntosh.
Production team: Chae Rogan – Director, Andrew Howie – Music Director and Craig Nhobbs – Choreographer.
Zanna Don't!- A Musical Fairytale
By Tim Acito and with additional lyrics and material by Alexander Dinelaris.
Sutherland Memorial School of Arts, 25 East Parade, Sutherland.
Fri 8th February 8pm, Sat 9th February 8pm, Sun 10th February 2pm, Thur 14th February 8pm, Fri 15th February 8pm, Sat 16th February 2pm & 8pm, Sun 17th February 2pm.
Purchase tickets before 8th of Feb for a fat rate of $25
Bookings: www.shiremusictheatre.org.au or call 0458 642 553
More Community Theatre Reading
Community Theatre Seasons 2013