Alana Valentine: Our Master Storyteller
From prisoners to footballers, from gay men in Broome to Muslims in hijabs, Alana Valentine shines a spotlight on communities shattered by flood, train wreck, abuse and injustice. Martin Portus explores Valentine's forensic approach to expressing their passions, habits and secrets on stage – in their own words.
Armed with meticulous research, persistence and a cool empathy, Alana Valentine has learnt how to move tactfully through diverse communities across Australia, question both leaders and fellow travellers, find their fault-lines and craft the drama.
Often she uses the exact speech of her interviewees. Working class South Sydney Rabbitohs fans articulate the battle to keep their beloved rugby team. Tough women slowly reveal, for the first-time, childhoods of abuse at the old Parramatta Girls Home.
Valentine's verbatim theatre, this art of making theatre drawn from life, is revealed in her new book and part-memoir Bowerbird (Currency Press).
2018 was a big year for her.
Her play Letters to Lindy, drawing on the 20,000 letters written by Australians to Lindy Chamberlain and so carefully preserved and filed by Lindy, toured the country. Sport for Jove in Sydney premiered Ear to the Edge of Time, about radio astronomy and Valentine's fascination with the collaborative process of scientific discovery, a team spirit it seems often forgotten when the prizes get handed out.
She was also back with Bangarra's Stephen Page for the third time, as dramaturg on Dark Emu; or what she calls being Stephen's "digging tool", unearthing records of white/black Australia to be transformed into his dance theatre.
Flight Memory opened at Canberra's Street Theatre. Continuing her enthusiasm for science, it's about the Australian who in 1953 invented the cockpit flight recorder but had to go to London to find a backer. Valentine says it's going to be a jazz song cycle – Canberrans apparently love cabaret.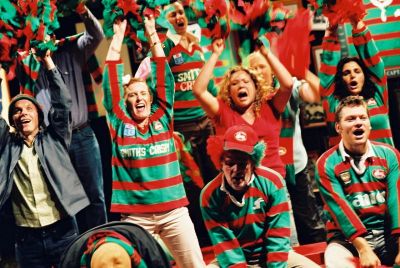 But her biggest step in 2018 was back at Belvoir Theatre, which has staged her hits Run Rabbit Run and Parramatta Girls, both verbatim plays studied for years on the NSW HSC Syllabus. With The Sugar House (staged in May) though, instead of giving voice to community stories, Valentine looks to her own family, her own secrets.
It's about three generations of battlers working in or around the old sugar refinery in Pyrmont – just like Alana's granddad did – and watching its streets give way to gentrification.
"I'd give anything to speak to my grandmother and mother, who are both dead, about some of the things I've become passionately interested in - like my family," she says.
"This is my most personal play. It's about how memory is affected by place and how hard it is to live in a place like Sydney, which keeps changing; what do we keep and what do we discard."
Valentine now lives with her long-time partner, music producer Vicki Gordon, in the inner Sydney suburb of Redfern. Her life began there before moving south to Kogarah. She had a fraught relationship with her young mother, but adored her grandmother who introduced the teenager to the classics of literature. But her mother, despite the fights, did teach her to sew, for which Alana, who is always strikingly dressed, is forever grateful.
"When people always ask about my clothes; it's my way of keeping her with me every day. It's good to go back to what she did, not to what she said, which I always tell students is, as a writer, the great way to know a character, not by what they say."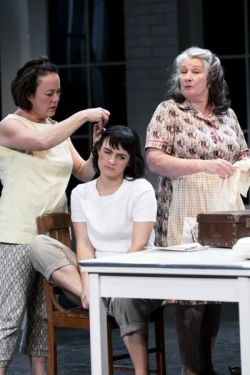 Valentine's mother, grandmother and a rascally charming uncle live on in the Sugar House characters played by Kris McQuade, Sacha Horler and Josh McConville.
Growing up, Valentine also picked up a formidable work ethic, juggling up to three jobs to support her through a selective high school and then studying Communications at UTS. Hunger as a child, she says, was a great motivator. And it still is.
From Newcastle to Wollongong, from Hay to Wagga Wagga, from Alice Springs to Broome, from London to New York, Valentine has gone where the commissions or scholarships are, and to communities with theatres ready to invest in their storytelling or healing.
"If you don't get this job, this scholarship, you wouldn't eat: it's a great way to focus the mind," she laughs.
For her first play in 1985, Multiple Choice, about teenage alcoholism, Valentine was lucky to have Alex Buzo as a mentor. Even then she was drawn to using direct address to the audience; Buzo advised against it. After the opening he said he'd been wrong, and she admired him even more.
After Buzo's death his daughter commissioned Valentine to write a play to match his classic, the two hander Norm and Ahmed, for a double bill 2009 revival. Valentine's answer was Shafana and Aunt Sarrinah, about a young Afghani Australian student who wants to wear the hijab despite the protests of her careerist Muslim aunt. Valentine enjoyed delicious hospitality from Muslim families in Auburn – and also played with an audience's preconceptions.
"My career to date has always been about finding conflict in communities that are often seen as monolithic groups, but within them there is this incredible diversity."
That tug of war between tradition and change, so familiar in Valentine's plays and a tension common across all diverse cultures, is most exemplified as between generations.
"Shafana became a play about a young person who wanted to tell an older one who they loved that they wanted to do something that wouldn't be understood. It harked back to my own experience of telling my beloved grandmother that I was homosexual, of having to endanger the most important relationship of my life."
Another cliché was in her sights with Ladies Day, which Griffin Theatre premiered two years ago. Based on interviews in Broome, Valentine wanted to show how gay men can now negotiate assimilation in regional Australia. But the stakes rise when one is raped at the Ladies Day Races and he thirsts for a very non-PC revenge at the injustice. Valentine tested the verbatim form by writing herself into the drama as interviewer. And the rape victim turns on her.
"Let's turn it on her and see how she copes with this grilling on her. People are almost inured to the verbatim process so I thought I'd surprise them by making it also about the interviewer."
The interviewer in Ladies Day is urged to reveal her own experience of childhood abuse, which Valentine hints was partly autobiographical. She says she was also keen in this play to connect with the "modernity of younger writers using autobiography" in their storytelling.
Alana Valentine has confronted many griefs but mostly as experienced by others: relatives she interviewed of those killed in the Waterfall train derailing (for her play, Dead Man Brake), survivors of the floods through Katharine (Watermark); women reliving thwarted years (Parramatta Girls) and others suffering incomprehensible brutality at the Hay Institution for Girls (Eyes to the Floor).
"One of the things about a playwright is not being overly varnished, overly protective. You have to be equal to the test of experiencing this; you are the first audience, the first empathiser with this story."
Parramatta Girls began when Valentine first met the indigenous women involved at a reunion in 2003. As she has learnt, she waited patiently until a key subject, Marlene, turned to her and spoke.
"I'll tell you my story, Alana, but only if you don't leave out the bad bits," And as Alana replied, "Marlene, the bad bits are what I really want."
The women had been so convinced by their childhood tormentors back in Parramatta that no one would ever believe them that, until Valentine turned on her recorder, they'd never put it to the test.
She gathered 35 different stories, carefully choosing only those women, black and white, that had a supportive network. Ultimately, after a public reading, she sought permission to collapse those experiences into eight onstage characters. This device sharpened the drama and empathy but also – even though their words survived – disguised some of those women still shamed by their experience.
Their revelations, when charged with being uncontrollable, locked up for being neglected, "dug a little hole in my soul", says the playwright. But Valentine was given a lesson in dealing with trauma: "it is always through humour; they are very, very funny women."
You sense, though, that Valentine was even more affected later when she, characteristically, won a scholarship to sit alone at the National Library and study all those letters written to Lindy Chamberlain. They ran from 1980 to the final coronial verdict of not guilty in 2012.
"For 38 years she meticulously filed those letters as an act of memorial, of grief, more than any other mother in Australia. Her faith is what sustains her and, as she says, she leaves vengeance to God. What she wanted far more than sympathy was justice, to be innocent before being proven guilty."
And while Valentine burnt with fury at those few (5% or so) letters vile and evil, Lindy, she said, would dismiss them with cartoon humour.
Letters to Lindy ends profoundly with a closure, a calming forgiveness, not for Lindy, of course, but for us, the bigots that we were.
"It's not just about individually saying sorry. The play really is a conduit for us to sorry as a group, five hundred of us in the theatre, and collectively, can go, we got it wrong – and then like her let it go, and move on," says Valentine.
"As a collective experience, the theatre is perfect for this."
Images (from top): Alana Valentine and Ursula Yovich working on Barbara and the Camp Dogs; Run Rabbit Run (Photographer: Heidrun Löhr); The Sugar House Photographer: Brett Boardman; Parramatta Girls (Photographer: Heidrun Löhr).
Alana Valentine spoke to Martin Portus for a State Library of NSW oral history project on leaders in Sydney's performing arts; the full interview will be available soon on the Library's website.