Aussie Musical Theatre Pioneers
There was a time when imported stars always scored the leading roles in musicals staged in Australia. Leading lady legends Nancye Hayes, Toni Lamond and Jill Perryman, and dancer Kevan Johnston led the charge to showcase local talent. Peter Eyers spoke to the four pioneers for his Stages podcast.
The Pajama Game
Is the game I'm in.
And I'm proud to be
In the Pajama Game
I love it!
Vernon Hines sings this lyric in the opening moments of the iconic musical. On Broadway The Pajama Game dominated the 1955 Tony Awards. In Australia, it launched the careers of some of our greatest stars. They showed audiences that Australian 'stars' were more than capable of shining brightly.
Cherished elders of the local stages like Jill Perryman, Nancye Hayes, Toni Lamond and Kevan Johnston began their careers in the chorus and in minor roles in the Australian premieres of celebrated musicals such as Paint Your Wagon, My Fair Lady and Call Me Madam.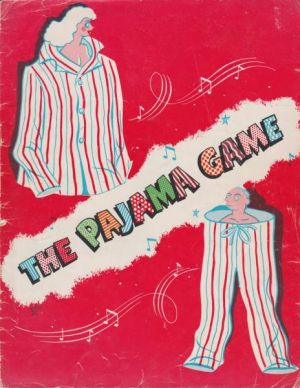 Post-war musical theatre was dominated by a legion of imported talents who would have some affiliation with a production overseas but were often unknown to the punters. The all-conquering production house of the day was the J.C. Williamson company. It insisted that the best choices to lead shows down under were overseas performers from touring companies - even understudies.
Nancye Hayes reminds us, "It was always their (JCW) policy to bring people out because they felt that Australian audiences were more impressed by 'from Broadway' or 'from The West End'. Then Australian audiences started to learn about their own. Jill Perryman (shone) in the Phillip Street revues, Tikki Taylor and Toni Lamond in The Pajama Game and Kevan Johnston as a strong dancer. We didn't have a lot of male dancers of his calibre."
"Producers were dependent on 'stars'," said Toni Lamond. "They were bringing out the third understudy from the fourth stock company - as long as they had an American or an English accent."
For some of our favourite Australian stars, the opportunity to lead an Australian company in iconic roles seemed like a dream - until the arrival of The Pajama Game.
Toni Lamond played Babe Williams in that production. She recalls that "The Pajama Game was chosen to fill JCW theatres after the cancellation of a scheduled tour from Dame Margot Fonteyn. It was proposed that if they put an Australian company into the chain of theatres for a few months they couldn't lose too much money."
The Firm (as JCW was called) not only produced the shows, but owned a network of theatres around the country. Wages still had to be paid to staff who worked at these theatres and the philosophy was that it was better for them to house a show than be dark.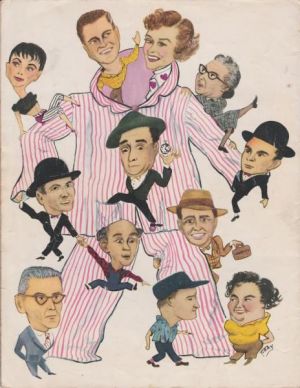 It was the extraordinary Betty Pounder who suggested to Williamsons that an entirely Australian company could and should be employed to perform the show. 'Pounder' began life as a dancer and worked her way up the ranks as dance captain, ballet mistress, choreographer, associate director and director.
'Pounder' was sent overseas to study Broadway productions, then oversee their transition to stages in Australia. She would often be working on many productions at once, maintaining shows in commercial seasons, while prepping the next show to go into production.
Kevan Johnston can lay claim to being one of the first Fosse dancers in Australia, performing the iconic 'Steam Heat' number alongside Tikki Taylor and Frank Sheldon. 'Pounder' acted as a Casting Director for the shows and kept her eye on performers for future work. "We were good enough and picked to go into the next show. Pounder knew who she wanted," he said.
She had a grasp on all facets of the business and knew who could be mentored and developed as performers.
The 1950s were the formative years of large commercial musicals playing Australia. Communication perhaps wasn't always the best, as Kevan Johnston recalls. "I didn't know I was a principal dancer till I got the program - there was no talk of money. We didn't have agents. (There was) no retainer between shows and you had to find your own accommodation on tour. But we got per diems."
Nancye Hayes says, "at auditions they'd often just get you to sing Happy Birthday to see if you could hold a tune."
The great Jill Perryman obviously impressed from her first venture into the spotlight.
"I auditioned for the first show, and then went from show to show to show to show."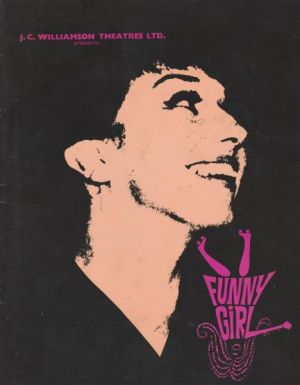 But her career started many years before, when she accidentally became a child actor.
"I went on to the stage when I was two (years old), looking for my mum."
At the time her parents, William Perryman and Dorothy Duval, were touring in a production of White Horse Inn. So adorable was the toddler that she was written into the show. "They made me a dress to join the onstage company of White Horse Inn."
Toni Lamond came to The Pajama Game from the variety stage. Her parents were vaudeville performers Stella Lamond and Joe Lawman. She made a huge impact in The Pajama Game, singing numbers like "Hey There" and "I Don't Want to Talk Small Talk', launching a career that would see her take centre stage again and again in big commercial productions such as Oliver!, Gypsy, 42nd Street and Beauty and the Beast.
Toni Lamond said The Pajama Game was a breakthrough for Australian artists. "The Australian audience discovered us. Two and a half years we ran. It was supposed to be three months."
The show also completed a tour of New Zealand.
The production also featured Jill Perryman (then aged 22) in the role of dowdy secretary Mabel.
Despite the success of the Australian cast tour, the status quo of imported stars continued well into the 1960s. JCW blamed the owners of American musicals for insisting on American leads down under.
Finally, Jill Perryman broke the mould in the 1966 production of Funny Girl. Her adept skill at comedy, a glorious voice and intuitive dramatic skill made her the ideal choice for the lead.
Jill's husband Kevan Johnston recalls, "People said you can't do it without Barbra Streisand."
Despite her talent, she needed the approval of the American director and JCW management to secure the role.
Jill's success as Fanny Brice is still discussed today, alongside star turns in shows like Annie, A Little Night Music, Hello, Dolly! andThe Boy From Oz.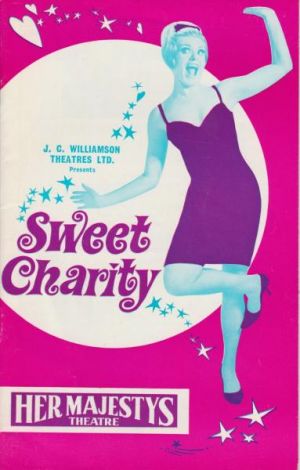 The trio of triumphs was completed when a dynamic young talent, who had proven herself in shows such as How to Succeed in Business and My Fair Lady, was given the chance to lead a brand-new show from Broadway.
That joy belonged to Nancye Hayes as Charity Hope Valentine in Sweet Charity.
But she nearly didn't get that breakthrough chance. Despite Jill Perryman's outstanding success in Funny Girl, 'The Firm' had reverted to its policy of importing its leads, and announced that Betty Grable would star in the show. Thankfully, when Grable withdrew Nancye got her chance.
Her breakout performance had one reviewer claim, "Nancye Hayes gives an exhilarating and seemingly inexhaustible performance."
She was riding the wave started by Lamond and Perryman and supported by 'Pounder', delighted to continue the realisation that home-grown talents had what it took.
"I always wanted to go on the stage, and I'd tell my mother (who was a very practical woman), while she was washing up. 'Yes, that'll be nice dear, that'll be nice'."
Nancye had to complete a secretarial course before embarking on a career in show business (she didn't use it). Determination, talent and resilience ensured that Nancye's star shone brightly over a plethora of shows like Chicago, Guys and Dolls and Showboat. And like 'Pounder', who mentored performers, the generosity continues as Nancye guides the way for the next generation.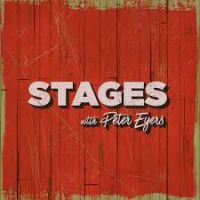 The Stages podcast was launched in 2018 to record essential conversations with creatives about their career and process. The podcast provides an insight into the history and various components of the industry. Perhaps most importantly it can offer the ambitious performer knowledge that there are many different pathways to cultivate a career in the arts.
There are now 99 episodes available to access, featuring a host of practitioners from dancers, directors and drag queens to producers, playwrights and performers.
"The generosity of their spirit and wisdom never ceases to impress me," says Peter Eyers.
Series 3 of Stages, launched in February 2020, includes interviews with Toni Lamond, Kevan Johnston, Jill Perryman and Nancye Hayes.
Stages with Peter Eyers is available from iTunes, Spotify and Whooshkaa.
Images: Toni Lamond, Jill Perryman and Nancye Hayes with their Lifetime Achievement Helpmann Awards, and the original Australian program covers of The Pajama Game, Funny Girl and Sweet Charity.