Australian Performing Arts Collection Treasures Revealed
Historically significant performing arts costumes and objects, ranging from Kylie Minogue's gold lame hotpants to Dame Nellie Melba's La Traviata bodice, will be made available to the public to view in 2023 through a $2.2 million project to upgrade and expand Arts Centre Melbourne's Australian Performing Arts Collection (APAC).
Image above: Schematic design drawing by Williams Ross Architects.
Unveiled today (October 20, 2022) by the Minister for Creative Industries Steve Dimopoulos, MP, the Collections' Reveal project will provide public access to some never-before-seen objects and costumes through a first of its kind behind-the-scenes visitor experience.
The new space designed by Melbourne-based Williams Ross Architects is set to open in June 2023 and will feature an upgraded and expanded storage to increase capacity for the Collection's more than 780,000 items, ranging from costumes and accessories, designs and set models, props, photographs and scrap books, posters, programs, archives and audio and visual material. It will feature the Collection's first ever conservation lab to preserve items onsite, and an enhanced photographic studio to continue digitisation and build on the development of online exhibitions.
Funded by the Victorian Government through Creative Victoria and philanthropists Virginia and Harry Boon and Maxwell and Merle Carroll Bequest, a key part of the design is an internal street allowing visitors to see curators, conservators, registrars, research, and exhibitions teams working on the collection, as well as objects and costumes in built-in display cases and 2D works on the wall. The intention is not to mimic or replace a gallery environment, but to provide 'windows' into what it takes to develop, manage, preserve, and share a State Collection.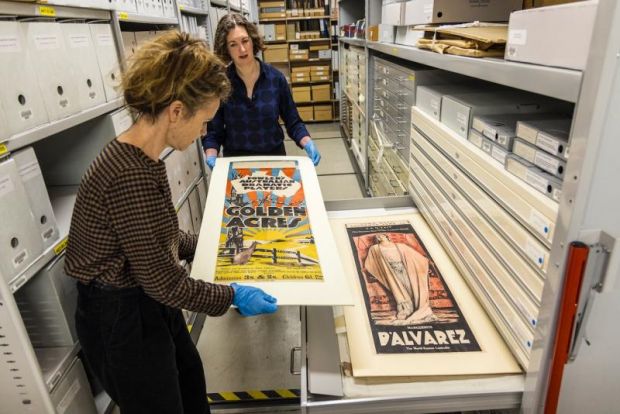 Image: Margot Anderson and Margaret Marshall with theatre posters. Photographer: Mark Gambino.
"As proud custodians of The Australian Performing Arts Collection we are delighted to uncover and share this hidden treasure with the people of Victoria. We hope they will feel ownership and pride in this State Collection and all the value and benefits that it offers,'' said Arts Centre Melbourne CEO Karen Quinlan, AM.
"Victoria is home to Australia's largest, most star-studded performing arts collection, full of gems that celebrate our rich history of entertainment and our greatest talents,'' said Minister for Creative Industries Steve Dimopoulos.
"This new space revolutionises collections care through state-of-the-art facilities, while offering a compelling new behind-the-scenes experience for visitors. It's another fantastic offering unique to our creative state,'' Minister Dimopoulos said.
International pop music superstar Kylie Minogue said she was thrilled her extensive collection within the Australian Performing Arts Collection would be shared with the community.
"The Australian Performing Arts Collection is home to more than 1000 items from my career including costumes and accessories. I am so thankful that with the help of the expert and passionate Collections team, these items can be shared with generations to come. It's so exciting that fans, music and history lovers will be able to see some of them up close and personal amongst so many other treasures housed in the new space," said Minogue.
One of Kylie's iconic costumes – her Museum Dress – is set to be among ten treasured pieces from the Australian Performing Arts Collection that will be on display when the new space opens in 2023. A suite of online stories about these items will be published on Arts Centre Melbourne's website from November.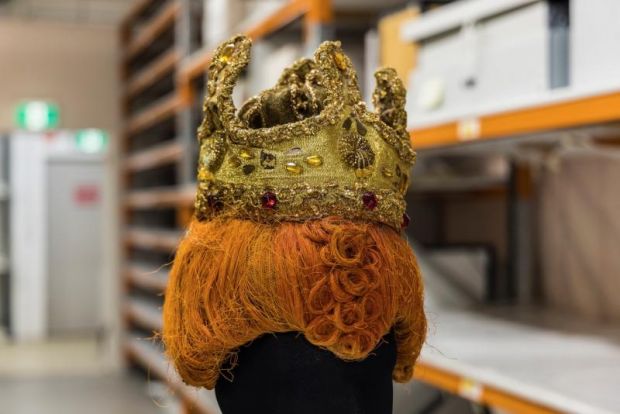 Image: Headdress worn by Reg Livermore as Tara the Incredible, 1975. Photographer: Mark Gambino.
Arts Centre Melbourne Head of Collections, Preservation and Access Samantha Hamilton said what started as a solution to a storage problem had evolved into an opportunity to share the collection and what it takes to develop, manage, preserve, and make a State Collection accessible with the Victorian community.
"The Australian Performing Arts Collection Reveal project is about deepening our engagement and sharing our Australian Performing Arts Collection with the people of Victoria including school groups, the performing arts community, and visitors to Arts Centre Melbourne. It will become a Melbourne 'must see and do experience''' said Hamilton.
The Australian Performing Arts Collection (APAC), established in 1975, is the nation's largest collection of performing arts history and traditions. The collection acquires performing arts material across the five key collecting areas of circus, dance, music, opera, and theatre.
APAC Reveal will remain a permanent offer at Arts Centre Melbourne. The Reimagining Arts Centre Melbourne project, part of the Melbourne Arts Precinct Transformation. includes the Centre for Creativity at 1 City Rd. This centre will feature an Australian Performing Arts Gallery to display the Australian Performing Arts Collection and an expanded permanent home for the Australian Music Vault.
Items of significance in the Australian Performing Arts Collection
Kylie Minogue costumes designed by Dolce and Gabbana from her Aphrodite Les Folies tour, 2011
Tutu worn by Justine Summers in Divergence, The Australian Ballet, 1994
Bodice worn by Dame Nellie Melba as Violetta in La Traviata, c.1908
Wirth's Circus scrapbook compiled by Charles West, c.1905 - 1940s
Notebooks compiled by Nick Cave
Set model designed by Tony Tripp for Summer of the Seventeenth Doll, Melbourne Theatre Company, 1995
Ossie Ostrich puppet from television program Hey Hey It's Saturday, c1972
Costume designs by Roger Kirk for the role of Peter Allen in The Boy from Oz
Spectacles worn with the Fish Dress by Barry Humphries as Edna Everage
For more information visit https://www.artscentremelbourne.com.au/exhibitions-collections/reveal