Ball at the Savoy
Image: Fred Conyngham and Molly Fisher in With Pleasure, Madame (1936)
To mark its first recording in English, Peter Pinne explores how a sparkling jazz operetta, chased out of Germany by the Nazis, found an audience in Australia.
In 1930, Hungarian/Jewish composer Paul Abraham enjoyed a huge success in Berlin with his operetta Viktoria and her Hussar, which had only been moderately received in his hometown, Budapest. The German public had never heard anything like it before, and it eventually ended up playing in over 300 theatres all over Europe.
Classically trained, Abrahams had invented the jazz-operetta. The normal theatre orchestra had been augmented by a jazz band, including steel guitar, piano, drum set, guitar and banjo. Abraham moved to Berlin and within months was a wealthy man. He bought a Roccoco-style villa in Berlin, where he hosted legendary parties, attended by the cream of Berlin society. His next operetta, Die Blume von Hawaii (1931), was an even bigger success. But his days in Berlin were numbered. The Nazi storm clouds were gathering.
His next operetta, Ball im Savoy (Ball at the Savoy) (1932), was just as successful. Produced by Berlin's most important theatrical producers, the Rotter Brothers (Alfred & Fritz), the show played Max Reinhardt's 3,300 seat Grosses Schauspielhaus. The premiere, on 23 December 1932, was for some the last major cultural event of Weimar Germany.
The plot, similar to Die Fledermaus, sees Madeleine going to a ball at the Savoy Hotel, Nice, in disguise to spy on her husband (Aristide) who she suspects of philandering. The difference to Die Fledermaus is that she plans on seeking revenge by having an affair with a young man.
The opening night was a smashing success, and the performance went on until way after midnight. The show's star was the young Hungarian soprano Gitta Alpar (Madeleine), with the comic duo Rosy Barsony (Daisy) and Oscar Denes (Mustapha), both Hungarians, audience favourites. The show's opening triumph would be short-lived as the leads were Jewish. Thus, Ball at the Savoy was written, produced and performed by Jews, a fact that was not lost on the Nazis.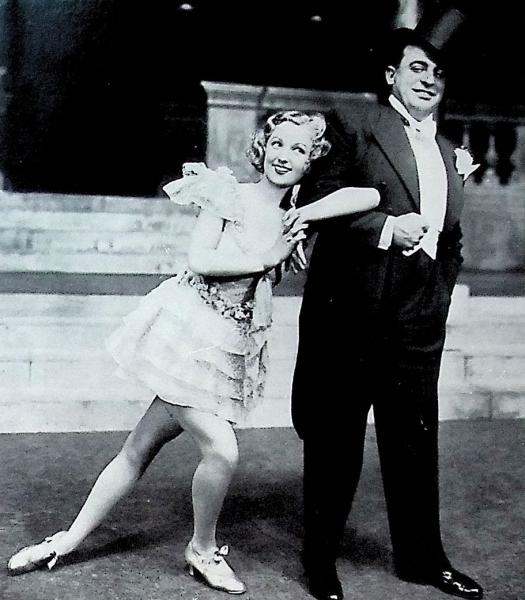 Image: Rosy Barsony and Oscar Denes in the London production.
The Rotter brothers threw a lavish party after the premiere, but they never saw a penny of ticket sales. Their possessions were seized by one of their creditors (an avowed Nazi) and the brothers fled to Lichtenstein where they were kidnapped by local Nazis. Alfred and his wife fell to their death while trying to escape. Fritz was injured but managed to get away.
Ball at the Savoy continued its run in Berlin but under dire circumstances. Audiences were harassed by the Nazis, and performances were constantly interrupted. The show closed on 2 April 1933. One month after the premiere, Adolf Hitler became Chancellor of Germany. Abraham, along with the stars of the show, had to leave Germany in haste. Abraham was distraught, saying, 'I wanted to die in this city.' When told he could come back later, he said, 'But why do I have to go? Just because I'm circumcised?'
Abraham left several unpublished manuscripts in a safe at his villa; his butler, to whom he had given the key, allegedly sold these manuscripts to non-Jewish composers who published them under their own names and were credited with hit songs.
Ball at the Savoy later opened in London and Budapest with Barsony and Denes, and in Vienna with Barsony. Oscar Hammerstein II adapted the book and lyrics into English. Its London home was the Theatre Royal, Drury Lane, where it opened 8 September 1933, playing 148 performances.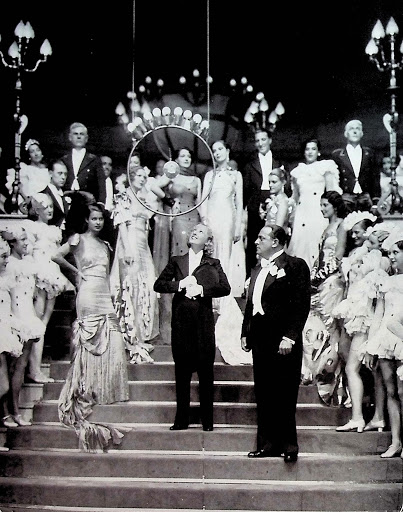 Image: Ball at the Savoy - London production.
J.C. Williamson's imported Oscar Denes to lead a company in Australia, where it opened at the Theatre Royal, Sydney, on 6 July 1935, and played one month before moving to Her Majesty's Theatre, Melbourne, where it again played a month. Madelaine was played by Mabel Gibson in Sydney and Marie Bremmer in Melbourne. Nellie Barnes was Daisy, and Sidney Burchell was Aristide.
Although the show had disappointing runs in its English version, it has remained a firm favorite in Europe. There have been three film versions, one in German, made in Hungary, Ball im Savoy (1935), an English version, Ball at the Savoy [aka With Pleasure, Madame] (1936), and another in German, Ball im Savoy (1954).
Ball at the Savoy was revived at Berlin's Kommische Oper in 2013, directed by Barry Kosky. It had a wonderous performance by Dagmar Manzel as Madeleine, and a show-stopping turn by Katherine Mehrling as Daisy. Playing in repertoire for many seasons, it was invariably sold out. I saw a performance in 2015 and was blown away by the lavish scale of the three-hour production.
References:
Liner note, Hersh Glagov, Naxos 8.660503-04
The Encyclopedia of Musical Theatre, Kurt Ganzl, Blackwell Reference
Operetta Research Center, Harry Forbes
https://www.naxos.com/catalogue/item.asp?item_code=8.660503-04