Oh Johnny ... or should we say, Jill?
The age-old tradition of Stage Door Johnnies is alive and well in Melbourne (albeit in slightly updated form) for the star of Legally Blonde. Coral Drouyn explains.
Way back in the 1880's, when "Musical Comedies" and "Music Hall" shows became the great entertainment for the masses, one entrepreneur, George Edwardes (pictured below), changed the face of theatre for all time.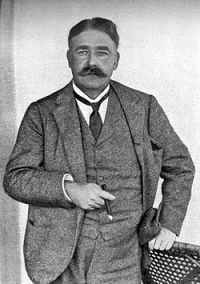 Already a theatre manager at age twenty, by the time he turned thirty he was managing The Gaiety Theatre and had his sights set on several others. Looking for a way to increase his audiences, in the days when there were as many as forty theatres in London and its surrounds, he filled his shows in London with beautiful young women, chosen for their looks, their manners and their ability to wear beautiful clothes. He gave them special status by calling them The Gaiety Girls….a term which became much more far-reaching than that one theatre.
There was no mass media advertising in those days and so the best couturiers vied to dress the "Gaiety Girls" in the hope that their photographs would appear in "periodicals" (the clunky name for magazines back then). They also dressed the girls outside of the theatre when they went to dinner in public places. My grandmother was a Gaiety Girl for a while…even in her nineties she talked about the clothes, and the respect that they were given. It wasn't quite like being "in the chorus." Gaiety Girls were special. It was all about exposure, and this was sixty years before "Mad Men".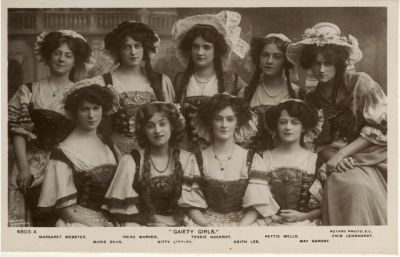 It worked the same way as today; women saw a Gaiety girl wearing a frock and immediately wanted it. But so did their husbands and fathers…though their attention was drawn more to the girl than the fashion. A phenomenon started which hadn't been seen before. Wealthy men would arrive at the stage door after the performance laden with bunches of roses. Imagine these men in tails, with scarlet silk lined black capes and top hats, their carriages waiting at the kerb, and asking for the leading lady, or sometimes "The third young lady from the right in the ballet scene". Very often the men were wary about giving their names, and would announce "Just call me John". See how easily a trend can start?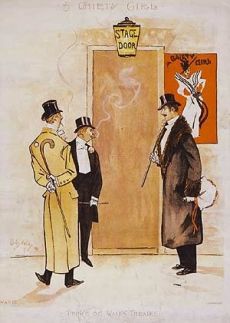 Sometimes the girls refused the flowers, sometimes they accepted and went for a sumptuous supper. Sometimes romance genuinely blossomed and, in rare cases, a Gaiety girl married a Lord and became a "Lady" in every sense. It sounds like a plot for a musical doesn't it? Well, it has partially been used for several: A Little Night Music springs to mind immediately…and if Eliza Dolittle had been a Gaiety Girl instead of a flower seller….I'm sure you're all one step ahead of me.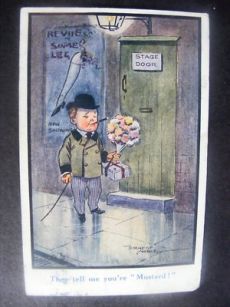 The concept lasted up till the 1930's and then died away, perhaps with war being imminent. There had been autograph hunters for over 100 years before that, but they were more interested in great politicians and authors like Charles Dickens. They had no real interest in popular entertainment. When television came in, theatre almost died, and so did the Stage Door Johnny. But Pop music brought out the autograph hunters in droves. Almost without exception teenage girls, they would hang around in droves after a live show, hoping to see or touch their idols. There was screaming and hysteria and some went home with anyone who had even been close to their idol….even the drummer! They became known as groupies.
When Musical Theatre was resuscitated after the war, the audience was largely middle class, middle aged couples; not the type to hang around stage doors. True, there may have been a couple of die-hard fans at the stage door, but generally the females in the cast could take off their make-up, put on their sweatshirts and jeans and leave the theatre un-noticed.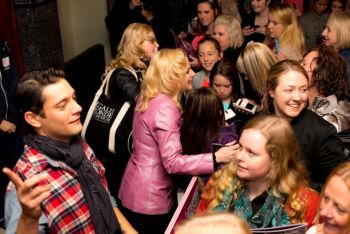 Cut to 2013:- Enter one Lucy Durack, and a musical called Legally Blonde. Forty years ago there was very little chance of a local girl, no matter how talented, playing the title role in an American Musical. We would have seen a second rate American talent rather than a first rate Australian one.
True, we had leading ladies like Jill Perryman and Nancye Hayes, but they usually starred in revivals, and were always so much better than their American counterparts had been. I remember waiting at a stage door for Jill to come out, and apart from us the only "fan" waiting was her husband Kevin.
Now, after every performance, Lucy has trouble even getting out of the stage door. Gone are the days of slipping out anonymously. Lucy is a fully-fledged star and the stage door is a gathering place for everyone who has seen and loved her as Elle Woods in this joyful musical. The stage door Johnny and the Groupie have merged to become something reborn, the true fan, and there is no age group. They are male, female, old, young, kids, grannies. They just want to see and touch and talk to the stars. They love the entire cast, and want to get as many autographs as they can (if only a Chihuahua could write) but it's Lucy they most want to see.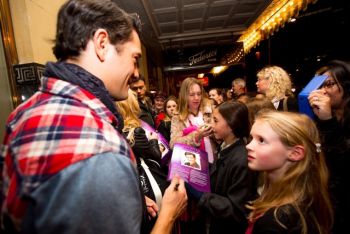 It didn't happen in the same way with Wicked, perhaps because of the subject matter. But Legally Blonde is such a marvellously frothy feel-good show that you can't help but want to prolong the evening for as long as possible. And what's more it's PINK…what more could any girl ask for. 'It's both exhilarating and unusual, but I love it,' Lucy says. 'Of course, I realise that they just want to express their love for the show. It's not really me they want to meet. It's Elle." Well, that might be partially true, but mostly it's Lucy they care about….the girl from Perth, who honed her talents at the fabulous WAAPA, is the person they aspire to be. That's stardom!
Legally Blonde Stage Door photos by Greg Watters
Click here for more Australian theatre history.