Politics and Broadway.
Image: Hamilton Australian cast. Photographer Daniel Boud.
Coral Drouyn looks at how the political scene has shaped Broadway musicals.
Hamilton is about to take Australia by storm, having won every award on offer (including the Pulitzer Prize). Will we like this slice of American political history? We'll love it. Lin-Manuel Miranda may have revolutionised the Broadway musical, but the ingredients for success have been around since Shakespeare's time: a love story, intrigue, comic relief, murder, ambition and politics. But hang on. Doesn't everyone hate politics? Perhaps it's more a case that we LOVE to hate politics, even if it seems incomprehensible, or heavy going, a lot of the time. That's the genius of Miranda. While Hamilton declaims dramatically in his proclamation of his own ambition, "My Shot",
I'm joining the rebellion 'cause I know it's my chance
To socially advance, instead of sewin' some pants (woo)
I'm gonna take a shot
Miranda makes the King, George III a complete buffoon, with the hilarious song "You'll Be Back", but gives him insidious lyrics like:
'Cause when push comes to shove
I will kill your friends and family to remind you of my love.
Though the music of Hamilton is innovative and contemporary, there's a timeless dark underbelly and serious moral question at the heart of the show, and it's the politics and battle for power that provides it. And, after all, what could be more exciting for a Broadway audience than a story about the country's struggle for independence and nationhood? Hamilton has characters that changed the western world, and even if we don't fully understand the politics, we understand the ambitions and power struggles behind them. Hamilton's power on stage is so strong that it saved Alexander Hamilton's image from being booted off the US ten-dollar bill - now THAT'S impressive.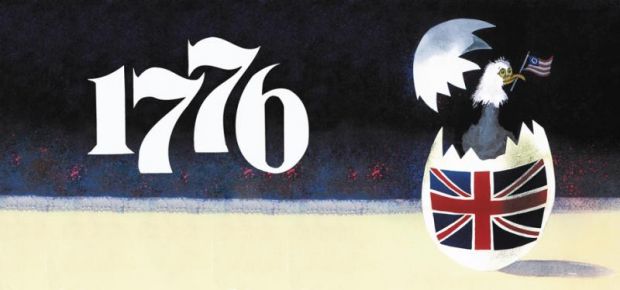 However, Miranda isn't the first to chronicle the early struggles of the Founding Fathers on the Broadway stage. The Declaration of Independence was signed in 1776 and that proved to be the perfect title for the 1969 musical by Sherman Edwards and Peter Stone. This time it focussed on John Adams and Thomas Jefferson, with Howard da Silva stealing the reviews as Benjamin Franklin. The Tony Award winner as Best Musical opened in London in 1970 with Australian actor Lewis Fiander playing Adams. He returned to Melbourne the following year for the Australian production, which didn't have the same success. Perhaps it was difficult for an Aussie audience to relate to politics before the Whitlam years.
But several decades before that, the revolutionary war provided the backdrop for two other musicals with very similar storylines. Dearest Enemy was the first collaboration between Richard Rodgers and Lorenz (Larry) Hart, who were struggling young songwriters at the time. It was Hart who got the idea from a plaque on a building telling the story of an American Revolutionary War incident in September 1776 when Mary Lindley Murray, under orders from General George Washington, detained General William Howe and his British troops by serving them cake, wine and conversation in her Kips Bay, Manhattan home long enough for some 4,000 American soldiers, fleeing their loss in the Battle of Brooklyn, to reassemble in Washington Heights and join reinforcements to make a successful counterattack. It's a love story of sorts but very political. Still, it's fair to say that it's the Rodgers and Hart melodies that are responsible for numerous revivals.
The same love story was echoed in 1950 in Arms and The Girl, which starred Nanette Fabray, Pearl Bailey and French heart-throb Georges Gueteray. Despite a great cast, witty lyrics and a book by the great Dorothy Fields, it was a flop and is now best remembered for General Washington riding on a white stallion in the last scene. I wonder who cleaned the stage.
Though Benjamin Franklin never got the presidency, he did get a musical - and some would say that's the better deal. 1964's Ben Franklin in Paris starred Robert Preston, who had been a smash in The Music Man. Despite Jerry Herman being credited as the composer, he only contributed two songs. The show wasn't a success, with the critic from the NY Times writing, "NEITHER the wig nor the fine 18th‐century coat, waistcoat, breeches and boots can fool us. That genial, light-footed, resourceful salesman who answers to the name of Ben Franklin is really our old friend selling band instruments in Iowa."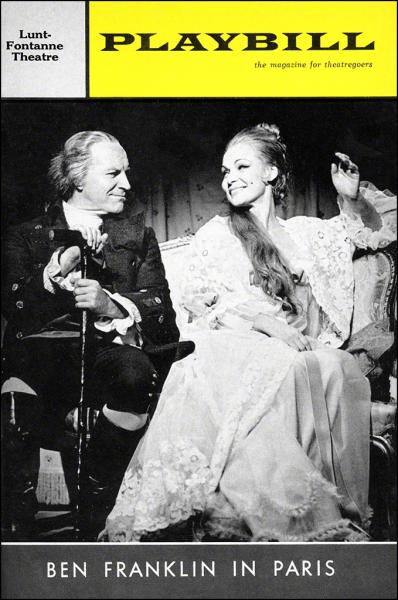 Even the Gershwins had their own jibe at American politics in the highly satirical "Of Thee I Sing". When you have a Vice President named Throttlebottom, you know you're in for laughs. George S Kauffman and Morrie Ryskind wrote the book, which avoided naming the political parties, as they believed that absurdity was bipartisan in Depression-era politics. Some things never change!
Andrew Jackson, who founded the Democratic Party and became America's seventh president, got his own musical, Bloody, Bloody Andrew Jackson - but not until 2006. By that time the audience had to be reminded that the symbol of the Democratic Party is a donkey because Jackson was known as a Jackass. The show was a smash hit OFF Broadway but failed miserably on The Great White Way.
For all the material Independence provided, it was matched, but not with such great success, by the American Civil War. After all, it's hard to sing and dance your way through carnage - even on Broadway.
It seems finding clever titles is not one of composer Frank Wildhorn's strengths. His musical about Jekyll and Hyde is called … er … Jekyll and Hyde and his musical on The Civil War is called … wait for it …The Civil War. It told the story through the eyes of Union and Confederate soldiers and slaves, in a variety of musical genres, but with a cast of just 15 in its touring version, the battle scenes must have looked more like seven-a-side rugby. It lasted just eight weeks on Broadway.
Sondheim's Assassins fared better - with Booth's killing of Abraham Lincoln right up front. Strangely, if you read the hate-speech in the lyrics, it bears a strong resemblance to the rationale of recent events in Washington's Capitol Building. Only Sondheim could make a musical about deranged people killing for political reasons work on any level. It's a marvel.
1975's Shenandoah fared much better. Winning two Tony Awards and running a respectable 1050 performances. But one can't help but think that's because it is more about the family life, with the war as a background and catalyst. Wouldn't we all have loved The Waltons even more if it had been set to music and taken place in the Civil War?
Perhaps the biggest story of the Civil War is Margaret Mitchell's Gone With The Wind. It would seem a natural for a large-scale musical and yet, though it has been attempted twice, it has never made it to Broadway. One version, based on a nine-hour Japanese adaptation called Scarlett, ran for a year in London's West End as Gone with the Wind, but plans for Broadway, and even Australia, were cancelled before it opened. The second version, which had the Mitchell Trust's blessing, had an entirely new book and score by Margaret Martin (MM has a certain synchronity) yet, directed by Trevor Nunn, ran just 79 performances.
But it doesn't need a war, civil or otherwise, for politics to worm its way into theatre. Politics, like death and taxes, is one of the great inevitabilities of life. So it's not surprising that the anti-War 1967 musical Hair is still relevant, or that George Gershwin's Porgy and Bess, about the plight of black Americans, was so politically charged that the very people it featured were not allowed into Carnegie Hall to see it. It shocked socialites, and there's a story that one NY socialite swallowed her pearls in horror at the intimacy.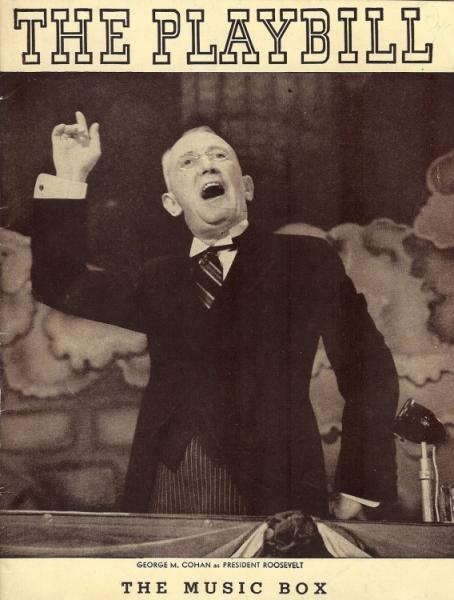 And if you've seen James Cagney in Yankee Doodle Dandy you'll know that Rogers and Hart wrote the fabulous I'd Rather Be Right with George M Cohan in mind to play FDR. The lasting song is the haunting "Have you met Miss Jones?", still sung some 84 years later, but Cohan had the showstopper with the President's song "Off the Record", which boasts political gems like
"My speeches on the radio have made me quite a hero
I only have to say 'My friends' and stocks go down to zero
Don't print it - It's strictly off the record"
The musical was a smash hit and even had Cohan, as FDR, dancing down a staircase, perhaps a little surreal for a president in a wheelchair, though he did get his wheelchair back for Annie.
Irving Berlin dipped his creative hat to politics in Call Me Madam - written for the great Ethel Merman about an ambassador to Lichtenburg, while Cole Porter in 1938 put politics up front in Leave It To Me, when an American Ambassador to Russia has his political espionage plans go astray.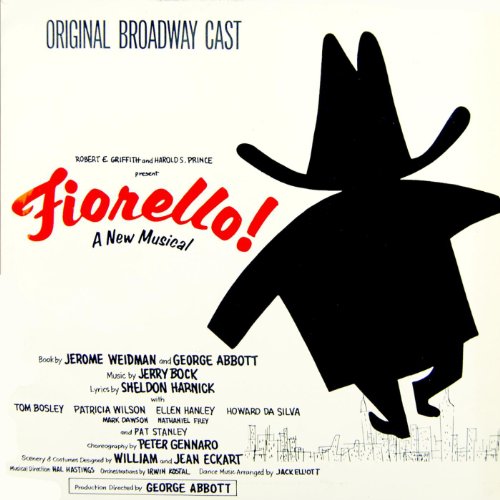 But the 1959 musical Fiorello! – about Mayor La Guardia of New York City - provides some of the best political barbs. It won, like Hamilton, the Tony for Best Musical and the Pulitzer Prize for Drama. In one song, "Politics and Poker", a group of back-room political operators are trying to pick a candidate for Congress who will do their bidding, playing politics whilst playing poker.
Politics and Poker
Politics and Poker
Playing for a pot that's mediocre
Politics and Poker
Running neck and neck
If politics seems more predictable
That's because usually
You can stack the deck
So what next for politics on Broadway? There's plenty of material. Will it be a drama Impeachment – The Musical or the comedy The Big Orange. Either one would be Trumps.