Puppet People
Queensland Performing Arts Centre's (QPAC's) latest free exhibition Puppet People: A Snapshot of Australian Puppetry is on view in the Centre's Tony Gould Gallery untilthe end of January 2018. Beth Keehn reports.
Not long ago nearly 1.5 million people flocked to the town centre of Perth to see French theatre company Royal de Luxe take their giant marionettes around the streets. Why? Probably because we all feel an emotional connection to puppetry – it reminds us of a time in our lives with limitless imagination and endless possibilities. Who can forget the joy of catching the first glimpse of a touring puppet show at a local festival, shopping mall or darkened school hall?
Puppetry can also spark a future passion for the arts, for teaching, theatre and storytelling, for making, creating and collaborating. The evidence starts at the front door of QPAC's Tony Gould Gallery – Gould, QPAC's first director, was tour manager for Peter Scriven's Tintookies tour of South East Asia in the late 1960s. The Puppet People exhibition showcases some of these iconic characters, along with Max Hurley's brilliant design illustrations for the pioneering Marionette Theatre of Australia.
Snapshot of styles and creators
Australia has mined a rich seam in the colourful art form of puppetry. While a handful of papers and articles document some of the story, to date there is no comprehensive guidebook to this niche area of our theatre history. To help select the exhibits, QPAC's Exhibitions Manager and Puppet People curator, Maria Cleary, delved into the QPAC Museum archive and put out the call to today's puppet practitioners. With generous cooperation and a little serendipity, Maria has produced a satisfying snapshot of a broad range of puppetry styles, representing some of our most important creators, makers and entrepreneurs.
"Once I started researching the exhibition, so many amazing stories emerged…"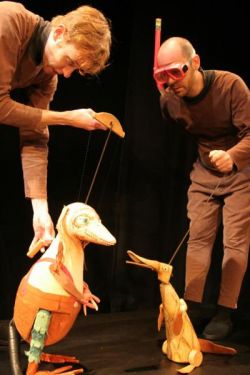 The exhibition follows a chronological array of Australia-wide puppet history – from the cartoon-like, handmade papier-maché Punch & Judy puppets by JF Ley from the early 20th century, through to modern-era characters from Keith Preston, and beyond to the complex computer-designed and lasercut models of The Dead Puppet Society.
Sublime to surreal
Many of the exhibits are from the QPAC Museum's permanent collection, but others are on loan or donated. Without the QPAC collection, some would simply not see the light of day. I wanted to know how Maria narrowed down the choice of exhibits. She said: "Once I started researching the exhibition, so many amazing stories emerged – it would have been wonderful to explore more of these, but there's nothing like a deadline to focus the mind!"
What is immediately striking is the rich source of imaginative productions and talent. The puppets on display showcase the work of the early pioneers alongside the mainstays of Australia's breakaway talents, like Peter Wilson's Handspan and Spare Parts Puppet Theatre. Queensland's homegrown talent is well represented by family favourite David Hamilton and new surreal pieces by Dead Puppet Society. Their recent production of 'The Wider Earth' gives the exhibit a haunting quality by lending its soundtrack by Tony Buchen and Lior.
Anarchy from the UK
Puppetry was ground-breaking from the start – the first Punch & Judy booths in London making portable shows possible outside the confines of the theatre space. The shows introduced cutting-edge new forms from the Italian commedia dell'arte and stock standard characters that allowed for improvisation with satire and social commentary.
Through the Puppet People collection, it is immediately obvious that post-war Australia was in the early stages of becoming today's cultural melting pot. The puppet partnerships in the 1950s and 1960s are interesting because they show a multicultural mix – with practitioners from Europe reinventing themselves and their stories through an Australian lens. These newcomers wanted to combine old fairy tales and traditional techniques with new myths and puppetry forms.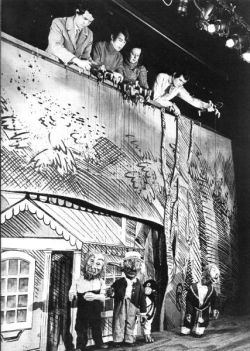 The portability of the shows, with pre-recorded soundtracks – featuring many Aussie film stars in the fledgling stages of their careers, such as Ray Barrett, John Bluthal, Gordon Chater, and Stuart Wagstaff – and continuing support, many times through Arts Council funding, meant that audiences in regional Australia did not miss out on the fun. Many exhibition viewers will recognise characters from the Billbar Puppet Theatre or Queensland Marionette Theatre from touring regional shows and country fairs from the 1960s and 70s.
Creative collaboration
"What stood out … was the commitment of the people behind the puppets."
Explaining how the exhibition came together, Maria was eager to highlight the extraordinary contributions of the 'puppet people' she approached – all more than willing to pull out the stops to share their stories and lend significant pieces.
"I called the exhibition 'Puppet People' because what stood out for me was not just the art and craft of the puppets on display, but also the commitment of the people behind the puppets – their passion for what they do and their dedication to the art of puppetry."
What this exhibition highlights is the willingness of 'puppet people' to share ideas, cross-pollinate innovation across theatre forms and crafts – encouraging a do-it-yourself ethos in lighting, sets and props, sound design, cabaret, comedy, dance and movement that self-perpetuates puppetry as a hotbed of theatre talent. Reading the historical notes that accompany the exhibits, what becomes clear is the creative connections between the people. Founding personnel develop a signature style and then move on to establish a completely new troupe.
Magic milestones
Puppet People shows a tantalising tip-of-the-iceberg collection of the milestone pieces in our Australian puppetry history. I asked Maria if she had any favourite exhibition pieces. She admitted to having a soft spot for Max Hurley's illustrations because she had uncovered them in the archives purely by chance. In fact, she revealed that, once she started formulating the idea for the exhibition, mysteriously, pieces just started to come together.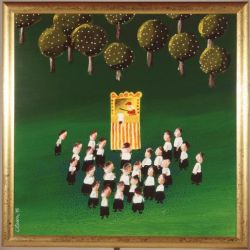 Out of the blue she received a call asking if the QPAC Museum could become the custodians of an historic collection of 100-year-old Punch & Judy puppets toured by JF Ley until around the 1930s. These signature pieces are on display at the entrance and exit to the theatre – fittingly – as Maria said – "If I had to choose a favourite, it would be the Ley Punch & Judy puppets. With their rough and colourful appearance, they perfectly capture the headspace of the anarchic Punch & Judy ethos. They are also a touchstone for the Keith Preston Punch & Judy pieces that follow."
Puppetry is alive and well
It may seem like child's play, but puppetry is important – it can introduce audiences to the magic of theatre and train designers, makers, actors, and other craftspeople of the stage. In the absence of any formal, dedicated puppetry course in Australia, puppet troupes and collectives provide important theatre apprenticeships in a whole range of theatre skills.
Puppet People is an enjoyable way to learn about decades of our theatrical history and hand-made excellence. It is also exciting to see that puppetry in Australia – and specifically in Queensland – is alive and well and innovating at a theatre near you.
You can see Puppet People before 27 January 2018. Check the QPAC website – www.qpac.com.au – for details of Tony Gould Gallery opening times and exhibition updates.