Theatre Treasures in Safe Hands
Dr Rodney Seaborn dedicated himself to the development of Sydney theatre 33 years ago by establishing a philanthropic foundation to restore Sydney theatres, support the creators of new productions and to collect and preserve cultural heritage.
He scoured the city and enticed theatre lovers to lodge their memories, records and artifacts with his archive.
Today the Seaborn, Broughton & Walford Foundation houses an enormous variety of theatrical items, including 170 marionette and rod puppets, tens of thousands of programmes and photographs, film and sound recordings, posters, theatre designs and set boxes, and personal and organisational records.
The latter include the Independent and Ensemble Theatres, the Stables/Griffin Theatre Company and Syd Irving's JC Williamsons papers from the 1950s. More than 80 collections of personal records include papers donated by Colleen Clifford, Gwen Plum, John Tasker, theatre critic Norman Kessell, ABC's 'The Showman' John West, Robert Levis, Richard Bradshaw and JC Williamson's diary. The archive also has a large collection of books and periodicals.
New Location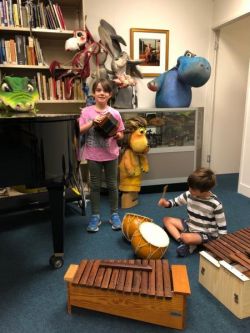 For many years housed in industrial buildings in southern Sydney, the massive collection has been relocated to attractive office space in the Neutral Bay shopping precinct – one bus stop north of Wynyard. This has increased the accessibility of the archive to researchers, and forged closer links with the performing arts sector and the community.
Theatre Programmes
Appraising, arranging and preserving this treasure trove is an ongoing task. Focus had been on the more than 100,000 donated programs, which include many duplicates. More than 17,000 Sydney and country NSW programs, covering theatre, circus, dance, opera and other vocal music productions have been individually recorded and arranged in 129 separate collections from Actors' Company to Zenith Theatre. These range from big professional companies to amateur and even school productions. The catalogue will soon be available online.
In addition, interstate and classical music programs have been arranged but not recorded. Volunteers are currently sorting through about 20,000 overseas productions. Those with Australian connections will be preserved.
Inevitably the project has identified tens of thousands of excess programs dating back to the 1930s. Theatre lovers seeking to add to their own collections can buy them from the Foundation for $3 each.
Bringing the Puppets Back to Life
Preserved in their calico bags, with many dangling from their strings in the dark inner sanctum of the archive, are 170 puppets, mostly from Marionette Theatre of Australia from productions including The Tintookies, The Magic Pudding, The Explorers and The Water Babies.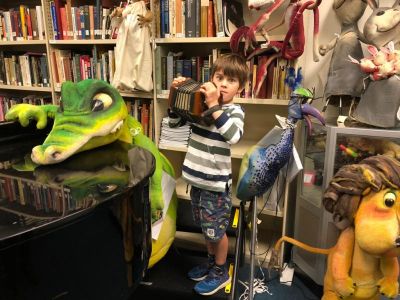 As part of North Sydney's annual Children's Festival in October, the Foundation arranged for music teacher Janet Bagnall and puppeteers Maddy Slabacu and Ben Kuryo to bring some of the Mysterious Potamus puppets back to life in the Foundation's theatre space. The puppets have enthralled a new generation of children.
The Foundation has an ongoing program of public performances and talks, and provides affordable rehearsal space for small professional theatre and music groups.
It is also better positioned than ever to serve the needs of theatre researchers.
To become a Friend of the Foundation, to join an enthusiastic group of theatre lovers who are keen to support of the performing arts and preserve theatre history, for volunteer opportunities and to receive the Newsletter with invitations to Foundation events, ring Carol Martin on 99555444.
Images: John Senczuk researching for his book Griffin Rising: The first decade of the Griffin Theatre Company (1979-1988), with Neil Pollock, the Foundation's archivist in the background, and Mysterious Potamus puppets Calvin the crocodile, Leo the little lion and Harry a little hippo.