1984! The Musical!
A new Australian musical comedy - 1984! – which takes Orwell's timeless classic and promises laughter in the darkest places, premieres at New Theatre, Newtown during January 2020, featuring tap-dancing in torture chambers and rats with razzle-dazzle.
As well as taking a comedic spin on the original, this version reimagines the classic for modern audiences with a majority female cast and ensemble.
Co-librettist Diana Reid chats to Stage Whispers about the musical.
What is 1984! The Musical! about?
1984! The Musical! is an original Australian musical comedy, which takes Orwell's classic and finds laughter in the darkest places. The show is a dystopic romp: a light-hearted comedy about thought police, oppression of the human spirit, and sex.
What is your role in the show?
I co-wrote the musical with my fellow librettist, Tom Davidson McLeod. I am also producing the world premiere of this original musical at the New Theatre Newtown.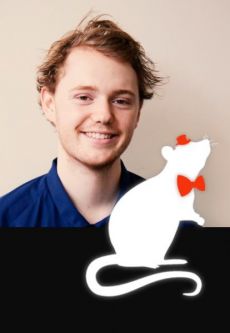 Why is now the right time for the premiere of this original musical?
Living in an increasingly polarised political landscape, where the climate crisis is steadily escalating, "alternative facts" have normalised Doublethink, and our phones collect our data and watch us like Telescreens, Orwell's masterpiece is still a story for our times. Now more than ever, audiences need a reminder of Orwell's clarion call for individual thought to triumph over group-think and bigotry, and for love to triumph over hate.
What can audiences look forward to in this show?
While Orwell's urgent political and moral messages are the beating heart of this musical, what audiences can really look forward to is the comedy. People like to laugh more than they like being lectured at, and this musical promises to be as side-splitting as it is thought provoking.
How did you go about adapting Nineteen Eighty-Four into a comedy?
Rereading the novel with a mind to making it a comedy, it felt surprisingly natural. The comedy very much arises from the disjuncture between the grim world the characters experience, and the way they sing and dance through the pain. It's from the same school of comedy as Eric Idle singing about the bright side of life while being crucified.
Have you made any major changes to the original?
There was only one aspect of the book which we made a conscious effort to change: the lack of female characters. As a female playwright myself, it was important to me that Julia (the heroine) be far less of a 1940s heroine than she appears in the book. In our version, she is less unwitting and apolitical than in the original. Also, we made a conscious effort to cross-cast characters, which we felt did not necessarily need to be male. Working off a book that is almost entirely dominated by male voices, we have been able to create a musical with a majority female cast.
What was it like rehearsing an original musical?
The rehearsal room was uniquely playful and collaborative. Because we're working with an original script, and because this is the first time these characters have been portrayed on stage, the actors were given great freedom to really take ownership of their characters. Many of the ad libs that were thrown around in rehearsals while experimenting have now made their way into the final script.
Details
Season: 8-25 January 2020
Performances: 8-12; 14-19; 21-25 January
Times: Tues-Sat 7:30pm; Sun 1:00pm & 7:30pm
Venue: New Theatre 542 King Street Newtown 2042
Pricing: Adult: $30, Concession: $25; Groups (20+): $20, Preview: $15
Tickets: www.newtheatre.org.au/tickets / 02 9519 3403
Event Website: https://newtheatre.org.au/1984-the-musical/