2010 CONDA Awards
The 32nd Annual CONDA Awards (City of Newcastle Drama Awards), held at Newcastle's Civic Theatre last night (Friday, December 17, 2010), saw the evening's awards in 23 categories spread across sixteen productions and twelve companies.
The CONDAs recognise achievement in both professional and non-professional theatre within this lively theatrical community, where a total of 70 productions were eligible for consideration in a twelve-month period to October 31, with 44 productions receiving nominations in one of more category.
The big winner this year was Metropolitan Players' production of The Boy From Oz, with four awards, including Best Non-Professional Musical Production, edging out Newcastle Dramatic Art Club's The Witches of Eastwick with three gongs. Notably, these productions shared one award, with the judges unable to separate directors Julie Black (The Boy From Oz) and Nola Wallace (The Witches of Eastwick).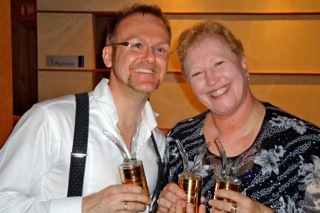 Hunter TAFE Performing Arts, with its acting course now extending across three years of students for the first time, took out awards in three categories, and received further recognition when Teresa Coincella, the Head Teacher of Music and Performing Arts in Hunter TAFE's Faculty of Arts and Media, took out the Newcastle City Council Award for Outstanding Achievement in Newcastle Theatre.
In her citation, the CONDA judges said Coincella is, "committed to developing the skills of her students so that they are industry-ready and able to apply for work in the corporate world and in the many other facets of the theatre industry.
"Her drive, enthusiasm and administrative skills have introduced many to the love of theatre and her work has improved the quality of theatre in the Newcastle region."
The award was Teresa Conicella's second outstanding achievement award in a long and distinguished involvement in Newcastle theatre.
Three productions each won two CONDAs: Pantseat Productions'Ruby Moon, Tantrum Theatre's Blackrock and Young People's Theatre's The Golden Masque of Agamemnon, a reworking for young performers of the Greek legends about the Trojan War.
The Judges' comments highlighted the growth of the CONDAs from 10 awards in 1979, to the current 23. Three new categories have been added this year; one for special theatrical events, and two others recognising youth achievement, in the area's five thriving youth theatre groups.
Compered by Newcastle actor Glenn Hazeldine and Odile Le Clezio (who played the title character's wife in the Hunter Valley-shot film Young Einstein), the award presentations were punctuated by Christmas-themed entertainments by local performers and companies, and plentiful insider wit, often somewhat salacious, from Hazeldine.
Images: (Top) Joint winners of the Excellence by a Non-Professional Director - Nola Wallace and Julie Black. (Lower) Grant Drury-Green, winner of award for Excellence by a Non-Professional Actor in a Leading Role in The Boy From Oz, with director Julie Black.
THE 2010 CONDA WINNERS
Newcastle City Council Award for Outstanding Achievement in Newcastle Theatre:Teresa Conicella
Professional categories:
Production: Ruby Moon, Pantseat Productions
Actor: Timothy Shearman, Ruby Moon
Actress: Giverny Lewis, The Shape of Things
Director: David Brown, 2Wilde: Salome and The Importance of Being Earnest
Achievement in music, sound and lighting design: Scott Allen, lighting design, The Boy from Oz
Achievement in costume design and visual effects: Anne Frost, puppet design and creation, The Frog Prince
Open categories:
Best new play written for a Newcastle company: Shakespeare's Fools, Carl Caulfield
Best special theatrical event: Avast! Wings, Rings and Piratical Things, Circus Avalon
Non-professional categories:
Dramatic production: Blackrock, Tantrum Theatre
Musical production: The Boy from Oz, Metropolitan Players
Actor in a leading role in a drama or comedy: Glen Waterhouse, How to Disappear Completely and Never be Found
Actress in a leading role in a drama or comedy: Kathleen Warren, Anastasia
Actor in a leading role in a musical: Grant Drury-Green, The Boy from Oz
Actress in a leading role in a musical: Stephanie Priest, The Great American Trailer Park Musical
Actor in a supporting role: Mat Lee, The Witches of Eastwick
Actress in a supporting role: Cathy Maughan, Cat on a Hot Tin Roof
Juvenile male performance: Ben Freeman, Blackrock
Juvenile female performance: Brita Penfold, Cluedo
Ensemble acting: The Golden Masque of Agamemnon, Young People's Theatre
Director: Julie Black, The Boy from Oz, andNola Wallace, The Witches of Eastwick (joint winners)
Achievement in music and movement: Andrew Shaw, choreography, The Witches of Eastwick
Achievement in costume design and make-up: Neil Mansfield, costume design, The New Jungle Book
Achievement in set, lighting and sound design: Cameron Elkin and Kelsie Clarke, set design, The Golden Masque of Agamemnon