2011 Brings New Worlds for Jason Robert Brown
American composer, lyricist, and book writer of contemporary musical theatre Jason Robert Brown is inspired by places he has never been. He crossed Australia off the list with his Australia/New Zealand concert and workshop tour in February / March 2011.
Born in Ossining, New York, Brown has written or contributed songs to five musicals as of 2010, Songs For a New World (1995); Parade (1998); The Last Five Years (2002); Urban Cowboy the Musical (2003); and 13 (2007).
Ian Nisbet speaks to Brown about life, the internet, and everything.
Stage Whispers: For those readers not familiar with Jason Robert Brown, could you give us a quick introduction to your influences and background?
Jason Robert Brown: My background is fairly typical among musical theatre writers: I'm a nice Jewish boy from the Northeast US. I grew up in New York in the 1970's, and after dropping out of college, I moved to The Big Apple to see if I could make it as a songwriter. Anyone writing for the theater has to have a pretty wide range of influences – your character's influences are as important as yours – but certainly at the top of my list would be Stephen Sondheim, Leonard Bernstein, Billy Joel, Paul Simon, Joni Mitchell, Stevie Wonder, and Steve Reich.
SW: You are a composer, lyricist, and book-writer, and performed all three roles in Songs For A New World (although the show doesn't technically have a 'book') and The Last 5 Years. When writing, where do you begin and do you always follow the same process?
JRB: The only process I really follow consistently is that the story has to come first – if I don't know who the characters are and what they're singing about, it's almost impossible for me to write much of anything. Once I've got a character in a certain situation, then the real writing starts – what do they want, how do they express it, will they actually get it – and I tend to write the music and the lyrics almost simultaneously; the words generate a melodic idea, and then the melody goes somewhere else and I need words to fill it.
SW: Of all your creative work over the past 15+ years, what is your favourite song and your favourite show, and why?
JRB: Oh, it's only been 15+ years, I don't have enough perspective on that. It's a cliché, but my favorite songs right now are the newest ones I've written, which haven't really been heard yet. I'm working on three different new musicals right now as well as finishing up my second solo album, so there's a lot of new stuff in the hopper.
SW: You regularly write songs about "new worlds" - you wrote a whole show about them and a number of the tracks on your first solo album Wearing Someone Else's Clothes follow the theme. What is it about this topic that inspires you?
JRB: All my songs are about "exploring," in one sense or another – that's what I think people sing about. Why sing if you're not working your way through some new emotion or new sensation? In that sense, the "new worlds" are just metaphor; but in another sense, I'm also very much inspired by something I don't know how to do, someplace I've never been.
SW: Speaking of Wearing Someone Else's Clothes, "I Could Be in Love with Someone Like You" appears to be an alternative to "Shiksa Goddess" from The Last 5 Years. Do you regularly swap entire songs out of a show if they're not working and how do you know when you've got it right?
JRB: Oh, sure, I throw songs out all the time. I probably wrote upwards of 40 songs for 13, and I couldn't even count how much I wrote for Parade. I like to think I know when I've got it right, but sometimes the audience will tell you differently. One of my favorite songs in 13 is "If That's What It Is," but it tends to induce a lot of coughing in the crowd no matter how it's staged – nonetheless, I know it's what I want the song to be.
SW: Sondheim said that teaching is a sacred profession, and you teach musical theatre performance and composition at the University of Southern California. Was teaching always your intention or is it more of a supplement to your composition?
JRB: My mom was a teacher, and I've always thought it was just in the blood. Initially, the teaching was something to help pay the bills, but now it's really part of my identity – I wouldn't be complete without that part of me that loves to teach (and learn from my students as well!).
SW: What is the most important thing you could hope to teach aspiring musical theatre performers and composers?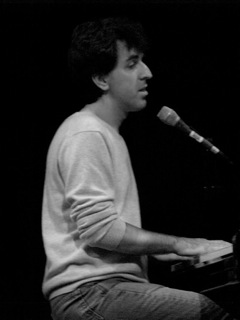 JRB: I'm all about honesty and musicality, and those two things are intertwined. I think the best performers in the world manage to refract the music and lyrics they're singing through the prisms of their own hearts and personalities, and the best writers in the world distill the things in their souls down to a perfect essence. I'm not a fan of empty grandstanding, and if the actor can't make sense of a song, I think the audience can always tell.
SW: You recently Tweeted (@MrJasonRBrown) "Hello Atlanta! This city's been much better to me than it was to Leo Frank," and you've previously described the plot of Parade as "song, song, song, song, intermission, song, song, song, lynch." Is this light-heartedness an insight into the real Jason Robert Brown or did you ever struggle with the content of Parade during the creative process?
JRB: I don't think you can write about something as tragic as the Leo Frank story without a healthy sense of humor. I view the world through an ironic lens under the best of circumstances.
SW: Whilst we're on the topic of Twitter, you have become a rather prolific user and are approaching 5,000 followers on the site. What do you think has been the biggest change for you now that you have easy, continual contact with your fan base around the globe?
JRB: I try not to take it too seriously. I do think of my Twitter personality as somewhat separate from my actual life. You'll notice I don't mention my daughters' names or my vacations or that kind of personal stuff; and I also try not to be too controversial – some people use Twitter as a free-floating expression of their superegos, but I like to think of it as a party to which I've been invited. I like to keep the conversation going, but I don't need to be the center of attention all the time.
SW: Your Australian and New Zealand tour includes workshops and a number of public performances. What can audiences expect when they see you performing your own material, with your own band, live on stage?
JRB: Getting to perform is a dream come true for me – I sort of gave up on my desire to be Billy Joel once I got to college, so the fact that I get to travel all over the world and sing and play the piano feels like a miracle. Generally, my shows are a pretty even mix of songs from all of my shows and albums, and then I usually try out a couple of new numbers too. I've got Rachael Beck joining me in the Antipodes for this round, so that means there's a fantastic and beautiful singer in addition to Old Hatchet-Face at the piano. I like to think the concerts are a lot of fun, and there's often a considerable amount of improvising and spontaneity, so you never really know what to expect!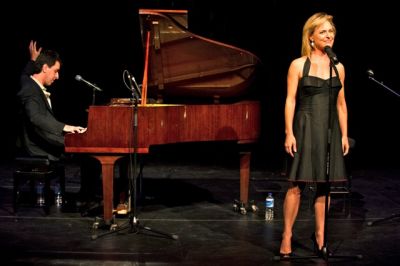 Subsequent to the tour, Stage Whispers spoke briefly with Rachael Beck about working with Jason Robert Brown.
SW: How was the experience of working with Jason Robert Brown?
Rachael Beck: He's an amazing man. Every night was different. He was meticulous in his work, and hard on himself. But having said that, because he did something different every night, the interpretations that I gave changed, and he was fine with that.
I thought he would be more particular in terms of delivery or feel with the songs, but no, he loved anything I did. He's fantastic.
He wants me to go over and work with him in LA. I can't wait to work with him again.
SW: And you got to sing his newest work.
RB: I got to sing two of his new songs. I really love Another Life, from Bridges of Madison County, a musical which is still being written. I've always loved Stars and the Moon as well.
SW: What is special about him as a songwriter?
RB: He can just tap into the human psyche, and particularly the way women think and feel. The jazzy song, One more thing I can handle, I love as well, because it's about being in a bar and seeing a man you think you could take home, and knowing that you can't – but it's the whole fantasy of that. Being able to tap into that sort of mindset, and to be able to put it down in that sort of way, is just so magical – such a gift.
Tour Dates
Melbourne - Monday 28thFebruary - The National Theatre, St Kilda.
Sydney- Monday 7th March - The Parade Theatre, NIDA.
Brisbane- Friday 11th March - Qld Conservatorium Theatre, South Bank.
Perth - Wednesday 9th March - The Octagon Theatre, UWA, Crawley.
Adelaide- Wednesday 16th March - The Dunstan Playhouse, Adelaide Festival Centre.
Public Masterclasses with Jason Robert Brown
Melbourne – Tuesday, March 1, Perth – Tuesday, March 8, Brisbane – Thursday, March 10, Sydney – Sunday, March 13, Adelaide - Wednesday, March 16.
This Q & A was originally published in the January / February 2011 print edition of Stage Whispers.