2021 Adelaide Festival Gives Life Support of the Best Kind
70 events, 10 world premieres, 14 Australian premieres, 18 events exclusive to Adelaide over 17 beautiful days and nights
The 2021 Adelaide Festival program, prepared over this past turbulent year under ever-changing circumstances, may just turn out to be one of the most necessary – and memorable.
Launched on Thursday 3 December at the Adelaide Festival Theatre, the 36th Adelaide Festival offers a total of 70 events in theatre, music, opera, dance, film, food and visual arts.
Benjamin Britten's A Midsummer Night's Dream, a musical transformation of Shakespeare's most loved comedy with its graceful haunting melodies, iridescent orchestration and headily perfumed harmony, directed by Neil Armfield and conducted by Paul Kildea, plays four performances between 26 February and 3 March, at the Festival Theatre. One performance will be live-streamed at Sir Robert Helpmann Theatre, Mount Gambier; Northern Festival Centre, Port Pirie; Chaffey Theatre, Renmark; Middleback Arts Centre, Whyalla Norrie; and on the big screen at The Summerhouse Festival Club, on the evening of Sunday 28 February.
Image (top): A Midsummer Nights Dream. Lyric Opera of Chicago
Live From Europe
Four unique, specially commissioned live performances on four European mornings, by some of the world's most lauded artists in theatre, music and dance; each introduced to Adelaide audiences by the director or principal artist, in state-of-the-art vision and sound, on four nights at the newly-renovated Her Majesty's Theatre:
• Star pianist and bold cultural commentator, Russian-German Igor Levit.
• Australian director Simon Stone's production of Euripides' tragedy Medea, created for Ivo van Hove's International Theatre Amsterdam.
• The Olivier-Award winning dance event BLKDOG, from choreographer Botis Seva; commissioned and presented by Far From The Norm and London's Sadler's Wells
• Alexander Pushkin's Eugene Onegin, theatre on an operatic scale featuring a 45-strong company from Moscow's Vakhtangov State Theatre.
Audience responses to the work will be live streamed back to the performers so that the essential connection between audience and artist remains, even when separated by thousands of miles.
Selected works will also be live streamed into regional centres: Igor Levit at Sir Robert Helpmann Theatre, Mt Gambier; BLKGDOG at Middleback Arts Centre, Whyalla Norrie; Medea at Sir Robert Helpmann Theatre, Mt Gambier.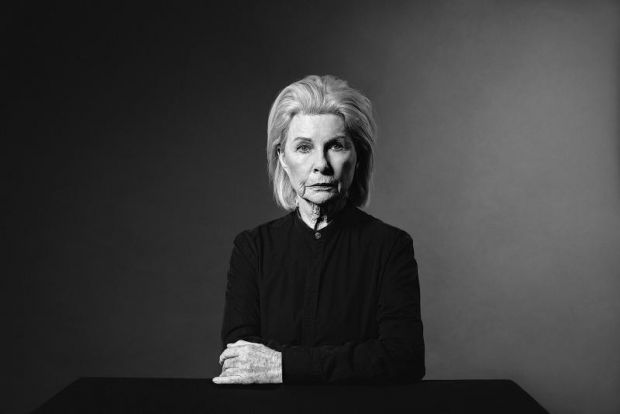 Image: Robyn Nevin - Photographer: James Green.
In A German Life, British playwright Christopher Hampton has fashioned an extraordinary theatrical tour-de-force based on testimony given to Austrian documentary makers by 103-year-old Brunhilde Pomsel who worked as a secretary to Joseph Goebbels. In a highly demanding ninety-minute solo, Robyn Nevin plays Pomsel, under the direction of Neil Armfield.
Set Piece, comes from the creative team behind the 24-hour performance experience The Second Woman (previously featured in the 2019 Festival). A similar theatrical/cinematic hybrid, it explores two lesbian relationships in the bottle-strewn aftermath of a party, loosely inspired by the intergenerational coupledom of Edward Albee's classic drama Who's Afraid of Virginia Woolf?
Adelaide audiences have waited over a decade to be a part of an ingenious piece that festival-goers around the world have adored since 2005: Back to Back Theatre's small metal objects, its unique style of 'street-theatre-but-not-as-we-know-it' happens in Glenelg's, Moseley Square.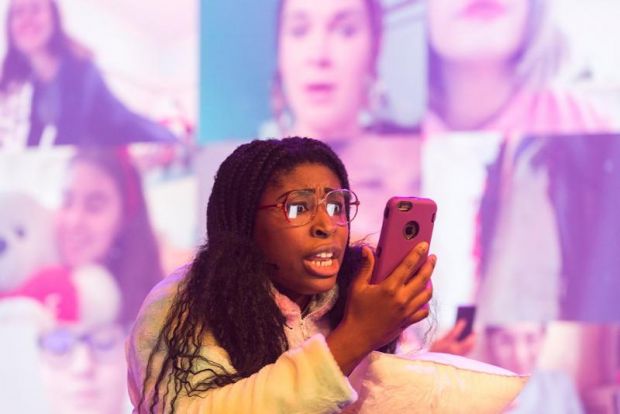 Image: Fangirls. Photographer: Brett Boardman
FANGIRLS, with book, music and lyrics all by young Sydney-born writer Yve Blake, was one of the standout Australian theatre hits of 2019 that captured the hearts of the wide-eyed adolescent in all of us. Whether you were screaming for Paul McCartney in the 60's, Simon Le Bon in the 80's, or Harry Styles in the 2000's - we've all been there! With an amazing cast (including Aydan from The Voice), inexhaustibly witty dialogue, and heart-pumping, infectious songs, it had everyone on their feet cheering in its debut seasons in Brisbane and Sydney.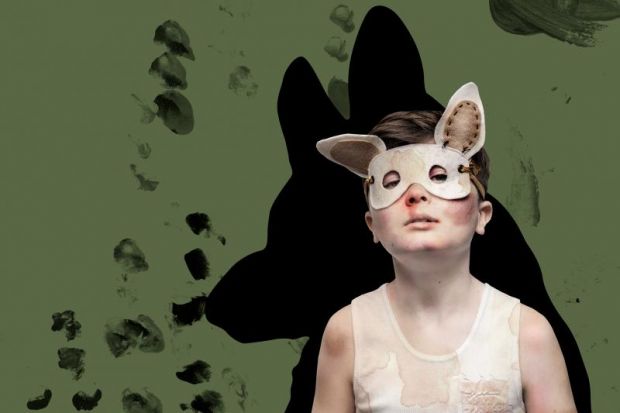 Image: The Boy Who Talked to Dogs. Photographer: Andy Ellis.
The genesis of The Boy Who Talked to Dogs is the amazing true story of Limerick-born 'Dogman' Martin McKenna, Nimbin's infamous dog-whisperer adopted as a homeless teenager by a pack of strays in this major new co-production between Adelaide's Slingsby, State Theatre Company South Australia and three brilliant Irish artists: playwright Amy Conroy, actor Bryan Burroughs (Beowulf) and songwriter Lisa O'Neill.
High Performance Packing Tape makes it into Adelaide at the second attempt, having been a real-life casualty of this physical theatre company's stationery stock in 2020. Branch Nebula's OH&S nightmare transforms everyday office consumables into the infrastructure of one person's physical ruin: scaling collapsing cardboard-box towers, hanging precariously from sticky-tape bridges unable to carry his weight and asking more of cheap materials than they're ever able to give.
Back for its third and biggest Festival mainstage show, Gravity & Other Myths in partnership with Aurora – Young Adelaide Voices present the world premiere season of The Pulse. With sixty people on stage it sees thirty bodies in close-knit, full-pelt, intimate, sweaty co-operation and another thirty faces singing their lungs out. This spectacle is the stuff of lockdown dreams: a massive embodiment of our primal hunger for community and physical touch.
"The question we have been consistently asked is 'how do you plan a festival in a pandemic?'" said Adelaide Festival Artistic Directors Rachel Healy and Neil Armfield. "It has not been easy - so we focused on finding solutions. We wanted to ensure Adelaide Festival remained true to a 60-year tradition of bringing great international artists and events to our city while simultaneously supporting Adelaide companies and others from throughout Australia. We have always had a very strong presence of local work but in 2021 we supported a number of artists and companies to use this year of enforced isolation to develop new work at a scale and ambition that hadn't been possible before. The 2021 Adelaide Festival has a record number of Australian premieres and we also backed new creative collaborations and made early investments in artists and projects that will bear fruit in 2022 and beyond."
BOOKINGS adelaidefestival.com.au or BASS 131 246